At a Glance
Expert's Rating
Pros
Fanless operation
Four connection options
Generous software bundle
Bus powered via FireWire
Cons
Bundled SilverKeeper backup software not compatible with OS 10.5 (Leopard)
No CD copy of the software
No FireWire 400 port (though an adapter cable is included)
Our Verdict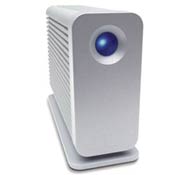 LaCie's Little Big Disk Quadra is a portable, bus-powered hard drive featuring two 250GB mechanisms striped in a RAID 0 configuration.
The built-in connectors include a pair of FireWire 800 ports, a USB 2.0 ports, and an eSATA port. LaCie includes a special cable for connecting one of the two FireWire 800 ports to a FireWire 400 port on your Mac.
The drive works with Apple's Time Machine backup utility, but the drive also includes LaCie's 1-Click Backup Software, and EMC's Retrospect Express. LaCie's SilverKeeper backup software is also included, though it is not compatible with OS 10.5 Leopard.
The Little Big Disk Quadra uses 2.5-inch notebook drives; notebook drives generally run at slower speeds than the full-sized 3.5-inch drives used in desktop external hard drives. The smaller drives also offer less capacity than the full-sized drives—500GB is currently the largest single 2.5-inch drive available, while 3.5-inch drives come with as much as 1TB of capacity.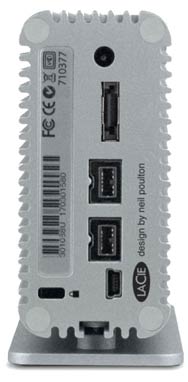 By using two hard drive mechanisms, the Little Big Disk Quadra can offer higher capacity than a standard portable hard drive, and by striping the drives into a RAID 0 configuration, the drive can also perform faster than a single drive. The downside to doubling up the drives is the expense—a desktop external storage device that uses a single mechanism, like LaCie's 500GB d2 Quadra Hard Disk ( ) costs less than half the price of the portable 500GB Little Big Disk Quadra (though the d2 Quadra isn't as portable).
We tested the drive using all four interfaces on a Mac Pro 2.66GHz system running OS 10.5.3. We found, as usual, that the eSATA results were the fastest. Unfortunately, no Mac ships with eSATA ports; you'll need to buy a third-party eSATA card if you have a Mac Pro or MacBook Pro. Also, eSATA connections doesn't supply bus power to the drive like FireWire does, which means you'll need to use the included external power brick.
The second fastest results came from our FireWire 800 tests, which were between 6 and 15 percent slower than eSATA. FireWire 400 was slower than FireWire 800, and USB 2.0 was slower still. While USB 2.0 supplies bus power, it's not enough to keep this drive spinning, so you need to use the AC adapter.
Compared to the LaCie d2 Quadra we recently reviewed, the Little Big Disk Quadra was slower across the board, but not by much. The biggest performance gap was in our low-memory Photoshop tests, which showed the Little Big Disk taking nearly a minute longer than the d2 Quadra with each connection type.
Timed trials
| | |
| --- | --- |
| Copy 1GB file to FireWire 800 | 0:36 |
| Copy 1GB file to FireWire 400 | 0:44 |
| Copy 1GB file to USB 2.0 | 0:53 |
| Copy 1GB file to eSATA | 0:34 |
| Duplicate 1GB file via FireWire 800 | 0:59 |
| Duplicate 1GB file via FireWire 400 | 1:20 |
| Duplicate 1GB file via USB 2.0 | 1:29 |
| Duplicate 1GB file via eSATA | 0:50 |
| Low-memory Photoshop: FireWire 800 | 2:22 |
| Low-memory Photoshop: FireWire 400 | 2:39 |
| Low-memory Photoshop: USB 2.0 | 2:49 |
| Low-memory Photoshop: eSATA | 2:14 |
Times are in minutes:seconds
Specifications
| | |
| --- | --- |
| Price per gigabyte | $.86 |
| Connectors | eSATA (1), FW800 (2), USB 2.0 (1) |
| Rotational speed | 5400 rpm |
| Other capacities | 1TB |
Macworld's buying advice
LaCie's Little Big Disk Quadra is a high capacity, portable storage device that can be powered off of a FireWire connection. It will cost you considerably more than a similar capacity desktop drive, but its RAID configuration helps keep the drive competitive with desktop drives in terms of performance.
Note: When you purchase something after clicking links in our articles, we may earn a small commission. Read our affiliate link policy for more details.