This week, we're going to try something a little different on Gadgetbox. Instead of my usual roundup of gadget news from the week, I'm going to take a detailed look at one product which I believe may very well change your lives. Well, if your lives are centered around a certain popular video game franchise that rhymes with, er, whale-o.
I'll admit it: I cried like a baby at the end of Halo 3. Then again, part of that might have been influenced by the fact that it was five o'clock in the morning, and three friends and I had just completed a death-defying speed run over a giant pit of lava, whooping and hollering the whole way—a fact that was not missed by my roommate, who was understandably cranky the next day.
But, of course, the story doesn't end there. Halo, after all, is not just a video game for many: it's a way of life, in the same way that Star Wars was for us children of the '80s. So it's little surprise that the Halo franchise is seen as ripe for the universe's one true unstoppable force, moichandising.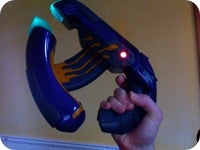 Jasman Toys has acquired the license to create replica weapons based on the Halo series and, in their infinite wisdom, has elected to make the replicas not only faithful to the originals, but also fun, by making them into a fully functional laser tag game. When I got an offer from Jasman to play around with the first two models in the series, reproductions of the Covenant plasma rifle and plasma pistol, I hesitated about a millisecond before replying "Yes, please." Then I think I giggled and asked for a pony.
If you're not familiar with the world of Halo, the Covenant are the series's baddies: an alliance of aliens that are at war with humanity. As the aliens in question are usually a bit bigger than the average human, so too are the weapons they wield. That's the first thing I noticed about the rifle and pistol: they're big. Too big, I noticed suspiciously, for the hands of mere children. And sure enough, the legend on the box says 17+. Not exactly a shocker, given that the Halo games are rated M ("for mature audiences"), even though my experience playing the game online suggests that's by no means a hard-and-fast rule.
The big draw of the replicas is the exquisite and loving attention to detail with which they were crafted. Despite the fact that they're made from plastic and not alien metals, both pistol and rifle look pretty much identical to their in-game counterparts, down to the colors and styling.
And yes, Virginia, they make sounds, light up, and provide recoil, just like real plasma weapons.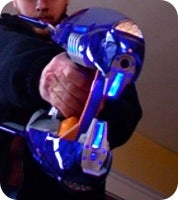 When you switch the guns on, lights illuminate on the sides and tips of both weapons, and you'll hear a click that indicates the weapon is loading. The number of shots you have left appears on an LCD display on the top of each device; you start with a hundred shots, and that decreases by two each time you pull the trigger. Once you hit zero—but not before—you can reload by hitting the red button next to the display. Each weapon also includes a small target box that you clip to your belt. It flashes red when it gets hit, and also has six green LEDs that indicate your shield strength. As in the video game, your shield slowly regenerates with time, so you need to make sure to finish your opponent off before that happens.
Those familiar with Halo will know that each weapon has different strengths. For example, holding down on the plasma pistol's trigger for at least five seconds charges the weapon's "mega-blast," which depletes half of your opponent's shield. The plasma rifle, meanwhile, can be fired repeatedly by holding the trigger down.
Aha! But there's a catch. It's well known that plasma-based Covenant weapons will overheat if you strain them too hard. And so it is with these: using the pistol's mega-blast or the firing the rifle's rapid fire mode for twenty shots will cause the weapons to overheat. In the case of the pistol, the top panel will pop up and you won't be able to fire until it's clicked down again. The rifle, on the other hand, has a pair of vents on the side that pop open and serve the same "cooling" function. (Don't worry, neither of the weapons gets anywhere near as hot as a MacBook Pro with its processors cranked).
If I had one major disappointment with the weapons' verisimilitude, it was the lack of actual plasma damage—no, no I kid. I found the sound on the plasma pistol to be kind of boring and strangely dissimilar from the game's plasma pistol—it's more of a click than the pchew that you expect from a laser pistol. And both guns are pretty pricey: the pistol set lists for $80, and the rifle for $120, though you can find them for cheaper online. Both come with enough batteries to fire them up and play right away, though more enthusiastic users will want to stock up on AAs for the pistol and Cs for the rifle. Also, dental insurance coverage is suggested, just in case your opponents get carried away and decide to start dishing out Halo's trademark melee attacks. We strongly recommend against that, unless you enjoy a mouthful of Chiclets.
Most enticing of all, however, is Jasman's promise that they'll be coming out with a replica version of the Covenant Energy Sword (think a lightsaber, only sharper) at some point in 2008. Here's hoping a gravity hammer and Spartan laser aren't far off.
That's it for this week. If you'd like to see more Gadgetbox entries like this one (on something other than Halo guns, of course), let me know in the comments below. See you next time.