At a Glance
Expert's Rating
Pros
Fantastic audio reproduction
Long cord
Comfortable earcones
Cons
Microphone a bit too sensitive
Needs pre-amp for most Macs
Our Verdict
A good gaming headset can make or break the gaming experience. Positional audio cues from the game give you a better idea of whether bad guys are to the left or to the right of you. A microphone is vital for in-game chat, especially if you're raiding in World of Warcraft ( ). Too often, though, gaming headsets are designed using cheap hardware that produces mediocre sound. Enter EDGE Acoustics' GX400 headset for gamers looking for uncompromising quality.
You're probably not familiar with EDGE (Enhanced Definition Gaming Earphones), but the company's genealogy is impeccable. EDGE is an imprint of pro headphone and earphone maker Etymotic Research and it uses technology developed by Etymotic for its own line of pro earbuds.
The GX400 rests in your ear canal and feature flanged soft silicone cones to block out external noise. This noise blocking characteristic may be unnecessary if you're playing games in a quiet space, but I found them to be superb for filtering out fan noise from nearby machines, a ringing phone, and various other distractions that otherwise would have taken away from the gaming experience.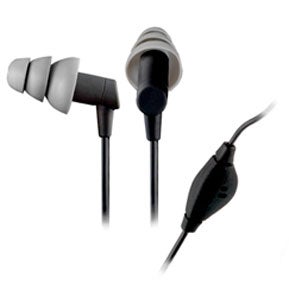 An inline microphone is built into the cord coming from the left earbud, approximately at the same latitude as your mouth. Quality of voice recording on the mic is excellent, though it does tend to run a bit sensitively; it's prone to picking up ambient noise in the room, which can be a distraction to other players unless you use a hot key to activate the mic only when you want to speak (a feature most games have).
The GX400 has a nice lightweight set of earbuds and the audio quality is superlative—reproduction was rich and clear, and imaging was brilliant. You're not going to get the deep rich bass you get out of a set of desktop speakers paired to a subwoofer, but you definitely get better stereo imaging with sharper reproduction. You can hear more distinct sound effects, such as shells falling from a gun, for example, or drips of water.
I don't doubt EDGE's claim that the GX400 can give a skilled gamer the "edge" over the competition (pardon the pun). For $179, they ought to, but that's a relative bargain for a set of Etymotic earbuds.
EDGE offers the GX400 in either matte black or ruby finishes, and includes different sets of earcones to fit differently-shaped ear canals. I found them to be very comfortable compared to most of the others I have tried.
The cable that connects the earbuds to your Mac runs 7 feet long. A clip lets you attach it to your shirt, and a Velcro strap lets you bundle up the slack and tuck it away so you don't have loose cabling running everywhere. There's also an in-line volume control and mic mute switch.
While gaming is the focus of EDGE's marketing (and of my testing), it's also important to note that you can use the GX400 for any voice input, such as assistive technology or Voice over IP (VoIP) applications like Skype, or any other task that requires a mic. Just bear in mind what I said about the mic's propensity for capturing ambient noise. If you're in a particularly noisy environment, this may not be your best choice for podcasting.
One important point to note: Macs utilize a microphone input that expects line-level audio, not mic-level audio. As a result, you need to pre-amp the mic signal in order for your Mac to hear it. My standby for this is a Griffin iMic ($40), a plug-and-play USB dongle that connects to the headphones and uses a USB interface instead of the headphone and mic jack. This is pretty par for course for using a non-USB headset on the Mac, but I just wanted to make sure you knew before you rushed out and bought these. You might need some extra hardware to get them to work.
The bottom line
$179 is a lot of cash to spend on earbuds, but for the money, EDGE provides you with audiophile quality that's hard to beat.