In the morning when I arrive at my desk at work, I pull my MacBook Pro out of my backpack and then I proceed to do my best impression of a 1920s switchboard operator, plugging all sorts of cables into my laptop. There's a power adapter, an external keyboard, my headphones, a DVI cable for a second display, and an Ethernet cable. Then there's my USB hub, which has connected to it an iPod sync cable, a USB cable for the two-port USB hub on my external display, and an external hard drive. The resulting Frankenstein-ish look is the least of my worries—what bugs me the most is the unruliness of all those cables, a mess that hogs up precious desk space.
When Bluelounge's SpaceStation ($80) arrived, I could see that cable orderliness was attainable. Bluelounge calls the SpaceStation an "extended desk organizer;" it's basically a laptop stand with a cable organization system and a USB hub.

Measuring 24.5 inches wide, 4.25 inches deep, and 1.75 inches at its tallest point (the top of the SpaceStation is angled; it's 1 inch at its lowest point), the SpaceStation is made of a sturdy plastic and has a rubber pad on top of it, so your laptop and other items don't slip off. There's also a narrow slot above the pad that runs the length of the SpaceStation; Bluelounge includes a clip that fits in the slot so you can use it as a page holder, but you can also slip business cards, a bus pass, a library card, a few dollar bills, or even a picture into the slot.
Underneath the SpaceStation is the hidden treasure: eight pairs of cable clips and a 4-port USB 2.0 hub. Rubber risers lift the SpaceStation up to leave enough room for your cables to come out from underneath. To use the SpaceStation's cable management system, you wrap each cable around the clips, leaving enough slack so you can connect to your laptop.

But before you start wrapping cables, you need to make some decisions about your cables first. For example, you probably don't want to wrap your laptop power adapter, because you often take that with you and it makes no sense to continually wrap and unwrap the power cable. Some cables, like the cable from my Apple DVI-to-ADC adapter, or DVI display cables, are too thick to slip through the opening between the SpaceStation and your desk (you could give the SpaceStation a boost by padding the rubber feet with additional rubber feet you can buy at your local hardware store). Mostly, you want to wrap cables you seldom need to take with you. Of the non-USB related cables I have, I ended up storing only my Ethernet cable underneath the SpaceStation. I left the power adapter cable and my headphone cable out because I take those items with me at the end of the day. The DVI cable was too thick, so I left that out, as well.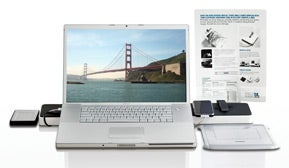 You'll want to take a similar stays-at-my-desk approach with the SpaceStation's USB hub. Since the hub is underneath the SpaceStation, lifting up the SpaceStation to attach and reattach USB devices may seem like a hassle, but actually, what was a bigger inconvenience was that every time I lifted the SpaceStation, the hub's power adapter plug would slip out of its connector, cutting power to the hub and causing items like a bus-powered hard drive to shut down. I decided to attach USB cables that I'll never remove from the hub, such as my iPod cable, keyboard, and my external display's USB cable. I still have one available USB port on my MacBook Pro and two in the rear of my external display for devices I need to attach and remove frequently.
After organizing most of my cables, I'm left with a much cleaner and less chaotic-looking desk. The rubber pad makes for a nice resting place for my iPhone, and the page holder is handy. I still have cables from my power adapter, external display, and headphones hanging out, but now I have only one USB cable to connect, and the difference in mess is considerable. The only major quibble I have is with the amount of lift the SpaceStation provides for my MacBook Pro; it's not nearly high enough to meet my ergonomic needs. I actually use the SpaceStation with another laptop stand to get the height I need.
You may not end up hiding all of your cables underneath the SpaceStation, but it can certainly help control any cable madness around your workspace.