At a Glance
Expert's Rating
Pros
Easy to set up and use
Affordable
Unlimited geotagging
Works great with iPhoto's Places
Cons
Additional WebShare service must be purchased for use with online services
Relies on Wi-Fi networks for geotagging, so location data may not always be applied if no networks are within range of where you're shooting
Our Verdict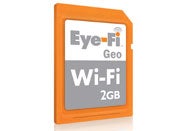 Once again, it pays to have a Mac. The new 2GB Eye-Fi Geo memory card for digital cameras is designed with Mac users in mind, allowing for wireless transfers of your pictures from the camera to a Mac. It also provides unlimited geotagging of those images. And it's only available at the Apple Store for $60.
The workflow is simple. Once you set-up the card using the included USB reader and Eye-Fi Manager software, you put the card in your camera, fire off a few frames, leave the camera on, and if you're on the same local area network as your Mac, you can watch as the images are sent wirelessly to your Mac for display and storage. You can have the images organized in folders, but I recommend that you enable the iPhoto option in the Eye-Fi Manager that allows the pictures to be sent directly to Apple's consumer photo management application and categorized by Event. The ability to upload to iPhoto isn't unique to the Eye-Fi Geo since other Eye-Fi cards also have this feature, but the Eye-Fi Geo is one of the most affordable options for geotagging and uploading directly to iPhoto.
If you're a Places fan, then make sure that the geotagging option is enabled in the Eye-Fi Manager. When you capture the images, the Eye-Fi Geo will be on the lookout for any Wi-Fi network within range, will note its location, then add that information to your images when you upload them via the Eye-Fi Manager. iPhoto will follow suit by automatically adding the Places data to each shot. Like magic, you'll know where your pictures were recorded. The only time this didn't work for me was when the Eye-Fi card couldn't identify a Wi-Fi network during the picture taking process. The Eye-Fi Geo's geotagging works only if you transfer the images wirelessly. If you place the card in a reader and transfer the files, you won't get the geotags.
Since you're shooting JPEGs only (you'd have to purchase the more expensive Eye-Fi Pro to wirelessly upload Raw files), the transfer rate is relatively fast. I shot 40 high resolution Jpegs with my Canon T1i (approximately 6MBs each), then watched as they were uploaded to my Mac in 13 minutes. iPhoto grabbed the pictures as they came in, so I was viewing them at full resolution within 15 minutes of turning on my camera. And it's so easy, that you literally walk away during the process and be greeted by an iPhoto Event full of images upon your return. It's much faster to transfer images via USB using a card reader, but as I mentioned before, the photos won't be geotagged.
The Eye-Fi Geo is compatible with Snow Leopard, Leopard, and Tiger Macs. The card doesn't provide uploading to online services, such as Flickr and MobileMe out of the box, but you can purchase the WebShare service for $10 a year and add it to the card.
Macworld's buying advice
If you shoot photos using JPEG and you also use iPhoto (and especially if you like iPhoto's Places feature), then the easy-to-use Eye-Fi Geo card packs a lot of power into a small package.
[Senior Contributor and professional photographer Derrick Story teaches iPhoto on Lynda.com and runs a virtual camera club at The Digital Story.]
When you purchase through links in our articles, we may earn a small commission. This doesn't affect our editorial independence.