Many Mac laptop users can relate to the following scenario: You're jamming away to iTunes—at work, at a coffee shop, in the library, or on a plane—but you're using headphones so as not to disturb those around you. Your headphone cable gets caught on a book or a stray finger and is yanked out, blaring your laptop's audio to everyone. Or perhaps the headphones are serving to keep your music tastes private, and an accidental cable tug announces to the world your recently-realized love of your niece's Nickelodeon soundtracks.
Saving you from such embarrassment is the goal of AllocInit's Breakaway 1.5 ( ; donations accepted). When running, this nifty utility automatically pauses iTunes whenever your headphones are unplugged from your laptop's headphone jack—on purpose or accidentally. Breakaway is also useful if you're using headphones that are a hassle to remove and insert; if you need to walk away from your laptop for a bit, you can leave your in-ear-canal 'phones in your ears and instead unplug them from your computer, pausing iTunes in the process. (Breakaway includes a convenient feature to automatically resume iTunes playback when you plug in your headphones again; unfortunately, I couldn't get this to work on a MacBook Air. However, you can get similar functionality via AppleScript, as described below.)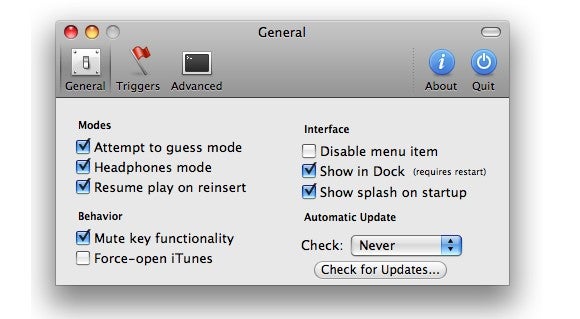 Despite its apparent simplicity, Breakaway has a number of more-advanced features, accessible via its preferences window. For example, Breakaway can map your laptop's Mute key to act as a Play/Pause button for iTunes, so a single press mutes output and pauses iTunes simultaneously; another press un-mutes the volume and resumes playback. Similarly, iTunes is paused if you use your keyboard's Volume Down key to reduce volume to the lowest setting; playback resumes when you raise the volume again. (Breakaway's SmartPlay option actually makes this feature, well, smart: pressing the Mute key when iTunes is paused but the laptop's volume isn't muted will simply mute audio—it won't resume iTunes playback. And a Smart Tracker feature keeps iTunes from annoyingly playing every time you plug in your headphones; instead, playback starts only if Breakaway originally paused iTunes.)
If you like the ability to link the Mute key with iTunes play/pause, you can set Breakaway to Normal mode (instead of Headphones mode) to disable the flagship feature and use just the Mute-key features.
Breakaway can also trigger AppleScripts when headphones are unplugged, headphones are plugged in, audio is muted, or audio is un-muted. The developer has included a number of scripts that can, for example, start the OS X screensaver; set your iChat, Adium, or Skype status to away or available; or log you out. You can also use your own AppleScripts; for example, the following script can be used to resume iTunes playback on headphone-plug insertion if Breakaway's similar built-in feature doesn't work for you:
tell application "iTunes" to play
Breakaway also includes Growl support; with Breakaway enabled in Growl preferences, you'll see an onscreen notification whenever you unplug or plug in your headphones.
The biggest limitation of Breakaway is that it works, in the developer's words, only with "recent Apple laptops." I didn't have any older Mac laptops to test it on, but I did try Breakaway with a couple desktop Macs and, sure enough, it didn't work. Similarly, it won't work with USB audio devices—only your laptop's headphone jack.
One interface issue I experienced, on two different computers, is that the first time I launched Breakaway, it popped up a dialog asking if I wanted the program to automatically check for new versions. The problem is that this dialog appeared behind the program's splash screen, which doesn't go away until the dialog is dismissed. The way out of this conundrum is to click on a corner of the dialog and drag it from behind the splash screen.
Even if Breakaway's only feature was to pause iTunes or mute audio when your headphones are unplugged, it would be a useful utility. The fact that it offers a good deal more functionality at the low, low price of free makes it a Gem.
Breakaway 1.5 requires Mac OS X 10.3 or later, iTunes 7.0.1 or later, and a Mac laptop.