Vox guitar amps are some of the most widely recognized in music and now you can put one in your pocket and take it with you.
Vox introduced the amPlug at the Musikmesse tradeshow being held in Frankfurt, Germany this week. The amPlug connects to your guitar's 1/4-inch jack and allows you to listen to you Vox amplified guitar through a set of headphones.
If you want to play along with your favorite song, you can plugin an iPod to the amPlug and you will hear your guitar and the currently playing iPod song.
The amPlug comes in three styles: VOX AC30, Classic Rock and Metal. The AC30 emulates the AC30 top boost sound of a vintage VOX AC30; Classic Rock gives you the high-gain sound of a UK-made 100W amp; and Metal delivers the roar of US high-gain metal sound.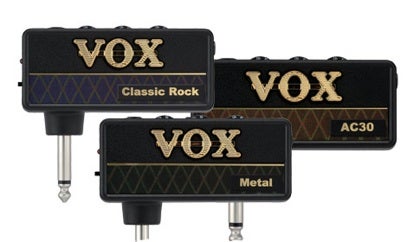 Vox says you can get up to 15 hours of battery life with two Alkaline AAA batteries.
Pricing was not immediately available.