So, I've been running a feasibility report/cost-benefit analysis of replacing all of my readers with robots—and the news does not look good for you, my friends. According to what I've read, robots are very appreciative, consume little food or water, and make great pets. The only downside is an inability to laugh except by producing an emotionless "HA HA HA" sound.
Fortunately for you, I love the sound of human laughter almost as much as the sound of human tears, so I guess you can stay. For now. Just don't eat all the snacks in the kitchen okay? Those are for the robots. You won't like them, anyway: they're bolt-and-oil canapés.
On, then, to our weekly panoply of technology. On this edition of Gadgetbox, we bring you three lovingly hand-selected gizmos to potentially improve your life and invoke your sense of wonder: a handy portable power strip, a finger-keyed vault, and the game of walking.
Power to the USB ports!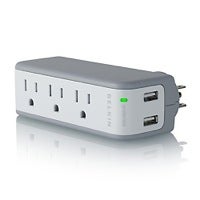 Power strips with AC plugs are practically steampunk nowadays. We live in a world that is quite possibly the future and, in this magical land of futurism, we have plenty of devices that are draw their power over a spiffy technology we like to call USB. Wouldn't it be handy if someone would take that fact into account?
The folks at Belkin are either smart enough to figure that out or they're psychic. We'd bet on former, but just in case it's the second one, we're trying to keep our thoughts about their new Mini Surge Protector with USB Charger totally clean. Still, you can't blame us for getting a little bit excited about a small three plug power strip that also has two USB ports, can you?
And heck, that was before we found out that the plug rotates 360° with four locking positions, provides complete surge protection, has Lifetime Product and $75,000 Connected Equipment Warranties, and costs just $25. Now we think we're in love. Even though it's not out yet, we will bide our time and sigh woefully until it is.
[via Engadget]
Give this vault the finger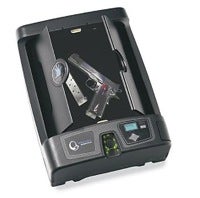 I don't have that many important documents. Except for my certificates from National Novel Writing Month, of course—those things are practically irreplaceable. But if I did have some documents that needed protecting, I know that I'd want the best security money could buy. And, failing that, the coolest security money could buy would be a close second.
The Biometric Vault Security Safe measures in at 12-1/2"W x 17-3/4"L x 6"D, perfect for storing your documents, jewelry, and, er, handguns, apparently. The integrated scanner can store up to 50 authorized fingerprints in flash memory and runs off three D-cell batteries (good for up to a year), plus an auxiliary AC/DC adapter. Oh, plus a wall mount and shelving kit is include, so you can show off your super-secret vault.
Of course, all this means is that would-be thieves will not try to steal your keys, but rather your fingerprints—which are unfortunately rather harder to keep track of. Just remember, watch out for classic tricks such as the tried-and-true Gummi bear attack (seriously, you should see what they can do with Swedish fish).
[via Red Ferret]
Walk this way
Video games have been targeted as one of the factors that can lead to a sedentary lifestyle—which itself can contribute to obesity. But just because many video games involve sitting still doesn't mean all do. A few weeks back, for example, we brought you news on Nintendo's soon-to-be-shipping Wii Fit.
Now third-party game vendor Ubisoft is prepping a game that takes aim directly at fitness, aptly named My Weight Loss Coach. But how will it know? you ask. I mean, the DS is pretty advanced: it's got a touchscreen and a microphone, but it can't tell from the sound of your voice whether you've managed to lose weight, right?
Fortunately, Ubisoft's thought of that—clever monkeys—and included a pedometer that plugs into the DS's GameBoy Advance slot. Basically, you keep the pedometer on you as you traipse around all day, then in the evening, you plug it into the DS and it charts how many calories you've burned. The "game" will be available this summer, but no price point has been announced yet. We're guessing the pedometer will jack it up a bit more than the cost of a normal DS game, but how much would you pay for your health and well-being?
[via DS Fanboy]
That's it for this week's Gadgetbox extravaganza. Don't fret, though, cause we'll be back next week with more fresh gadgets collected directly from the gardens of technology.