M-Audio on Wednesday introduced two new digital pianos that come equipped with built-in audio interfaces.
According to the company the new ProKeys Sono 61 and ProKeys Sono 88 keyboards were designed to help bridge the gap between writing, recording and performing. Each of the portable keyboards have a variety of sounds that can used to build songs with or without a computer.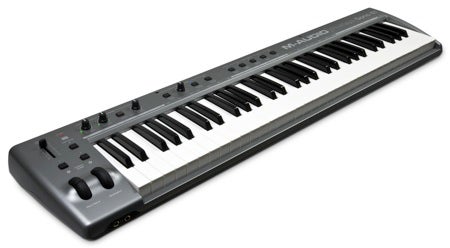 Both models feature sounds sampled from a Steinway grand piano by the software instrument designers in the Digidesign Advanced Instrument Research (A.I.R.) group. ProKeys Sono 61 provides four other instant-access sounds—bright piano, electric piano, organ and clav—while ProKeys Sono 88 adds strings and choir for a total of seven on-board instruments.
The ProKeys Sono 61 and 88 portable digital pianos are currently expected to ship in the second quarter of 2008 and will cost $449.95 and $549.95, respectively.