Whenever I think I've seen every possible iPod accessory someone could dream up, I'm proven wrong by yet another unique creation—with the connotation of "unique" varying wildly. Similarly, every time I think I have a firm grasp on the full reach of the iPod ecosystem, I encounter an iPod accessory in a yet-more-remote location.
Case in point: I was fortunate enough to spend last week with my family on the Hawaiian island of Kauai. During our stay, we took a drive up to Koke'e State Park to enjoy the beautiful views of Waimea Canyon—"the Grand Canyon of the Pacific" and one of the most remote locations on one of the most remote islands in the world.
This drive has become a routine part of our Kauai vacations, so we've become regular visitors to Kokee Lodge, a tiny restaurant and gift shop in the heart of the park. It's the sort of rustic, endearingly kitschy place you find all over Kauai, except that this one is approximately 15 miles up a two-lane, winding road, nearly 4000 feet above sea level, and just 3 miles from the famous end-of-the-road Kalalau Lookout. (That last link is to a QuickTimeVR view of the Lookout; be sure to scan to the right to see the amazing view.)
Whenever we've visited, the Lodge's store has been filled with the expected Hawaii-themed souvenirs, tchotchkes, and crafts. That hasn't changed, but on our most recent visit, one of the store's newer offerings caught my eye: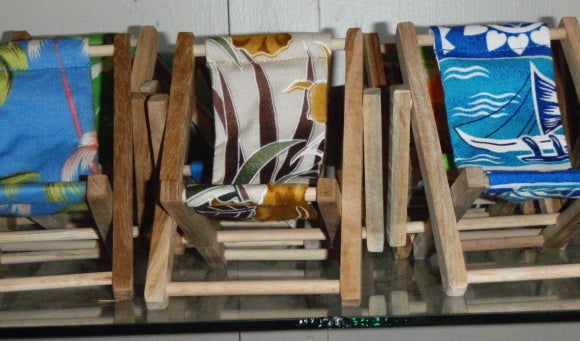 My initial thoughts were along the lines of, "Cute—tiny Hawaiian beach chairs. But what would I do with a tiny, Hawaiian beach chair?" Then I read the sign off to the side and realized what these actually were:
That's right; these were tiny Hawaiian iPod beach chairs—the perfect size for providing your iPod or iPhone with a few moments of respite. (That's my iPhone taking a break in the picture.) The chairs are functional, as well: the bottom of each chair's seat has a small opening for Apple's dock-connector cable, so you can actually charge and sync your iPod or iPhone while it's relaxing.
At the time, I found the whole idea of these knickknacks so amusing that it didn't even occur to me to buy one. Which is too bad, because now that I'm back home, I'm thinking I might have enjoyed a little bit of Hawaii on my desk, kitschy or not.
Updated 11/2008: I finally located the maker of the beach chairs: Mamako Imports. You can order chairs directly—they're quite inexpensive.