Time stands still for no one—neither does Web browser development, at least not around Mozilla headquarters. No sooner did we publish our review of Firefox 2 ( ), then Mozilla cranked out another beta of the next version of Firefox, Firefox 3 Beta 4.
It's Macworld's policy not to mouse-rate products that are still in beta, hence the inclusion of Firefox 2 in our recent round-up of browsers. But that doesn't mean we have to wait until the final version of Firefox 3 appears later this year to assess some of the changes to the popular browser. I've spent some time with Firefox 3, beta 4, and I can tell you what's changed from version 2 of the Web browser as well as some of the more interesting features introduced in the beta.
What's changed
Our Firefox 2 review noted that the browser had a "clean and appealing" interface, with the ability to download themes for customizing its look-and-feel. That's certainly a strong point for Firefox, but the other side of the coin is that, for some people, the browser has never felt like a Mac application. It doesn't use native OS X widgets for things like buttons, checkboxes, and radio buttons. That changes with Firefox 3.

The image on the left is from the Firefox 3 beta; the one on the right comes from Firefox 2. As you can see, the browser now uses native OS X controls, and no longer feels like a poor Windows port. (Somewhat ironically, Firefox on Windows Vista didn't look right, either—its menus weren't displayed in the native Vista theme. This has also been fixed in Firefox 3.)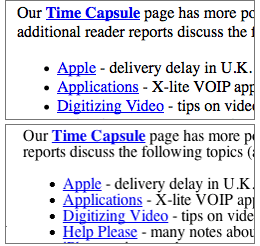 Along with the new native widgets, Firefox 3 sports greatly improved font and graphics rendering. Fonts are clear and much easier to read, and graphics can have embedded color profiles (with some work from Web developers). The difference in reading text is simply amazing—I previously found the fonts in Firefox to not quite look right, and my eyes tired when reading long pages. The snippet at right, snapped on the Macintouch page, visibly demonstrates this difference. The top image is from Firefox 3—notice how much more well defined the text is when compared to the text in the lower clip from Firefox 2.
While praising Firefox's amazing assortment of add-ons, version 2 reviewer Nathan Alderman remarked that "…enabling new add-ons requires you to restart the browser. That can be a pain, since Firefox isn't exactly speedy to load." The good news is that Firefox 3 seems to have cured that issue, at least according to my informal tests.
The Firefox 3 beta loaded nearly as quickly as Safari on my 2.66GHz Mac Pro—anywhere from one to two seconds, give or take. So while Firefox 3 still requires a restart to activate new add-ons, it's not nearly as painful as it was before. Even better, Firefox 3 will automatically save and reopen your windows and tabs when it restarts, so you can pick up right where you left off.
Another issue in Firefox 2—and one of the reasons I actually stopped using it regularly—was its slow speed when loading multiple tabs. Again, quoting the review:
While Safari can smoothly open dozens of new tabs simultaneously, Firefox consistently stalls for several seconds.
Firefox 3 greatly improves tab loading. I did some simple tests with a collection of 10 popular sites (eBay, Amazon, Flickr, Expedia, Orbitz, Facebook, Monster Jobs, Career Builder, Disney, and Craig's List). Opening all 10 in Firefox 3 took around six seconds, without any apparent stalling. Safari 3 required about 10 seconds. Once all those tabs are open, Firefox 3's new tab quickmenu makes it simple to pick any of the opened tabs: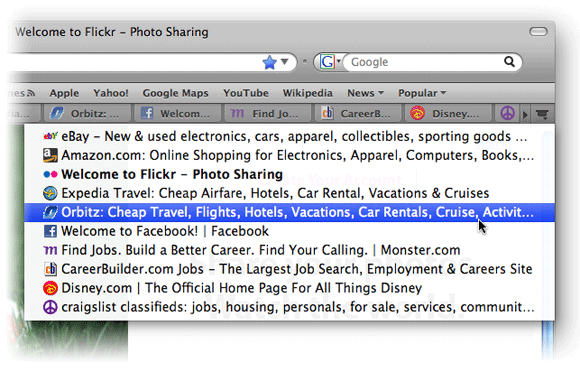 Overall speed has improved quite dramatically from that of Firefox 2, which tended to lag behind Safari. On my Mac Pro, it was much closer to a toss-up between Safari and the new version of Firefox—Safari was faster on some sites, Firefox 3 faster on others. I used a simple CSS benchmarking test (you must download the source to that page and save it locally if you want to try this yourself), which revealed that Safari's CSS engine is much faster than that of Firefox 3, though neither are particularly slow (Firefox 3 took 42 milliseconds, Safari took 25). I then ran a Javascript speed test in both browsers, and found Firefox 3 (around 440 milliseconds) quicker than Safari 3 (730 milliseconds). From this user's seat, however, both browsers are more than fast enough for any browsing need.
What's new
Beyond comparisons to Firefox 2, however, there are some new and greatly improved features in Firefox 3 that are worth covering. I think one of the most important changes comes in how the new version works with bookmarks.
To me, bookmarks are both a benefit and a curse. They're a benefit because they let me store pages again for future access, but they're a curse because I store so many that I can rarely find time to organize them all—which makes finding them in the future very difficult. As a painful-but-true example, my "to be filed" bookmarks folder now contains nearly 250 entries, so finding sites I know I stored has become something of a needle-in-a-haystack expedition.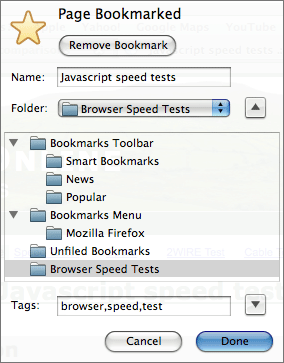 Firefox 3 attempts to tame this insanity a couple of ways. First, the browser makes it easier to bookmark sites. A hollow blue star sits at the end of the URL bar, just waiting for your click. Click it once, and the star becomes solid blue. You've now bookmarked that site—Firefox 3 adds it to an Unfiled Bookmarks folder. So far, this isn't helping my issue much. But click the now-solid star, and that's when the magic happens. The second click brings up the filing dialog you see at right.
This compact box contains everything you need to quickly organize your newly-created bookmarks. Change your mind about keeping it? Click Remove Bookmark. Want to keep it? Give it a permanent name and pick the folder. (You can't create folders here, though; they must exist already). But the real advance in this dialog is the Tags box at the bottom of the dialog. If you've used tags on the Web, then you'll know how this feature works. Just enter a list of words or phrases, separated by commas. Tags are a great way to lump bookmarks into multiple categories—no longer will you have to keep one site in only one folder. Instead, just provide a number of tags, and then use those tags to find the bookmark in the future.
So how exactly do you use the tags you've created? You just enter one of them in the URL bar, and Firefox 3 goes and finds the sites in your bookmarks that match that tag, and displays them in a drop-down menu:

At the far right of each displayed URL, a small graphic indicates the source of the match. In this case, the first three matches were found based on their tags, and the last came from the bookmarked site's description. When you open the full Bookmarks screen, you can see all of your tags and which sites are associated with each tag.
Beyond easy filing and tagging, Firefox 3 also includes a Smart Bookmarks folder with three automatically-filled bookmark folders: Most Visited, Recently Bookmarked, and Recent Tags. The Smart Bookmarks folder resides in the Bookmarks Bar; click it to show the Smart Bookmarks and the sites associated with each. So if you visit certain sites multiple times every day, they'll always be available in the Most Visited Smart Bookmark folder.
Between tags and easier filing, I think Firefox 3's new bookmarks interface is a winner. There's still more, though, to like about Firefox 3. You can zoom Web pages easily with a menu item or keyboard shortcut—and Firefox 3 even zooms images, scaling them up with the text. When you're done and you want things back to normal, there's even a reset key (Command-0) that sets everything back to the default size.
The password manager is easier to use, with a bar appearing at the top of a site you've logged into, asking if you'd like to remember the password. (Firefox 3, though, still doesn't use the OS X keychain to store these passwords.) Add-ons are easier to install, and there's a new interface for managing them, including the ability do disable individual add-ons. Finally, for us geeky types, Firefox 3 now supports Growl notifications for completion of page loads and downloads.
Final impressions
Even though Firefox 3 is still beta, it's been quite stable in my testing, and many of its new features are quite compelling. We'll put the browser through its paces when the final version ships later this spring; if you'd like a look at the future today, though, the Firefox 3 beta is freely downloadable.
As of this writing, there's yet another beta—Firefox 3, beta 5—that's slated to go into code freeze next week. Expect to see that beta available shortly after that. And if that fifth beta proves to be the last version before Firefox 3 goes final, it's safe to say we can expect a finished version sometime this spring.
[Senior editor Rob Griffiths also took a look at Firefox 2 when that version of the browser was in beta.]