At a Glance
Expert's Rating
Pros
Excellent included lens
Tilt and swivel LCD screen
Small size
Lens has built-in image stabilization
Good overall image quality
Good feature set
Cons
No top-mounted status display
Very noisy images shots at ISOs over 400
Menus are slow to navigate
Slow burst speed
Weak viewfinder
Our Verdict
The midrange digital single-lens reflex camera market continues to get more crowded as more DSLR cameras are introduced. Panasonic's Lumix DMC-L10K is the company's latest offering and its first at the $1,300 price point (previous Panasonic DSLRs were more expensive). With a feature set that competes head-on with heavy-hitting DSLRs like Nikon's D300 ( ) and Canon's EOS 40D ( ), the DMC-L10K appeals to users who want a slightly smaller DSLR but don't want to compromise on features.
The DMC-L10K packs a 10.1-megapixel sensor into a conventional DSLR body. The camera conforms to the Four Thirds specification; its images have a 4:3 aspect ratio and its lens mount is compatible with any Four Thirds-compatible lens, including those made by Panasonic, Olympus, and Sigma.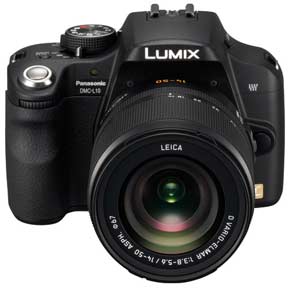 The included Leica 14mm to 50mm f/3.8 to f/5.6 aspherical lens, with a 35mm equivalent focal length range of 28mm to 100mm, is not the usual kit lens that most DSLRs come with. It's an excellent lens and accounts for a good part of the $1,300 price. The lens uses Panasonic's Mega OIS optical stabilization technology, which provides two stops worth of stabilization.
On the back of the DMC-L10K is a 2.5-inch LCD that can flip out and rotate 180 degrees. This is great feature for shooting overheads or macro shots, one that is complemented by the camera's live view function.
The DMC-L10K has a good number of external controls, which save you from having to venture too often to the camera's interface, though that isn't intimidating to new users. However, the DMC-L10K doesn't have the extensive number of external controls that Nikon's D300, Canon's EOS 40D, or Olympus's E-3 ( ) has. The DMC-L10K also lacks a dedicated status LCD (separate from the rear LCD), which means the DMC-L10K activates the rear LCD when you make adjustments. I prefer a dedicated status readout; it's easier to see, doesn't blind you in low light, and doesn't drain your battery. Looking through the viewfinder with an LCD shining in your eyes is distracting, and the DMC-L10K does not automatically turn the screen off when you lift it to your eye, like the Sony Alpha DSLR-A700 does.
The viewfinder itself is dark and not as clear as we've seen in other DSLRs. It does provide good feedback of current camera settings, but other DSLRs, such as Canon's EOS 40D and Nikon's D300 have more comprehensive viewfinder readings.
The camera's good live liew option offers functionality similar to the Nikon D300's. With live view, you can use the LCD as a viewfinder to frame shots; you choose between a normal autofocus mode that temporarily disables the LCD, or a contrast-detecting autofocus mode that doesn't disable the LCD at all but is slow and doesn't work with most Four Thirds lenses.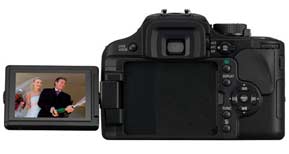 Speaking of autofocus, the DMC-L10K only offers three autofocus points, which is enough for beginners, but is fewer than what most DSLRs in this market offer. The DMC-L10K shoots nice images with good detail. It's likely that the included Leica lens will be all that most users will ever need, as it offers a good walk-around focal length range and quality.
While the camera's pictures have nice detail and color, its default JPEG images are soft and bland. Altering a few settings will punch up the images, but for best results, shoot in RAW mode, which provides you with more control over sharpening and color.
Pictures are noticeably noisy at ISO 400 and above, much noisier than we've seen in other DSLRs. If you do a lot of shooting in low light, or want the extra exposure latitude that higher ISO shooting can bring you, consider the DMC-L10K's noise carefully.
Macworld's buying advice
The DMC-L10K's image quality and Leica lens are impressive, but its overall performance leaves you feeling like the camera is a generation or two behind. If the DMC-L10K were priced to compete with sub-$1,000 entry-level DSLRs, it would be a more compelling choice.
[Ben Long is the author of Complete Digital Photography, fourth edition (Charles River Media, 2007).]
[Editor's note: Updated April 2, 2008 at 4:15pm to correct image stabilization information in the Pros and Cons of summary box, and clarify information about the external controls. The rating was unchanged.]