Apple released an update Monday to a favorite, though under-hailed, hunk of wireless networking hardware: the AirPort Express Base Station. The new version looks identical to its rectangular predecessor ( ) and boasts a single major improvement—802.11n networking versus the slower 802.11g standard found on the original AirPort Express—as well as a few minor tweaks.
Like the Express Base Station of old, the updated version includes a 10/100Base-T Ethernet port, a USB port for attaching a remote printer, and an audio-output jack that supports both digital and analog audio. You power the thing by plugging it directly into a wall socket. For those who haven't discovered the AirPort Express' wonders, its benefits include:
Nearly all the wireless-router features of a full-fledged AirPort Base Station in a package about the size of the AC adapter for an Apple laptop: You can use an Express as your main wireless router at home, or create a wireless access point on-the-go. For example, most hotels offer Internet access but far too many of them are tethered. If you prefer to compute from the comfort of a king-sized bed, just jack the hotel's Ethernet cable into the Base Station's Ethernet jack and you're well on your way. Added bonus: Both you and your roommate can access the Internet at the same time. (The Express supports up to 10 simultaneous users; the Extreme, 50.)
The ability to extend the range of a WDS (Wireless Distribution System) network hosted by an AirPort Extreme Base Station or another AirPort Express: For example, if you have a Base Station in the basement but its signal weakens by the time it hits the second floor rumpus room, just plug the AirPort Express into a power receptacle on the first floor to improve the signal upstairs.
Streaming audio: With iTunes and an AirPort Express Base Station on your network you can stream audio tracks from within iTunes to play through an audio device attached to the Base Station's audio jack. Although Apple doesn't support streaming audio from other applications, Rogue Amoeba's $25 Airfoil 3.1 (
) makes this possible.
Remote printing: Like the AirPort Extreme Base Station, you can string a USB cable between the appropriate ports on the Express Base Station and your printer and print remotely. This is a nice way to station a printer in a central location convenient for everyone in your home or office.
What's new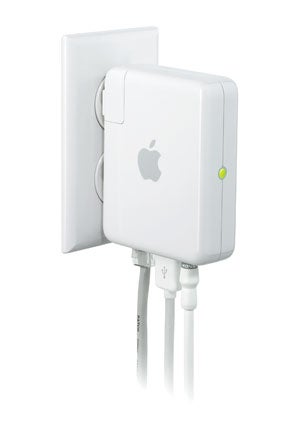 Nothing has changed in this regard after Monday's release. What the latest AirPort Express brings to the table is enhanced range and speed, as well as a few minor new features. Specifically, Apple claims that the new Express brings twice the range. If it offers the kind of extended range some of us have found from our n-flavored Airport Extreme Base Stations, this is definitely a good thing. Signals that used to peter out from a certain distance now offer the strongest possible signal across multiple floors.
Similarly, a faster Express will certainly do no harm if you currently have today's AirPort Extreme Base Station. And that base-station-in-hotel scenario should bring benefits as well.
(Note, however, that if you add an 802.11n AirPort Express to a slower network—for example, one provided by an 802.11g Extreme or Express Base Station—the network will still operate at the slower g-standard speed. Conversely, an 802.11n Base Station won't suddenly improve the network performance of a PowerBook that contains an 802.11b/g AirPort card.)
The new Express also adds support for a number of features the AirPort Extreme gained when it made the jump to 802.11n. For example, like the Extreme, the Express now also supports the older 802.11a standard. And through the use of the latest AirPort Utility, it offers the same easy-to-use setup procedure available to the AirPort Extreme and Time Capsule.
The Express also gains the time-based network-access feature available to the 802.11n AirPort Extreme Base Station since its debut last year. This feature lets you limit the days and times at which each computer on your network can access the network. For example, you can limit a computer's access to the network to workday hours.
Some may be disappointed by the Express' Ethernet specs—10/100Base-T rather than Gigabit Ethernet. Dry your tears: few people would see a benefit from Gigabit Ethernet on this device. Although we found that gigabit Ethernet did provide improved wireless-to-Ethernet transfer rates with the latest AirPort Extreme Base Station, the Express' single Ethernet port means such benefits would be realized only if the Express was extending an 802.11n-only (5GHz) network and the Express was acting as a wireless-to-Ethernet bridge for a computer with Gigabit Ethernet. (If that made no sense to you, don't worry about it. The point is that you're unlikely to miss Gigabit Ethernet on an AirPort Express.)
First impressions
So, to sum up, other than the existence of the faster 802.11n networking and the trickling down of a few minor features from the latest AirPort Extreme Base Station, there's not a lot to see here. Regardless, the AirPort Express was a good bet to begin with and adding greater range and speed hardly diminishes its advantages. We'll be taking an official look at Apple's latest wireless appliance soon.
[Senior editor Christopher Breen is the author of The iPod and iTunes Pocket Guide, third edition (2008, Peachpit Press). Senior editor Dan Frakes oversees the Mobile Mac blog.]