I've been using Macs for a long, long time, and as far back as I can remember, Mac users have loved changing their icons. Whether to improve on a hard drive's stock appearance, to make particular folders stand out, or simply to add a bit of personality to their Desktop, custom icons have been popular.
Changing the icon on a user-level document or folder has always been a matter of copy-and-paste. But in OS X, all standard icons—for example, the icons for a generic folder, the Trash can, a DVD, a clipping file, or your Home folder—are provided by a set of system-level images. Change one of these, and the respective icon is changed throughout the system. This provides for a whole 'nother level of system customization (and, for critics of Leopard's new folder icons, a way to revert to the Tiger look).
The problem is that you can't change these images without some mucking about—a process that's more trouble than it's worth to many users (not to mention a bit risky). That's where CandyBar 3.1.2 ( ; $29; upgrade, $24 or $19), a joint effort between Panic and IconFactory, comes in. We reviewed CandyBar 1.5 way back in 2003, but the latest version is a much different product: in addition to full Leopard compatibility—including support for Leopard's 512- by 512-pixel icons—and a completely new interface, CandyBar 3 also incorporates IconFactory's previously-separate Pixadex icon-organization software. It even lets you customize Leopard's Dock.
Customizing appearances
When you first launch CandyBar, you may find its interface to be a bit confusing; that was my initial reaction, at least. But once I grasped the program's organizational approach, I found CandyBar to be fairly easy to use. The main window is divided into three panes: the top-right pane (which the developer calls the Change pane) shows Mac OS X's current icon or Dock appearances; the lower-right pane (called the View pane) displays possible icons or Dock modifications you can apply; the left-hand side hosts CandyBar's three "Tabs"—areas where you initiate or perform actions.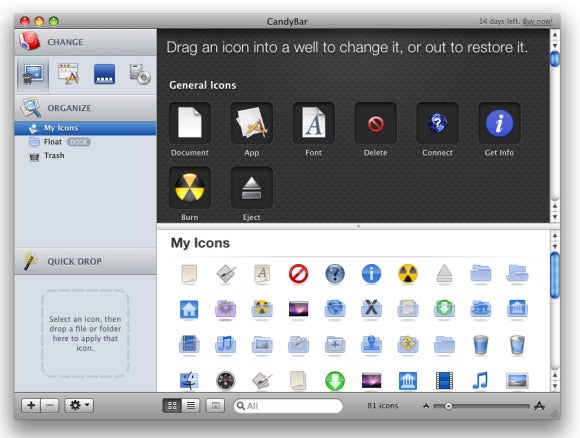 The Change Tab, at the top, lets you choose what you want to modify: system icons, application icons (any program in /Applications), the Dock, or the icons of mounted volumes. Clicking on one of these item types displays, in the Change pane to the right, the items of that type you can modify.
The Organize Tab, in the middle, is a bit like iPhoto for icons. Click on My Icons to view (in the View pane) all icons you've collected in CandyBar; an attractive starter set is included. Click on a specific collection—similar to an iPhoto album; a collection called Float is included—to view just the icons in that collection. You can create your own collections, or you can import collections you've downloaded from the Internet. If a collection includes Dock elements, it displays a DOCK label next to its name and includes a preview of Dock elements along with its icons.
One of my favorite icon-viewing features is Quick Look support; select an icon and press the space bar to see all sizes of that icon. Alternatively, as in iPhoto, you can drag the zoom slider at the bottom of the window to resize the icon previews. You can also choose to view icons as a list; list view displays the icon sizes available for each icon and, by clicking on the "i" (info) button, shows you detailed information about the icon. Finally, the Trash item, like iPhoto's Trash, displays any icons you've deleted.
(You can drag the divider between the Change and View panes to resize them relative to one another. A nice touch that makes it easier to browse elements and icons: clicking on the Change or Organize tab on the left collapses both it and the larger Change or View pane, respectively; this allows the other pane (View or Change, respectively) to take over the entire right–hand side of the window.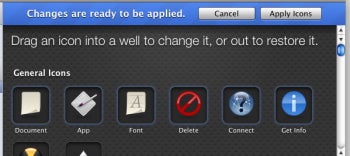 Changing icons Changing a single icon—for example, the Finder's generic icon for a document—is simple: After choosing the icon group—system, applications, or volumes—in the Change tab, you just drag the desired replacement icon from the View pane (that's the one on the bottom) onto the icon you want it to replace in the Change pane (the one on top); the new icon will take the place of the original. (If you change your mind, just drag the replacement icon off of the original.) Once you've made the desired changes, click on the Apply Icons button that appears at the top of the window. If you're changing system-level files, you'll be asked for an admin-lever username and password. You'll need to log out and then log back in for system-level icon changes to take effect; changes to application or volume icons require only a Finder relaunch.
CandyBar makes it even easier to apply an entire collection at once—in other words, to change all system icons simultaneously. You just select the desired collection of icons on the left and then click on the Use These Icons button in the View pane. One thing I'd like to see here is the name of each icon so I can determine which system icon it will replace; often it's obvious, but sometimes it's not.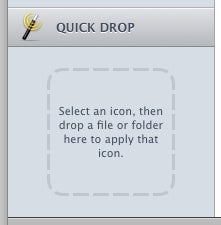 At the other end of the spectrum, if you've got a particular user-level folder or file you want to customize, rather than a system-level or application icon, CandyBar makes doing so easy. First, in the View pane you select an icon from your library; the Quick Drop area at the bottom-left of the CandyBar window will display a large preview of the icon. Then you drop the "target" file or folder into the QuickDrop area; the new icon is applied immediately. (To remove a user-level folder icon, you must use the Finder's Get Info command on the item, select the icon, and then choose Cut from the Finder's File menu.)
Note that if you previously created an alias to an item, and then you give the item a new icon—using any of the above procedures—the alias will keep its original icon. This is a result of how alias icons are created by OS X. The "solution" is to just delete the alias and create a new alias from the newly-rebranded file or folder.
Changing the Dock As I mentioned above, you can also use CandyBar to customize Leopard's Dock appearance. Click on the Dock item in the Change tab to view the various Dock elements you can modify: the background, the bottom edge, the separator, and the active-application indicator; CandyBar displays the dimensions of each element so you can create your own replacement image. Just drag a replacement image (in PNG format) onto the respective original. When you've made your changes, click on Apply Dock; you'll need to provide your username and password, and then CandyBar will relaunch the Dock with the new elements. (You don't have to log out for the changes to take effect.) Although this feature works well, I wish you could copy the Dock's default elements from within CandyBar so you could easily create your own replacement based on the originals.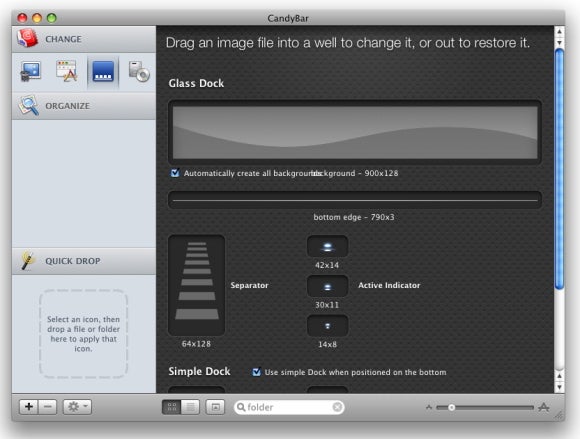 An easier way to remake your Dock is if a collection includes a Dock theme. With Dock selected in the Change tab, select the desired collection in the Organize tab; at the bottom of the View pane you'll see a preview of that collection's Dock theme. Click on Use This Dock to apply the theme's elements, and then click on Apply Dock.
CandyBar also lets you customize the 2-D version of Leopard's Dock, and lets you use the 2-D version even when the Dock is positioned at the bottom of your screen.
CandyBar keeps a backup of all icons and Dock elements you've changed. This is useful if you ever want to revert to the stock appearance of icons or the Dock: just select the appropriate category in the Change tab and click on the Restore Icons or Restore Dock button in the Change pane.
Working with icons
All this great functionality is of little use if you don't actually have icons and Dock elements. Fortunately, CandyBar provides a number of ways to get those items into your library. The easiest way is to simply drag and drop ICNS (Mac icon), ico (Windows icon), image, or iContainer files into the CandyBar window. (iContainer files are special icon-collection files you can download from the Internet; you can find lots of them at IconFactory's icon downloads area; you can find collections that also include Dock elements here.) Dropping items onto My Icons adds them to your library; dropping them into an existing collection adds them to your library and that collection; dropping them into an empty part of the Organize tab creates a new collection with those items.
You can also use CandyBar's File: Import command to manually import icons from a variety of sources, including packs from the popular IconDropper utility. CandyBar also lets you export icons in a variety of formats.
Once you've got icons in CandyBar, you can create collections of your favorite icons, and you can even combine a Dock theme you've created to an icon collection to create a über-appearance collection of your own. However, there's one hitch here: CandyBar doesn't warn you if you drag multiple versions of the "same" icon—for example, replacement Generic Folder icons from two different imported collections—to a custom collection. Nor does it warn you when you're about to apply your custom collection that you have two of the same icon; it simply applies one.
Another minor complaint about custom and imported collections: If a collection doesn't have a replacement icon for every system icon, CandyBar replaces the "missing" icons with their default OS X versions. At times, this may be what you want. But on several occasions I wanted to apply a small collection over a complete collection, keeping from the latter those icons not overwritten by the former. The only way to accomplish this is to create a new custom collection that contains icons from both sets and then to apply that new collection.
CandyBar also lets you create Smart Collections—like Smart Albums in iPhoto and Smart Playlists in iTunes—based on icon name, creation date, author, file size, comments, author URL, keywords, or copyright. These can be useful, for example, for viewing all icons by a particular icon artist, or all icons with a particular keyword/comment. (You can add your own comments to each icon via CandyBar's Inspector window.) A Search field at the bottom of the CandyBar window lets you filter the selected collection, or your library, using the same information.
Finally, CandyBar also makes it easy to get icons out of the utility. For example, dragging an icon to the Finder creates a new folder with that icon as the folder icon. You can also export individual icons to GIF, ICNS, ICO, JPEG, PNG, or TIFF files, or export a collections of icons to an iContainer file.
Mmm…icons
Although CandyBar 3's interface is initially a bit more complex than you might expect, I attribute this to the fact that it combines two good, but previously-separate, programs into one. After that initial learning period, CandyBar is both easy and fun to use. It also worked flawlessly in my testing: no matter how many times I replaced system-level icons or tweaked the Dock, I never had a problem with my Mac, and I was able to restore everything to its original state with a few simple clicks. (As with any utility that modifies system files, you should make sure you back up your Mac before using CandyBar.) If you'd like to personalize your Mac's appearance, or you're just not a fan of Leopard's new folders, CandyBar is…wait for it…pretty sweet.
CandyBar 3.1.2 requires Mac OS X 10.5 or later.