Reader Brian Silverman finds Energy Saver's Scheduling feature too limited. He writes:
I have muscular dystrophy and have difficulty manually starting my iMac. I use the schedule in System Preferences to turn on the machine but it only offers daily, weekends, or weekdays options. Since I have a different use on weekends is there a way to have multiple schedules?
Regrettably, Energy Saver can't do this. But I'm familiar with an application that can. That application is Dragon System Software's €20 Power Manager 3.
Unlike with Energy Saver, Power Manager 3 allows you to create schedules for any day and time of the week. Additionally it can handle a variety of tasks including startup, wake, sleep, log out, log in, restart, and shut down. You can also create one-time events.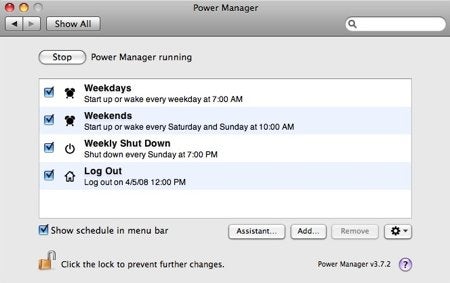 It's installed as a system preference and can be configured via an intuitive assistant (that, granted, requires a fair amount of typing) or you can simply click an Add button to create single events.
You can use the software for free for 30 days.