At a Glance
Expert's Rating
Pros
User friendly
Good scan and print quality
Flexible scanning options
Speedy scanner and printer
Quiet
Cons
Print quality loses integrity at finer point sizes
Copies are grainy
Printer lacks an output tray
Scans appear soft
Our Verdict
Most laser multifunction printers (MFPs) have the ability to print in color and are built for small-to-medium businesses—but the daily cost of color printing is expensive. For the cost conscious, a monochrome multifunction laser printer like Samsung's SCX-4500, which includes a built-in scanner and copier, is a welcome alternative. The SCX-4500 is a good overall performer, offering the benefits of high-quality monochrome laser prints and color scans without putting a dent in your budget.
Sporting a sleek, black exterior with a glossy finish, the SCX-4500 sits attractively on your desk. The SCX-4500 is light and compact for an MFP, weighing about 19 pounds. However, the printer lacks an output tray for your prints. You'll have to turn the SCX-4500 away from the edge of your desk to prevent papers from falling on the floor.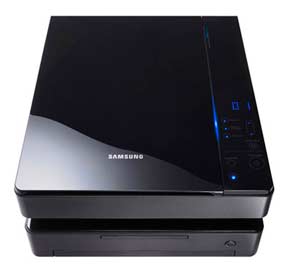 The SCX-4500 features an intuitive, touch-sensitive control panel with only seven buttons (Power, Start Copy, Scan to PC, Stop/Clear, Darkness, Reduce/Enlarge, and Copies). The panel's simplicity makes it easy to work the SCX-4500; there's no fretting over the controls.
The SCX-4500's scanning software is intuitive and well designed, too. You'll appreciate the software's options; for example, you can set image type (e.g., true color RGB and lineart), resolution (up to 600-by-2,400 dots per inch), document type, and filters to adjust sharpness or blur. Other MFPs I've tested include software with only a minimal number of customization options.
The SCX-4500 turned in speedy print results. It took 13 seconds to print a 1-page Word document, 46 seconds to print a 10-page Word document, and 31 seconds to print a 4-page PDF. The SCX-4500's scanning speed isn't shabby either. With sharpening turned off, the scanner took 77 seconds to scan an 8-by-10-inch photo at 600 dpi, and 78 seconds to scan a 4-by-6-inch photo at 1,200 dpi.
When it comes to image quality, the SCX-4500 doesn't disappoint. The SCX-4500 earned a Good rating (on a scale of Superior, Very Good, Good, Fair, and Poor) from our panel of experts in our Text Quality test; overall, text appeared clean and smooth, but not as sharp as the output from other laser printers we've tested. Print quality lost integrity at finer point sizes. On our Graphics, Fine Lines, and Gradients test, the SCX-4500 earned a Good rating: fine lines were clean and well preserved, gradients looked flushed and weren't well-distinguished, and graphics looked professional though a bit dotty.
To test the SCX-4500's copy quality, we copied the cover of the December 2006 issue of Macworld. The SCX-4500's copy looked rich and detailed but a bit too grainy overall, earning a Very Good rating.
The SCX-4500's scanner got a Very Good rating for color: compared to our control photo of a picnic, the SCX-4500's scan output looked pleasing but a bit too blue. The scanner received a Good rating for clarity: overall, the scans appeared a little soft and could have been sharper.
Timed Trials: Print
| | |
| --- | --- |
| 10-page Word test | 0:46 |
| 1-page Word test | 0:13 |
| 4-page PDF | 0:31 |
Scale = Minutes: Seconds
Timed Trials: Scan
| | |
| --- | --- |
| 8-by-10-inch photo, 600 dpi scan | 1:17 |
| 4-by-6-inch photo, 1,200 dpi scan | 1:18 |
Scale = Minutes: Seconds
Jury Tests: Print
| | |
| --- | --- |
| Graphics: Fine Lines and Gradients | Good |
| Text Quality | Good |
Scale = Superior, Very Good, Good, Fair, Poor
Jury Tests: Scan
| | |
| --- | --- |
| Color | Very Good |
| Clarity | Good |
| Copy | Very Good |
Scale = Superior, Very Good, Good, Fair, Poor
Specifications
| | |
| --- | --- |
| Print Resolution | 600 x 600 dpi |
| Scan Resolution: Optical | 600 x 2,400 dpi |
| Max. scanning bit depth | 24-bit |
| Connection | USB 2.0 |
| Paper Sizes | A4, A5, A6, Letter, Executive, ISO B5, JIS B5 |
| Cost to Replace Toner Cartridge | $80 for black |
| Weight (in pounds) | 18.9 |
| Dimensions (height x depth x width in inches) | 6.5 x 15.5 x 13 |
| Paper Capacity | 100 sheets |
| Special Features | Touch-sensitive control panel |
Macworld's buying advice
The SCX-4500 is an attractive, pleasantly quiet, and user-friendly MFP that turns in solid all-around results. The lack of an output tray is irritating, but the SCX-4500 would be a good fit in your personal office.
[Brian Chen is an associate editor at Macworld.]