At a Glance
Expert's Rating
Pros
Powerful, compact 1U server
Robust hardware RAID allows up to 2TB of protected internal storage
Cons
Embedded controller requires convoluted deployment for secure remote access
Expensive hardware RAID
Lights-out controller ships unconfigured
More expensive to power and cool than G5 or G4 models
Our Verdict
Apple's Xserve server Mac is powered by a four-core 2.8GHz Xeon processor by default, with build-to-order options for two four-core 2.8GHz Xeons or two four-core 3.0GHz Xeons.
Apple has upgraded the Xserve, its rackmount server. Now outfitted with Intel's latest quad-core Xeon processors, today's Xserve packs a lot more power into the same slim 1U package.
Apple's server has the unenviable task of pleasing two disparate audiences: Macintosh users, who expect a suitably Mac-like server, and cranky server administrators, who prefer the command line and demand feature and price parity from a host of 1U server vendors. (U is a standard measure that refers to the space between shelves on a rack. It equals 1.75 inches.) The Xserve is largely successful on both fronts, but its design can force some uncomfortable compromises.
The Xserve's base configuration offers a single quad-core 2.8GHz Xeon processor, 2GB of 800MHz DDR2 memory, and a single 80GB, 7,200 rpm SATA hard drive, for $2,999. The PCI expansion slots are now PCI Express 2.0—one 9.25-by-16-inch slot and one 6.6-by-8-inch slot; the 6.6-inch slot also supports 133MHz PCI-X cards. A SuperDrive is now the standard optical drive. The Xserve also offers two Gigabit Ethernet ports, two FireWire 800 ports, a DB-9 serial port, and three USB 2.0 ports; one of those USB ports is on the front, replacing the FireWire 400 port found on earlier Xserves. The Xserve still lacks a video port on the front.
Available upgrades include two Xeon processors at 2.8GHz or 3GHz, up to 32GB of FB-DIMM RAM in eight slots, a second load-sharing power supply, and a variety of network and storage controllers. The chassis accommodates three 3.5-inch hard disks in either 7,200 rpm SATA or 15,000 rpm SAS varieties. An $800 hardware RAID controller is also available. All Xserves include an unlimited-user copy of Mac OS X Server.
For this review, Apple provided an Xserve with two 3GHz processors, 8GB of RAM, three 300GB SAS disks, the hardware RAID controller, and dual power supplies; the final price for this almost top-of-the-line configuration is $8,999.
Return of hardware RAID
Introduced in August 2007, the Xserve's hardware RAID controller replaces the Xserve's storage backplane; you can purchase it as a factory option, or install it yourself into any Intel-based Xserve. Unlike the RAID controller used in the Xserve G5 or the Mac Pro, it does not occupy a PCI slot.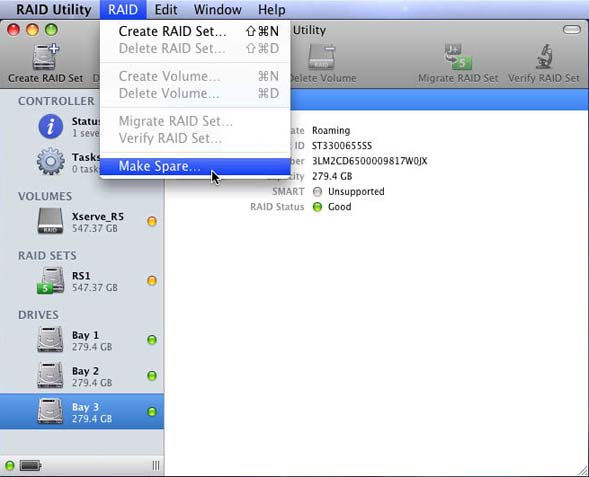 The controller offers 256MB of battery-backed cache and four RAID levels: Enhanced JBOD (a non-redundant configuration that takes advantage of the controller's caching), RAID 0 (striped set without parity), RAID 1 (mirrored set without parity), and RAID 5 (striped set with distributed parity). You can use Apple's graphical RAID Utility to configure the controller, RAID sets, and protected volumes. RAID Utility is included on the Mac OS X Server install disc, and is installed in the /Applications/Utilities folder. RAID Utility's interface is a graphical representation of a RAID's components: controller, RAID sets, volumes, and disks.
An Enhanced JBOD (or just a bunch of drives—and yes, that's a canonical technical term) set can be migrated to a stripe, mirror, or RAID 5 set, while preserving data. I tested this feature by migrating a 300GB Enhanced JBOD set to a three-disk 900GB striped set; the migration took 1.5 hours and completed without a hiccup. In another test, the controller took about 3.5 hours to initialize a new three-disk 600GB RAID 5 volume. When I removed a disk from a three-disk RAID 5 set, the Xserve reacted exactly as I expected: the RAID set went into degraded mode, and alerts showed on the Xserve's interface, in Server Monitor, and as a flashing LED on the server's front panel. Restoring the RAID set was a simple matter of replacing the disk and using the Make Spare command to add it to the RAID set; it took about 2.5 hours to rebuild the RAID set. At long last, the Xserve has a proper hardware RAID controller on the backplane. It's a bit steep at $800, however, particularly when most vendors offer basic hardware RAID 0 and RAID 1 in their standard controllers.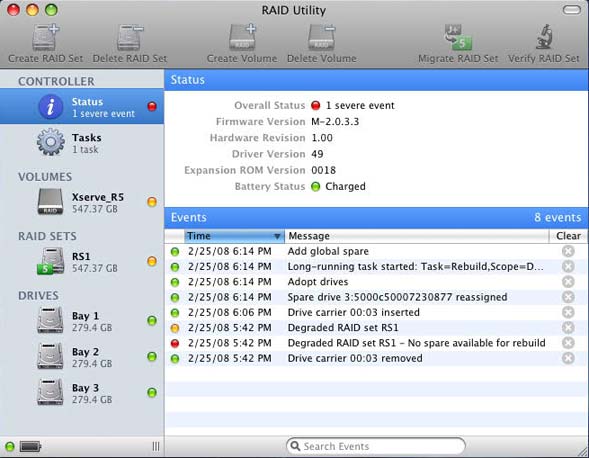 Remote management-a-go-go
Each of the Xserve's two Ethernet ports has two controllers. One controller is for the standard Ethernet used by Mac OS X Server, while the other is for the Xserve's embedded Lights-Out Management (LOM) feature. LOM allows an administrator to remotely monitor the server's hardware as well as power it up and down over the network. Each port can be enabled for network use by the operating system, or LOM, or both. The feature works well, but Apple's implementation creates challenges for effective remote management.
Best practices call for remote administration to be done across a private and restricted network. LOM is managed through one set of network interfaces, and Mac OS X Server's remote management and user services are managed through another; because the two pairs of controllers share a single pair of physical ports, it is difficult to provide all three functions (LOM, administrative tools such as Server Admin, and user access) securely using only the two available ports. Administrators must therefore designate a single port for remote administration, attach it to the secure network, and assign separate IP addresses to each of the Xserve's controllers on that port—one for LOM and one for Mac OS X Server. Then Mac OS X Server's Firewall can be used to disallow Server Admin, Workgroup Manager, and Screen Sharing access from anywhere but the administrative network.
If your deployment requires services on two physical networks, you must purchase a second Ethernet card in order to supply services and also perform secure remote administration; in this case, the embedded LOM begets a hidden cost.
Competing manufacturers such as Dell, HP, and Sun put lights-out management (including screen control) on a dedicated port, thereby leaving two ports for standard services.
LOM is not active when shipped from the factory and must be explicitly enabled with Server Assistant, or by running Server Monitor directly on the Xserve. Apple officially supports LOM only with static IP addressing, and that is the only option available via either supported configuration method. Apple says it chose this configuration for security, so customers cannot unwittingly expose remote administration access. LOM can be configured for DHCP via the included command-line ipmitool utility; although this technique is unsupported, it worked as expected in my tests.
While Apple's sensitivity to network security is admirable, in this case it's inconsistent with Mac OS X Server's setup process; the operating system utilizes DHCP (when booted from installation media and during initial configuration) to enable remote control and management of installations (see the Mac OS X Server Administration manual for details). Were LOM likewise enabled from the factory, administrators could completely control and remotely manage an Xserve's installation—including the first power-on. The Xserve's boot configuration can be controlled via the buttons on the front panel; perhaps that'd be a good place for this option.
LOM's user accounts are not managed through Mac OS X Server, and have different password requirements; LOM passwords must be a minimum of eight characters. Access to LOM is only available via local user accounts; access via an enterprise directory is not available and would be a welcome addition.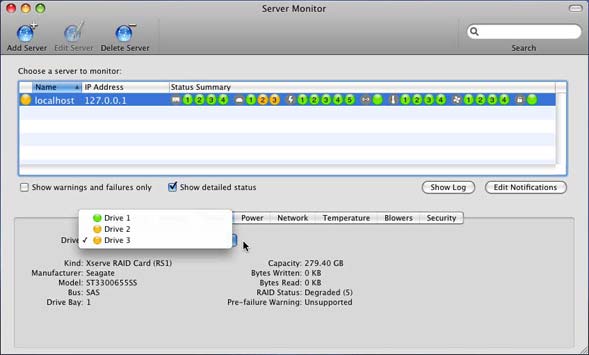 Power, heat, and ownership economics
Apple proudly touts the new Xserve's energy efficiency, pointing to the Xeon's on-demand power throttling, and the fact that the power supply exceeds the government's Energy Star efficiency specifications. However, a server's power consumption must be addressed as a complete system: the electric bill is produced not only by the server's power draw at the wall, but by the associated air conditioning required to keep the environment cool as well.
When measured at idle, the new $2,999 Xserve's power consumption and heat output are nearly identical to the previous $2,999 Intel-based Xserve. That's good news if you're upgrading from the previous Intel-based Xserve, but it's more complicated if you're upgrading from an earlier Xserve G5 or G4-based model. If you compare each generation's $2,999 configuration, you'll find that the environmental demands of today's model are more than 55 percent greater than the Xserve G5.
Today's Xserve is vastly more powerful than earlier models, but it is not immune to the industry-wide trend of increased demands on power and cooling. If you're upgrading from an older Xserve, take care to study your power and cooling infrastructure—and budget—as other upgrades may follow in a quad-core Xserve's wake. The fact is that most servers are usually idle—take into account the loads your servers maintain, and size your purchase accordingly.
Fast is as fast does
Measuring performance is treacherous territory for any server vendor. Vendors want to show their product in a positive light, but benchmarks can illustrate a product's weaknesses as well as its strengths.
Apple cites the Standard Performance Evaluation Corporation's (SPEC) CPU2006 benchmark for raw computational performance, which shows that today's Xeon 5400-based Xserve is 80 percent faster than the previous Xeon 5100-based model. As of this writing, the formal results for today's Xserve are based on Apple's internal tests, and they are not available at www.spec.org. Until the full results are available, we can neither verify Apple's claims nor compare the Xserve against competing systems.
In another category, Apple uses results from the SPECjbb2005 test to tout a 120 percent increase in Java server performance over the previous Xserve. Apple says this benchmark was chosen because it illustrates both the benefits of the new quad-core Xeon processors and the improvements made in Leopard Server. That's great news if your business runs Java server applications on Xserves, but it may not reflect the performance of other applications.
The available results from comparable systems show Apple's Xserve, running the included Mac OS X Server and JVM (Java Virtual Machine), competing against systems running either Sun Solaris or (at considerable additional expense) Microsoft Windows Server 2003 and BEA's JRockit virtual machine. The competitors best the Xserve's score by factors of two to three, a startling performance benefit achieved in software; hopefully Apple's forthcoming update to Java SE 6.0 will narrow this gap. (True to form, Apple declined to comment on unreleased software or future plans.)
Benchmarks tell a number of tales, but is the Xserve fast when the rubber meets my particular road? The new Xserve's AFP performance is so fast that I could not muster enough client computers to discover its performance ceiling. Macworld tested the Xserve's AFP performance in three RAID configurations: Enhanced JBOD, RAID 0, and RAID 5. The Xserve's results were tightly clustered, with only 0.4 to 8 percent separating the configurations' scores in the various tests. The new Xserve was 49 to 139 percent faster than a currently deployed, RAID 5-equipped Xserve G5. Compared to the SATA-equipped model we tested last year, the new model was 15 percent slower in 300MB writes, but 50 percent faster in 300MB reads. These results are not surprising given that SATA disks are typically better at sustained streaming operations, while RAID 5 is usually slow in writes due to parity calculations.
Macworld's buying advice
The quad-core Xeon-based Apple Xserve is a superbly modern 1U server with powerful options for storage and remote access. As with any server, deployments should be carefully planned—the embedded LOM may necessitate an additional Ethernet card under some circumstances, and anyone upgrading from a PowerPC-based model should study their power and cooling infrastructure before upgrading.
[Andrew T. Laurence is a server administrator and "Mac guy" at the University of California, Irvine.]