IKMultimedia announced the release of AmpliTube X-Gear, a new product from the guitar modeling company that allows users to bring together all of the AmpliTube products in one place.
IK has several AmpliTube-based products, including Ampeg SVX, AmpliTube Jimi Hendrix, AmpliTube 2 and AmpliTube Metal. As separate products, there is no way to use the different components together, until now.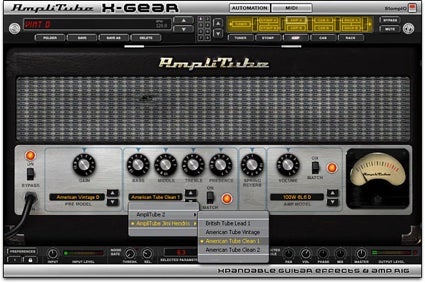 With AmpliTube X-Gear you can use an amp from AmpliTube 2 along with a WAH from the Jimi Hendrix edition. In fact, you can mix and match whatever components you want using X-Gear. Of course, you have to own the other AmpliTube products in order to use the components.
AmpliTube X-Gear 1.1 is available as a free download for all registered StompIO users, AmpliTube 2 users and all registered users of at least one "Powered by AmpliTube" product: including Ampeg SVX, AmpliTube Jimi Hendrix and AmpliTube Metal.