At a Glance
Expert's Rating
Pros
Notes and to-dos provide task management features
Easy mail account creation
HTML stationery for sending fancy messages
Smart folders help organize e-mail
Data detectors recognize dates, times, and phone numbers
Cons
Doesn't play well with Time Machine
RSS is weak
Searching could be improved
New features don't improve core functionality
Rules need to be expanded
Our Verdict
For many Mac users, an e-mail program may be the first thing they launch in the morning and the last they quit at night. Choosing an e-mail program may not be an issue for many: with the new features added to the latest version of Apple's free Mail 3.2 program, there may be no reason to look any to commercial alternatives. In addition to handling e-mail, Mail now helps manage to-dos and calendar items, stores notes, and even grabs RSS feeds so users can read the latest news.
Mail is relatively easy to set up and use. When you create a new account, an assistant walks you through the steps, asking for the relevant information. Mail can create accounts for some services—such as Gmail, Yahoo! Mail, and AOL Mail—with nothing more than a user name, address, and password. If you're switching from another program, Mail can import mailboxes from Microsoft Entourage ( ), Mozilla Thunderbird, or Eudora, or from previous versions of Mail.
The program's e-mail features are straightforward, and you can use several accounts, create folders and sub-folders to store your mail, and sort your messages using rules (by sender, keyword, account, or more). Unfortunately, Mail 3 features no significant changes to existing rules: you still cannot sort outgoing e-mail, as you can with Entourage; you can't strip attachments (useful when you get those annoying winmail.dat files), and you can't change incoming subject lines.
You can use smart mailboxes—similar to iTunes' smart playlists, or the Finder's smart folders—to sort mail according to different criteria, such as sender, message content, or read/unread status. However, smart mailboxes do have limits (as pointed out in our review of Mail 2, so you probably won't be using them for power sorting.
When you need to search for messages, Mail uses the power of Spotlight to find them. You can search from the Spotlight menu or the Finder, or use Mail's search box, and you can look for keywords, names, or addresses. Unfortunately, search criteria are limited, and you can't choose where to search—which mailbox or folder—until after the search has run. Since searches are fast, this is more an annoyance than a problem.
A larger drawback occurs, however, when using Time Machine to look for old, deleted e-mail. While Mail integrates with Time Machine, you cannot search once you are in the Time Machine interface: you can browse only your different folders and mailboxes, making it very difficult to find a message if you don't remember where it was located.
Attractive templates
Mail 3's new features include a series of nifty stationery templates, so you can send formatted messages, announcements, birthday greetings, and more. Most users won't be sending a lot of messages with stationery, but it's nice to choose from the nearly three dozen attractive layouts for special occasions. Stationery creates HTML messages; if you want your recipients to see them as you do, they need to have e-mail programs that can display HTML, which most standalone clients and Web-based e-mail services do.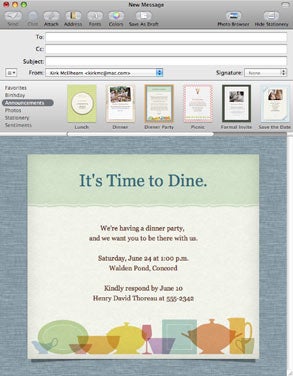 Manage notes and to dos
A more useful feature is version 3's management of to-dos and notes. If a message contains something you need to act on, you can select some of its text, then click the Create a To Do button. This turns the text into a single line that displays in the Reminders section of Mail's mailbox sidebar. You can set a due-date and a priority, and can choose the iCal calendar under which the to-do should be filed. This is because to-dos that you create in Mail also get added to iCal, so you can manage your tasks easily from either program; creating a to-do in iCal makes it show up in Mail as well. Obviously, these links don't work with any other calendar or task management programs.
Mail can also store notes, in the same location, and these notes can, in turn, contain to-dos. You can use notes to store bits of text from e-mail messages, or to simply write down your thoughts during the day. While this feature is useful, you do have to like seeing notes on a legal-pad background; you can change fonts and colors, but nothing else. It's a shame that Apple doesn't let you use stationery for notes, or at least give you some display options.
Linking to Leopard
Another way Mail integrates more globally with Leopard is through data detectors. No doubt you'll receive many messages containing dates, addresses, phone numbers, or keywords such as the days of the week or terms like "tomorrow" or "next Wednesday." When you hover your cursor over these keywords, they're highlighted, and a small arrow displays; click the arrow, and a menu lets you choose actions according to the type of keyword. This may be Create New iCal Event, for dates, or Create New Contact, for phone numbers. Curiously, names and e-mail addresses don't activate visible data detectors, so while you can easily create a new contact in Address Book when you get a message with someone's e-mail address, you have to right-click or control-click it to get the menu options.
Another new feature in Mail is RSS. You can subscribe to RSS feeds and have Mail check regularly to keep you up to date on the latest news. But if you're used to working with a standalone RSS reader, you'll probably be disappointed. Mail displays headlines, and, when you "open" an RSS item, either a summary or a full article, depending on the feed. To read entire articles when they are not visible, you need to click a Read More link, which opens them in Safari. It's a shame that Mail doesn't display Web pages for RSS; since the program uses Apple's WebKit framework to display HTML messages, it could display Web pages as most RSS readers do. This would save users from the back and forth of going from Mail to their Web browser.
Mail 3 has added features to make it an information hub, but it still doesn't provide a broader project management environment as Entourage does. Many people find it useful to manage projects from their e-mail program, since a lot of their work comes and goes via e-mail.
Macworld's buying advice
Mail 3.2 is an excellent e-mail program and, since it comes with OS X, it's free. Its new features try to take it further, with mixed results. While many users may not find Mail's new features useful, some will welcome the ability to organize other types of information in a program they have open all day long.
[Kirk McElhearn writes about Macs, iPods, books, music and more on his blog, Kirkville.]
[Updated 3/27, 1:05 p.m. PT to clarify a statement about how e-mail addresses work within Mail messages.]