I've long recommended that road warriors pack a multi-outlet power cable or strip in their travel bags; too few hotels and airport terminals provide more than a single outlet for guests to use, which leads to frequent swapping of the power adapters for your laptop, your mobile phone, and any other gadgets you happen to bring along. In the past, I've been partial to Monster's $20 Outlets To Go Power Strip, a well-designed and relatively compact power cable with four grounded outlets. (For those on a budget, Ikea regularly sells a three-outlet, non-grounded power cable for under $10.)
I've also advocated replacing traditional power adapters for phones, iPods, and the like with USB charging cables; instead of lugging around a separate charger for each device, you can plug those devices into your laptop's USB port(s) or a single USB charger that works for all your gadgets. (Griffin Technology's $25 PowerBlock Dual, coming soon, even provides two USB-charging ports.)
Given those travel tips, you can understand why, back in early February, I was excited to get a glimpse of Belkin's new $25 Mini Surge Protector with USB Charger (MSP for short). Dan Moren mentioned the MSP in last week's Gadgetbox column, but I've since had the opportunity to use one of the first MSP's off the assembly line; here are a few more details, as well as my first impressions.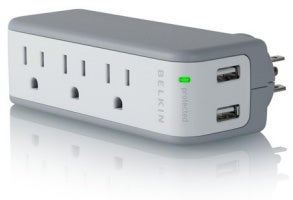 The MSP is basically three devices in one. First, it's a three-outlet power strip: plug it into any standard, three-prong wall outlet and it provides three grounded AC outlets. The MSP's plug rotates 360 degrees, locking every 90 degrees—a nice touch that lets it fit in most outlets regardless of orientation or neighboring power cables and blocks. Rated to 15 Amps, it should be able to handle all of your portable gear.
Second, the MSP provides two USB-power ports, each providing 5V/500mA to connected devices; I've used them to successfully charge a variety of devices: iPods, an iPhone, a portable battery pack, and a mobile phone. (Note that these USB ports are power-only; they don't support data.)
Finally, unlike most of the compact power strips I've seen, the MSP is also a surge protector; both the standard AC outlets and the USB ports are protected. Belkin claims the MSP has a 918-Joule rating and can handle a spike current of 36,000A; the company even provides a $75,000 Connected Equipment Warranty. (This means Belkin "will repair or replace any equipment damaged by a surge, spike, or lightning strike while properly connected to our surge protector.")
The MSP comes with a power-only USB to Mini-USB cable for charging devices that have a Mini-USB port.
The MSP worked well in my testing. One thing to note is that it's actually a bit larger than it appears in photos: just under 5 inches wide, 1.1 inches tall, and 2 inches deep—not including the depth of the wall plug, which adds another 1.25 inches at that end. (I originally thought the plug folded up into the body of the MSP; it doesn't.) These dimensions mean that the MSP looks and feels a bit bulky. On the other hand, it weighs just under 7 ounces, and it takes up less room in my travel bag than the products it replaces: a multi-outlet power strip and a USB charger. With surge protection, to boot, I think the MSP's size is a more-than-fair tradeoff. And the $25 price tag is similar to what other vendors are charging for a power strip or USB charger alone. Assuming the Mini Surge Protector holds up over the long haul, it's taken a spot on my list of recommended travel gear.