At a Glance
Expert's Rating
Pros
Unobtrusive text ads
Free POP and IMAP support
Fast, full-featured, and easy to use
AIM integration
Cons
Imperfect integration with calendars and maps
Very basic interface
Spam filter sometimes ignores non-English messages
Uses keywords in your mail to generate ads
Our Verdict
It may lack a fancy interface or endless storage space, but Google's Gmail still shines. Its diverse features and ease of use make Gmail a superb option for users seeking a flexible, convenient online email service. On the other hand, Gmail's search-centric style is odd, and its habit of trolling your messages for ad fodder can be unnerving.
Simple but effective
Gmail works well both with Firefox ( ), which the service officially supports, and Safari ( ), which it doesn't. I noticed no differences in features or performance between the two browsers.
At 6GB per account, Gmail should be abundantly roomy for most users' mail. Attachments are limited to 20MB apiece, so if you regularly sling big files around, Gmail probably won't replace a dedicated online storage service. A test message with an 11MB attachment took a few seconds longer than usual to show up in my Inbox, but otherwise arrived just fine.
Since it's from Google, Gmail relies on search to retrieve the mail you want. Instead of organizing mail in hierarchical folders, Gmail stores your messages in one big pile and lets you search them for names, addresses, places, or other keywords. (The service does offer views that are separate from your inbox, such as sent mail, trash, and spam.) If you're used to storing mail in individual folders, typing in a search query instead may take some getting used to.
To compensate for its lack of folders, Gmail lets you label messages with customizable colors and category names. Once you've set up filters to attach those labels to incoming mail, a glance at the Labels pane on the left side of the screen can show you that your latest messages include three from your boss, two from your parents, and four about the party you're throwing next month, for example.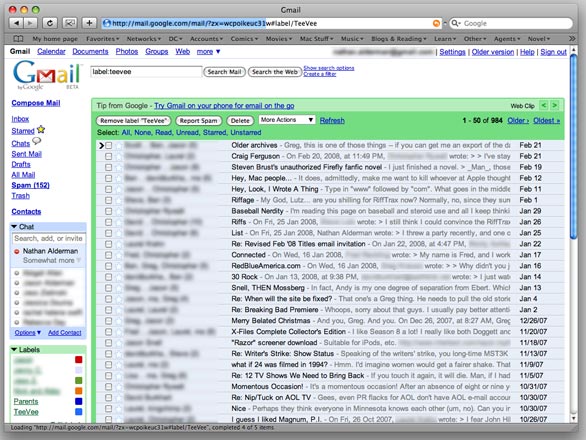 Sorting it out
Gmail's filters aren't quite as powerful or sophisticated as those in most desktop email clients, though. For criteria, you can use only the from, to, and subject lines, the presence of an attachment, or words that a message does or doesn't contain. Within those limits, the filters route messages reliably and accurately. In a handy touch, Gmail pulls up a list of matching messages as you create each filter, letting you gauge its effectiveness. You can also create new labels on the fly to accompany a filter you're setting up. Best of all, unlike some rival Web-based services, Gmail doesn't limit the number of filters you can create.
Gmail's spam filtering works well, but not perfectly. The system zapped English-language spam, but often overlooked messages in Cyrillic or Hebrew. I hope Gmail adds language to its filter criteria in its next revision.
Bells and whistles
Google's front page is famously sparse; in keeping with that philosophy, Google's mail service offers few distractions beyond basic e-mail. A "Web clips" bar above the message list cycles through user-configurable RSS headlines and sponsored links; it's easily turned off in Gmail's settings.
There's also a chat window for Gmail, Google Talk, and, optionally, AOL Instant Messenger buddies. Logging into AIM wasn't foolproof, but if it failed on the first try, it always succeeded on the second. The system handles text chat well, but doesn't offer video or voice chat. Chats are logged and retained just like mail messages; to save space or preserve privacy, you can turn off this logging in Settings, or go "off the record" at any time during a chat.
If you're serious about privacy, you probably won't like Gmail's habit of serving up contextual ads based on the content of your messages. No human being is reading or recording your mail; Gmail's system just automatically pores through each message for keywords it thinks are relevant, then displays ads from Google's AdWords service that match those keywords. A message containing a recipe for pizza dough, for example, brought up a slew of pizza-related ads. Thankfully, the ads are unobtrusive and easily ignored; they appear on the right of the screen, and aren't easily confused with your actual mail.
If Google detects map or calendar data in your message, it'll display appropriate links to the right of the message. Unfortunately, it's easy to mistake those links for advertisements and overlook them. Gmail's not as good as its rivals at highlighting such data; where Google provided only a map link for a test message, another service flagged map, calendar, and contact data, and offered related Web links for a movie mentioned in the same message.
Good to go
Gmail dominates its rivals in flexibility. It can easily send and receive mail from another POP account, or let you access your Gmail remotely via both POP and IMAP protocols. Unlike Yahoo! Mail or Hotmail, Gmail charges no extra fee for either service. They're easy to set up—Gmail's help pages offer simple instructions for a variety of browsers and devices–and both POP and IMAP performed flawlessly in Apple Mail ( ) and Thunderbird in my tests.
Gmail can't automatically import mail from other services, but searching its useful Help pages brought up instructions for a user-devised workaround. The Help pages are often crucial in discovering Gmail's more sophisticated functions, which aren't always intuitive. Whenever I was stumped, the Help section delivered clear, useful answers in seconds.
In general, Gmail performed very reliably. In Safari 3, it stalled occasionally when I tried to access the Settings page; reloading the page always solved the problem. Messages are sent and received swiftly and accurately, and the page helpfully reloads itself every minute or so to check for new mail.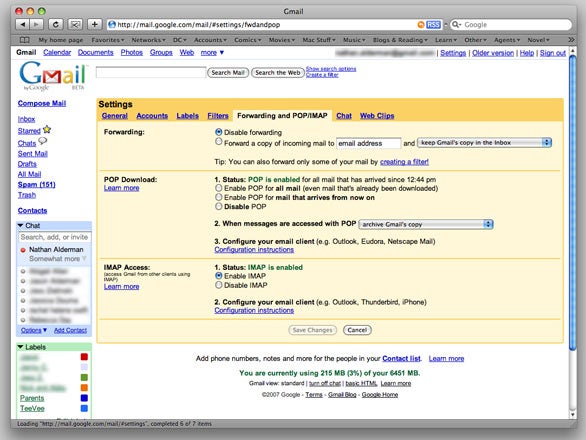 Macworld's buying advice
Its basic but sturdy chat features aside, Google's Gmail does one thing—e-mail—but does it exceptionally well. I especially liked how its simple interface let me concentrate on my mail with few distractions. If you want a lean, clean e-mail experience, Gmail should be your first stop.
[Nathan Alderman is a writer, copy editor, and collector of foreign-language spam messages in Alexandria, Virginia.]