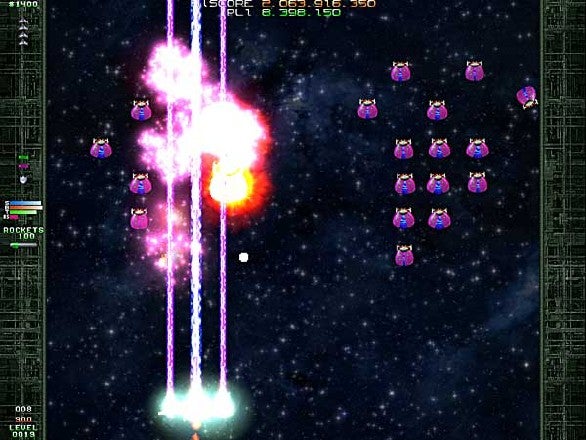 If you grew up in video game arcades back in the 1980s, EMV Software has a treat for you. The company has released a Macintosh version of Warblade, a return to Galaga-style shoot 'em ups. A beta demo is available — once the game emerges from beta, it will cost $20 to register.
Warblade is actually a remake of a game that first was released for the Commodore Amiga computer called Super Galaga. You must defend Earth from an invading alien race by blasting them out of the skies in your spaceship. As you shoot the alien bugs, they'll drop special bonuses that will increase your score and imbue your ship and weapons with new capabilities.
The game features 100 levels. As a remake of an Amiga classic, the first 75 levels are almost identical to the original, but the developer has added new features and game objects, updated graphics, and new special effects.
Specific Mac system requirements have not been identified, but the software is a Universal binary so it should run on reasonably well-equipped PowerPC-based Macs. It has customizable performance options, as well.