At a Glance
Expert's Rating
Pros
Well-integrated with calendars, maps, chat, and messaging
Unlimited space
Drag-and-drop interface
Cons
Intrusive ads
POP access costs extra
No IMAP
Limit on filters
Our Verdict
If you long to ditch your desktop e-mail client and conduct all your correspondence online, Yahoo! Mail may be the service for you. The latest version of the Web's popular mail site wraps unlimited storage space and handy features in an impressive new interface. But power users, beware—Yahoo! makes you pay for features that Gmail offers for free.
Yahoo! Mail officially supports Firefox ( ) and Safari, and the service works fairly flawlessly with Safari 3.1 ( ) though less perfectly with Safari 3.0. Yahoo! Mail sometimes ran sluggishly on my iMac G5, and even crashed these browsers once or twice.
Familiar look
Yahoo! Mail's new AJAX-powered interface mimics Entourage ( ) and other familiar mail clients. Selected messages open in a viewing pane below the message list, and mailboxes and folders appear on the left side of the screen. Like Apple's Mail ( ), Entourage, and other desktop clients—but unlike Gmail ( )—right-clicking messages reveals a full-featured contextual menu of commands.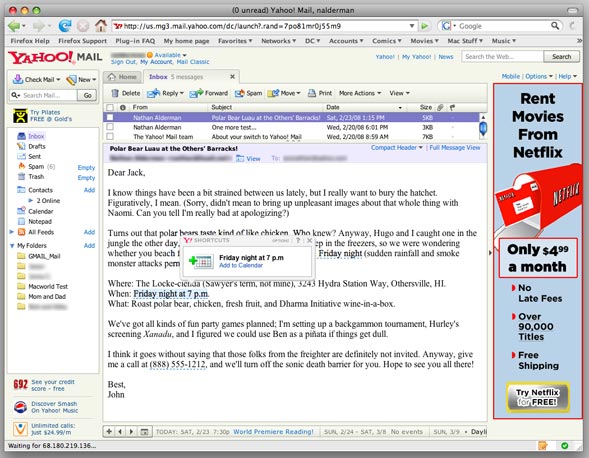 It's easy to create and label new folders in the mailbox list, then drag and drop multiple messages into them. Thoughtful links let you empty the Spam and Trash mailboxes with a single click. Though I started receiving a trickle of spam almost as soon as I reactivated my long-dormant Yahoo! account, only one piece of junk mail made it to my inbox in several weeks of testing.
Yahoo! Mail was a bit slow to load messages when I opened a folder, but not unusably so. An impressive tabbed interface lets you easily switch between multiple open mailboxes and messages. In addition to e-mail, you can send SMS messages, or chat with friends on Yahoo! or MSN Messenger. Though some test e-mails sent from Yahoo! took hours to reach their destinations, others, including a text message to my cell phone, arrived almost instantly.
Users with free Mail accounts must endure Yahoo!'s fairly obnoxious ads. These included small but annoying graphics and text on the left of the screen, unsightly banners on the right, and a gargantuan ad that monopolized the inside of an empty mailbox. Even the text ads were big, colorful, and aggravatingly distracting. Advertisers might love them; I didn't.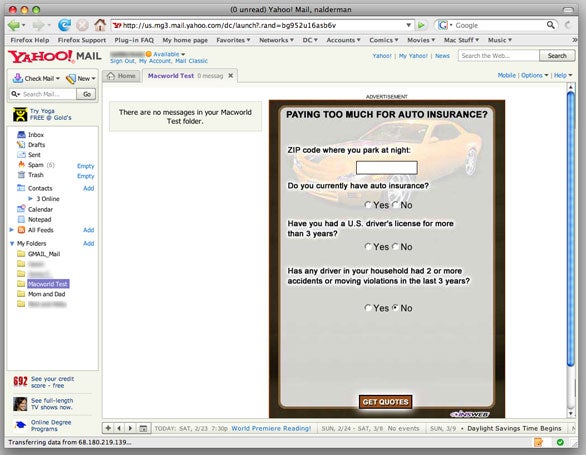 Want more? Pay up!
For all its useful features, Yahoo! Mail makes you pay extra for some basic services. Want to create more than 15 filters to route your incoming mail? You'll have to sign up for a $20 annual subscription to Yahoo! Plus, which also gets rid of the advertisements and enables you to retrieve Yahoo! Mail in your desktop client via a POP connection. IMAP fans are out of luck here—even Plus doesn't include this feature.
Intelligent messages
Yahoo! Mail integrates well with fellow Yahoo! services. When I sent myself a test message simulating a party invitation, Yahoo! Mail let me set up a new calendar event for the day and time of the party, then displayed it on a calendar bar at the bottom of the screen. It accurately brought up a map when I rolled over an address, flagged a phone number for inclusion in my contacts, and even offered a list of sites related to a movie I'd mentioned in the invitation.
Moving day
Yahoo! works with a service called TrueSwitch to import messages from other online services such as MSN, Hotmail, and Gmail, and even AOL and Earthlink Web mail.
My mail transferred as promised, with a few hiccups. On my first try, an e-mail promptly informed me that I needed to turn off POP forwarding on the other service. When the messages arrived on the second try, they were all messily piled into a single mailbox.
Yahoo! Mail can also fetch POP mail from other accounts, but that didn't go smoothly for me. The first few times I checked POP mail, I was informed that my ISP's server didn't support the ability to tell Yahoo! which messages in my account were newly arrived, and which had been there the last time it checked. After telling Yahoo! Mail not to look for the newest messages in its account settings—one of several control panels not yet updated from Yahoo! Mail's old interface—POP mail retrieval kept bringing in the same messages over and over.
Yahoo!'s help pages state that this problem is out of the company's hands, since Yahoo! Mail relies on a command called LAST that some POP servers don't offer. Still, I had no such trouble getting POP mail via Gmail.
Macworld's buying advice
If you don't mind all the ads, and you don't need POP or IMAP access, Yahoo! Mail's terrific interface could easily replace your desktop mail client. But users seeking greater flexibility will find better, cheaper options elsewhere.
[Nathan Alderman is a writer, copy editor, and frequent electronic correspondent in Alexandria, Virginia.]