When I reviewed GyazMail 1.2 ( ) for Macworld in 2005, I compared it favorably to Apple's Mail ( ). Now at version 1.5.7, GyazMail's price hasn't changed in three years (it's still $18), which is very good indeed. Unfortunately, though, not much else about GyazMail has changed either. In the meantime, Mail has gotten much better, and so have other free alternatives, such as Thunderbird 2 ( ) and online options such as Yahoo! Mail ( ) and Google's Gmail ( ).
The good
Unlike Thunderbird, GyazMail reads e-mail addresses from and saves new addresses to the Mac OS X Address Book, which is good news and indicative of the program's Mac OS X character. GyazMail supports Growl, a technology for providing notifications when mail arrives, even if you are in another program. GyazMail has excellent tools for finding and especially for filtering messages. The program also offers a boon to power users who prefer the keyboard to the mouse: You can create your own keyboard shortcuts for performing most actions.
The best thing about GyazMail, however, is its very attractive user interface; it's very different from Apple Mail, but it's also clearly a Mac OS X application to the core. Mac users do care about aesthetics, and GyazMail may be the only third-party e-mail client worth comparing to Mail in the looks department. I tested GyazMail in Leopard (Mac OS X 10.5) and found it to be responsive and completely stable.
The less good
Ah, but good looks aren't everything. GyazMail supports POP accounts and IMAP accounts, but it stands alone in having something it calls local accounts. A local account isn't really an account at all. It corresponds to nothing outside the program, doesn't reference any external servers, and does not require any configuration. Instead, a local account is an organizational pseudo-account, a kind of super-folder into which you can filter or move messages that arrive at your real mail accounts. Mail and other programs also distinguish between incoming and sent messages for different accounts, but less obtrusively and less confusingly. The GyazMail approach works okay, but it is idiosyncratic and has no special advantages. It's easy to find messages in GyazMail, but it's just as easy, if not easier, in Thunderbird and Mail. And in Thunderbird and Mail, if you find yourself doing the same search frequently, you can save the search parameters and create what Mail calls a smart mailbox, something that isn't possible in GyazMail.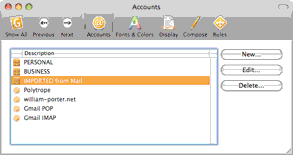 GyazMail supports labels, but it lets you create only a fixed number of them, and you can apply only one label to a message. This allows you to flag messages that, say, need a reply or are particularly important. But GyazMail's labels are much less useful than Gmail's, or than Thunderbird's tags: in those programs, you can create your own and apply multiple labels to the same message, providing a rich multi-dimensional tool for organizing messages.
IMAP and Web mail
GyazMail has added support for IMAP (Internet Message Access Protocol) in the last couple of years. Of course, many other clients, including Mail and Thunderbird, have supported IMAP for years; in the meantime, more and more users are discovering the benefits of Web mail. And while Mail and Thunderbird will configure themselves to access your account with popular online mail services like .Mac and Gmail, to access my Gmail account using GyazMail, I had to fiddle about in GyazMail's account preferences dialog, tweaking port and authentications settings most users don't really understand. In the end, it took an e-mail to GyazMail support to do the trick.
I hasten to add that my e-mail to GyazMail support was answered very promptly, and by the developer of the program himself. I have been rather less successful getting quick help from the head programmer at Google.
Macworld's buying advice
GyazMail 1.5.7 is a solid, competent desktop e-mail client, with an attractive user interface and some nice features. This is especially remarkable considering the fact that it is the work of a single brilliant programmer, Goichi Hirakawa. But the program hasn't changed much in years, and the rest of the e-mail universe has changed a lot. I suspect that, in 2008, most Mac OS X users looking for a desktop e-mail client will be better served by Mail or the open-source client Thunderbird, or perhaps–if you are really into power searching and filtering mail–by Bare Bones' Mailsmith ( ). But if you are shopping around for an e-mail program that works very well with OS X, GyazMail is definitely worth a download. And if you are already using GyazMail and like it, I don't see any reason to switch.
[William Porter is a database applications developer and event photographer who lives in Dallas, Texas.]