Apple's announcement of an iPhone Software Development Kit will empower developers to plug gaps in the iPhone's functionality. But for those who have been developing iPhone software via the unauthorized process called jailbreaking, the announcement raises questions about whether the thriving underground iPhone development market will continue or wither away into a small collection of carrier-unlocking hacks.
Although Apple CEO Steve Jobs suggested in May 2007 that Apple was working on a rich development environment, when the iPhone was first unveiled, the only opportunity for third-party developers was in the realm of Web-based applications accessed through the phone's Safari browser. Four months later, Jobs acknowledged that Apple would allow the development of native iPhone applications.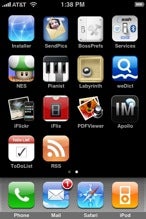 For the first year of the iPhone's existence, those who have wanted to create or run native iPhone software have been reliant upon the work of hackers who have managed to bypass the iPhone's software barriers. "Jailbreaking" an iPhone gives access to all of the phone's underpinnings, which are similar to the underpinnings of Mac OS X. Once programmers had access inside the iPhone, they quickly began assembling a set of tools that would allow them to create iPhone applications.
Those third-party apps brought in additional functionality that Apple didn't build into the phone's software itself. The programs ranged from the obvious omissions—instant messaging clients and a to-do program—to those with more limited appeal, such as an app to help you remember where you parked.
With most new releases of the iPhone software, Apple plugged the holes that the hackers had used to gain access to the iPhone's software. The back-and-forth between Apple and the hackers at times resembles a breakneck ping-pong match, with each Apple release followed in short order by the discovery of a new hole allowing the jailbreak to continue.
But now that Apple has take the wraps off its own development and distribution plans—complete with their own set of restrictions and limitations—the future of jailbreaking has been thrown into question. Why, with an Apple-approved and easy-to-use distribution method, would anyone continue to go through the bother of jailbreaking their phone?
Where the money is
When asked why he robbed banks, notorious thief Willie Sutton was said to have replied, "Because that's where the money is." The same might be applied to Apple's iPhone application distribution plans. While there is nothing to prevent those developing apps for jailbroken phones from charging for their software, it's certainly an uphill climb to convince the average user to fork over money for a program that requires them to hack their phone.
"Many developers will undoubtedly switch to the Apple distribution system in order to make money," said Cody Overcash, co-founder of ModMyiFone.com, a site that tracks applications for jailbroken iPhones. Overcash expressed hope that some developers might adopt a two-pronged approach, making applications available in both Apple-approved and jailbroken flavors.
Overcash also suggested that open-source developers would be more likely to remain on the jailbroken track. "There is the age old battle between closed-source software for money and open-source software for free," he said. "One is about making money, the other is about sharing and learning from one another to build upon each other and make something great."
"I think we will see many of the current apps pulled from free distribution and put into the iTunes Store for pay," said Nate True, one of the hackers who contributed to the efforts to jailbreak the iPhone. True suggested that some developers might opt to also take advantage of jailbreaking in order to beta-test their products, but admitted that "the vast majority of developers will move to the SDK." (Apple will also give developers the option of releasing their software on the iPhone's new App Store for free.)
Apple's way or the highway
Under Apple's iPhone software-distribution plan, only programs submitted by Apple-approved developers and approved by Apple will appear on the iPhone App Store. It is Apple's role as the gatekeeper of all third-party iPhone software that most concerns existing members of the iPhone hacking community.
"I would much rather be able to put whatever I want on my phone," said True. Overcash cited programs that allow users to customize, or "skin," the iPhone's interface, as an example of a type of functionality that isn't covered by Apple's development kit and therefore won't be a part of the official iPhone economy.
The added bureaucracy that Apple is likely to bring also has Overcash concerned. "Getting your [program] approved and passed through the Apple system and finally onto distribution via App Store (assuming an app makes it through initial approval) will be time intensive," he said. Overcash contrasted that with the jailbreak system, which he called "quicker and more flexible."
Such bureaucracy, however, is balanced out with the legitimacy that only Apple can offer.
"It sounds like Apple is going to provide a powerful SDK and distribution channel," said Ken Aspeslagh, iPhone specialist at software and accessory developer Ecamm Network.
Paul Kafasis, CEO of software developer Rogue Amoeba, suggested the Apple's approval may have a chilling effect on the jailbreak process: "I think it will slow things down as people can do more with the proper channels." And, he added, when it comes to the end user, simplicity rules. "I think fewer people will be willing to jailbreak their own phones now," Kafasis said.
True and Overcash don't see the SDK and jailbreaking as mutually exclusive, however. "I see Apple's SDK as a tool that can only improve on what has been accomplished on jailbroken phones," said Overcash.
And True said that the two approaches will be able to co-habitate. "Jailbreaks are designed to leave the rest of the phone functioning properly, and the SDK is one of those functions that will likely be preserved," he said.
The politics of unlocking
Apple has already used its status as the arbiter of iPhone applications to say that certain things will not be allowed on App Store. When asked point blank at the iPhone SDK event whether Apple would allow an application that would enable users to unlock the iPhone for use on mobile phone carriers other than those with which Apple has deals, Steve Jobs gave an unequivocal "no."
The popularity of unlocking iPhones is difficult to ignore. It's been estimated that as many as a million iPhones are currently in use in countries where Apple does not yet offer the device for sale and anecdotal reports of unlocked iPhone sightings have come in from countries as close as Canada and as far as China. Apple executives have acknowledged that unlocking is widespread; Chief Financial Officer Peter Oppenheimer quipped at an investment conference earlier this month that it was easier to name countries where the phone wasn't being unlocked than those where it was.
"People who need their phones unlocked still have to run unauthorized software," said Nate True. As a result, True said that jailbreaking the iPhone will continue. "As long as there are iPhone unlockers there will be jailbreaks, and any mechanisms Apple puts into the iPhone to stop jailbreakers will thus be broken," he said.
"People want to choose the carriers they use in the countries they live in," said ModMyiFone.com's Overcash. "Until the point where the iPhone is free from the carriers it's sold on and available for purchase unlocked, for use in 'non-approved' countries, unlocking will not stop."
Meet the new boss, same as the old boss
And, indeed, if recent events are any indication, the hacking will continue. One group has already announced that they've hacked a beta version of the iPhone 2.0 firmware to allow not only jailbreaking but unlocking as well. The team claims that their solution, which involves creating custom firmware, will be difficult for Apple to patch.
It appears that, for now, the ping-pong match is far from over.