It used to be that Web browsers were just that: a way to browse the Web. But the Internet is no longer just a huge online library. It's also a shopping mall, television, workshop, school, and community center. And as the Web has matured, so too have expectations for what a browser should do. Now many people rely on browsers for reading e-mail messages and news feeds, creating spreadsheets, editing photos, watching videos, and doing dozens of other tasks that once required stand-alone software.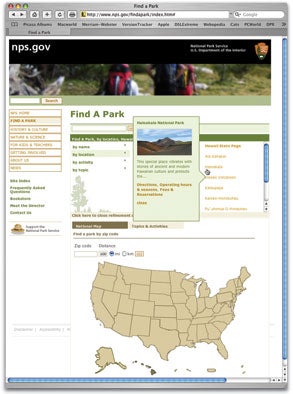 So what constitutes a solid Web browser these days? All modern Mac browsers can competently display HTML pages, interactive Flash animations, and QuickTime video. But they should also be able to protect your security and privacy; facilitate your ability to fill out forms; integrate well with your operating system, applications, and various Internet services; provide extensive search capabilities; and allow oodles of customization options to let you conform them to your every whim. And, of course, they should do it with style.
With that in mind, we've taken a fresh look at ten browsers for OS X: Alexander Clauss's iCab 4.0.1; Apple's Safari 3.1; DevonTechnologies' DevonAgent 2.3; Flock's Flock 1.0.3; Mozilla Foundation's Camino 1.5.5, Firefox 2.0.0.12, and SeaMonkey 1.1.8; The Omni Group's OmniWeb 5.6; Opera Software's Opera 9.26; and Shiira Project's Shiira 2.2. All are free except for DevonAgent ($50); iCab, which comes in free and Pro ($25) versions; and OmniWeb ($15). Most have appeared in earlier browser comparison articles (see Web Browser Roundup), but there are a few newcomers, including Flock, SeaMonkey, and Shiira, as well as DevonAgent, which we we reviewed on its own in 2006 ( ). Netscape Navigator and Mozilla, which we've covered previously, are no longer developed or supported. (Browsers are updated frequently, and the versions we review here may have been updated by the time you read this. Flock, for example, has been updated to version 1.1.)
As for testing, we put all of these browsers through their paces and judged them on interface, Web capabilities, and extra features. We informally evaluated performance, but didn't conduct official speed tests. Since so many variables affect a browser's perceived responsiveness, it's difficult—and at times misleading—to try to render performance judgments. Given a broadband Internet connection, all of these browsers were adequately zippy at displaying most sites.
Web Browsers Compared
| Product | Rating | Price | Drag-and-Drop Tab Reorder | Themes and Skins Available | Rendering Engine |
| --- | --- | --- | --- | --- | --- |
| Camino 1.5.5, Mozilla Foundation | | free | no | no | Gecko |
| DevonAgent 2.3, DevonTechnologies | | $50 | no | no | WebKit |
| Firefox 2.0.0.12, Mozilla Foundation | | free | yes | yes | Gecko |
| Flock 1.0.3, Flock | | free | yes | no | Gecko |
| iCab 4.0.1, Alexander Clauss | | free; Pro edition, $25 | yes | no | WebKit |
| OmniWeb 5.6, The Omni Group | | $15 | yes | no | WebKit |
| Opera 9.26, Opera Software | | free | yes | yes | Presto |
| Safari 3.1, Apple | | free | yes | no | WebKit |
| SeaMonkey 1.1.8, Mozilla Foundation | | free | yes | yes | Gecko |
| Shiira 2.2, Shiira Project | | free | yes | no | WebKit |
Interface
Apart from that big white space that gets filled with information from the Web, a browser's interface is the first thing you notice. Is it elegant or awkward? Slick and pleasant or crowded and utilitarian? The browsers we tested ran the gamut.
Safari sets the bar high with its simple, usable interface. Most browsers echo Safari's clean look, including Camino, OmniWeb, Shiira, and the newly redesigned iCab. DevonAgent is as minimalist as they come. Then there's SeaMonkey—its unattractive, outdated interface distracts from its otherwise capable feature set.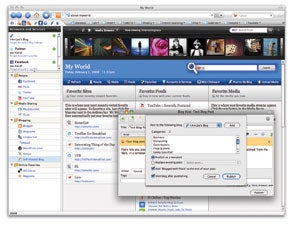 Tabbed browsing, in one form or another, has been de rigueur on Web browsers for years, and all the programs we reviewed let you display multiple pages sequentially within a single window. OmniWeb continues to stand out for its innovative approach of placing thumbnails or titles (your choice) for each open page in a drawer alongside the window. I prefer this arrangement because it makes better use of vertical space—and it makes finding a page in a sea of open tabs easier. Similarly, Shiira places thumbnails at the bottom of the window, in a horizontally scrolling area called the PageDock. You can hide this pane or switch to conventional tabs. Camino and DevonAgent offer tabs, but they are the only programs that don't let you reorder them via drag and drop.
Firefox's Themes and Opera's Skins enable you to change the frame, color, toolbar icons, and other visual attributes of your windows; SeaMonkey also features user-installable themes, though few of them work in OS X (and those that do are of debatable aesthetic merit). Most browsers let you add, remove, and customize toolbars and other window elements, with Opera and Firefox being the most configurable. On the other end, DevonAgent's slim toolbar isn't customizable at all, and SeaMonkey offers just a few trivial options in the Navigator pane of its Preferences window.
Web browsing
The overwhelming majority of Web pages looked perfectly good in almost every browser we tested, thanks to modern rendering engines, the technology that helps each browser interpret and display Web content. Even though there are more browsers than ever before, most are using the same handful of engines, which makes for greater consistency and compatibility.
Rendering engines
The ten browsers in our roundup use just three rendering engines. Gecko, a descendant of the engine used in Mozilla, is an open-source renderer that powers Camino, Firefox, Flock, and SeaMonkey. Apple's open-source lay-out engine, WebKit, is used not only in Safari but also in DevonAgent, iCab, OmniWeb, and Shiira. Opera relies on its own engine, Presto.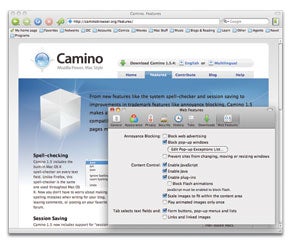 All things being equal, if two browsers share a rendering engine, Web pages should appear the same in both. However, that's not always the case. For example, one browser might use an older version of an engine, resulting in different behavior. Notably, the forthcoming Firefox 3 will use Gecko 1.9, which fixes numerous deficiencies in the current engine, and it may take time for other Gecko-based browsers to catch up. In addition, some Web developers employ code outside the engine itself that can affect the way pages draw.
Web standards testing
The World Wide Web Consortium, or W3C, is the group responsible for setting and developing the standards for HTML, XHTML, and CSS (Cascading Style Sheets), the basic building blocks of Web pages. The W3C is currently working on defining and approving the next generation of standards, including HTML 5 and CSS 3. In theory, each browser should support all currently approved standards, and all Web developers should follow the same rules in writing their pages. If those two things happen, every page ought to look pretty much the same in whatever browser you're using.
Needless to say, theory doesn't always translate into reality. Some Web developers pay little heed to the W3C's standards, while some browser developers (notably Microsoft) implement their own proprietary alterations to HTML or fail to conform to certain aspects of the specification. It's also becoming increasingly common for sites to use very little conventional HTML and XHTML. Some sites are built almost completely in Flash, while others rely on Java applets, JavaScript, or AJAX (Asynchronous JavaScript and XML) to provide smooth interactivity without requiring constant page reloads (common on so-called Web 2.0 sites). As a result, browsers must be flexible enough to deal not only with new and emerging standards, but also with sites that color outside the lines.
When it came to testing, we chose a wide range of sites intended to identify any serious gaps or flaws in compatibility. To check each browser's adherence to formal and informal Web standards, we looked at sites such as QuirksMode, the Web Standards Project, and css/edge. To test real-world page-rendering aptitude, we selected sites that feature complex HTML, XHTML, CSS, Flash, and JavaScript content, such as AZCentral Entertainment, Gap, PressDisplay.com, and the New York Times. We also threw in several Web 2.0 sites that rely heavily on AJAX for interactivity, including Google Apps, Backpack, and PicResize.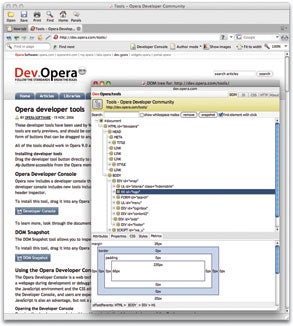 The result? As expected, all the browsers were easily able to handle nearly every site—with a few minor exceptions. On the Gap site, Camino had a small problem rendering a Quick Look window that opened above a Flash animation. Gecko-based browsers—Camino, Firefox, Flock, and SeaMonkey—got less-than-perfect scores on the ACID2 test at the Web Standards Project site, a particularly demanding test of advanced Web standards (though the Gecko 1.9 engine should fix this problem). And when it came to HTML forms, Opera didn't always display controls such as buttons, pop-up menus, and text-entry fields correctly, though the developer says that it will fix the issue in version 9.5. Opera and all the WebKit-based browsers had trouble with AZCentral's pop-up menu controls. On the whole, though, these annoyances were minor, and few and far between.
With all the browsers performing pretty equally in terms of page rendering, how do you actually pick a good one? That's where extras come in. Each browser comes with its own unique set of features, which makes for some striking contrasts in user experience.
Session management
It's a given that all browsers can store and retrieve bookmarks. All of these browsers also allow you to manually save currently open tabs and/or windows, either by storing bookmarks for all your open tabs at once or by saving a special collection of tab and window settings, often referred to as a session or workspace. (We were unable to get this working in Shiira.)
Most browsers can also remember open tabs and windows and restore them automatically after you quit and relaunch (or crash). Only Safari and SeaMonkey can't.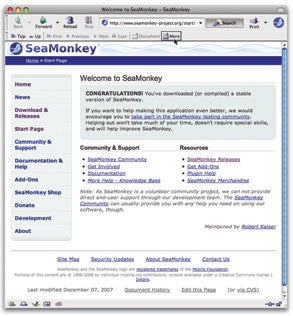 Add-on support
Add-ons let you append brand-new abilities to your browser or alter the behavior of existing features. Firefox is by far the most extensible browser, thanks to its support for add-ons—from full-featured RSS readers to image-management capabilities (see Firefox Extensions for Geeks.)
Opera also supports plug-ins, offering features like advanced bookmark management and cache editing. Flock has a relatively limited set of available add-ons.
Forms and passwords
Most browsers have some capability to learn form information—name, e-mail address, phone number, mailing address, and so on—as well as user names and passwords for sites.
Safari stores user name and password data in OS X's systemwide Keychain and contact information in Address Book; it can also store additional form data in its own private list. Camino, iCab, OmniWeb, and Shiira also use Keychain for user names and passwords. When it comes to other form data, Camino and OmniWeb can access your own Address Book card. But while OmniWeb lets you add more form fields, which it stores in its own database, Camino does not. iCab also keeps its own list of contact data, though it lacks a learning capability. Shiira is incapable of saving information such as your address and phone number.
Firefox and Flock use their own databases for user names and passwords, as well as for contact information—but you can neither see nor edit the contact lists, which can be quite inconvenient. Opera also stores form data internally, but has the opposite behavior: you can edit contact data but not user names and passwords. SeaMonkey maintains private lists of user names and passwords, as well as form data, and it provides built-in editors for all of this information. Only DevonAgent lacks form-filling features.
Privacy and security
Every browser here offers some privacy settings, such as the ability to delete cookies, history, cached pages, and other personal data. Security generally refers to settings that prevent potentially malicious Java and JavaScript code from executing without your permission, and that govern the handling of cookies.
The browsers in our roundup take several different approaches to security. DevonAgent, Safari, and Shiira use a simplistic, global approach, providing a private browsing mode that prevents the storage of cookies and personal data on your Mac. iCab, OmniWeb, and Opera let you create detailed policies on how to handle certain types of content in every domain you visit. Camino, Firefox, Flock, and SeaMonkey provide a happy medium: they give you finer control than Safari (such as the ability to allow or block pop-up windows for any given domain), but they don't bog you down with complicated options.
Search fields
Nearly every browser toolbar includes a search field. In Camino and Safari, the search function is tied to Google. SeaMonkey and Shiira let you choose from several preconfigured search engines. DevonAgent is the standout, with a separate window that allows you to survey dozens of different search engines at the same time. Not only can you specify detailed search criteria, but results come with summaries, and are organized by related topics.
RSS and blogging
These browsers offer a staggering range of additional features.
Flock offers the most impressive RSS implementation. By displaying subscribed RSS feeds in the window's sidebar, Flock allows you to quickly switch between headlines, excerpts, and full text (if available); mark entries as read; save entries for later reference; or easily create a blog entry from an RSS post. Opera's RSS support is also solid: you can mark stories as read, assign labels (such as Important or Funny), and sort posts according to various criteria. Safari has a passable though uninspired RSS reader.
Although you can use any Web browser to write blog entries, Flock has the distinction of being able to communicate directly with many blogging platforms, allowing you to construct a post without having to visit the site. It also integrates nicely with other popular Web services, such as Flickr, YouTube, and del.icio.us.
Safari also deserves a special mention here because it adds support for text-styling controls in services like Blogger and, on any Web form with a textarea control (a multiple-line editable text box), Safari makes the control resizable—something iCab also does.
Macworld's buying advice
Apple's Safari emerged as a clear favorite, with its excellent standards support, its friendly user interface, and all the capabilities most people will need. If you want a more flexible browser, the Mozilla Foundation's Firefox offers innumerable extensions and themes. Another good option is The Omni Group's OmniWeb, which has an intelligent and attractive interface, a built-in HTML editor, and more-detailed control over privacy and security than Safari.
On the next page, we have some suggestions to help you figure out which browser is right for you.
Which browser is right for you?
If you're looking for an all-around browser, you can't go wrong with programs like Safari and OmniWeb. But for certain tasks, you may be better served by a browser that's more specialized.
Blogging and Social Networking: Flock If you spend tons of time writing blog entries and using sites like Facebook, Flickr, and Twitter, you'll appreciate Flock's convenient integration with these and many other tools. For instance, you can scan your friends' Facebook updates, see who has commented on your latest Flickr photoset, or submit a blog posting without having to visit the site.
Tinkering: Firefox When it comes to customizability—from tweaking the browser's look-and-feel to adding brand-new capabilities—Firefox is tops. With hundreds of extensions to choose from, you can add everything from Web development tools to fun games like the Quiz Addicts' Toolbar, which displays an ongoing series of trivia questions.
Research: DevonAgent Several browsers offer customizable search engines, but not one comes close to the level of detail offered by DevonAgent. When you need to scour every last corner of the Web for research or for some obscure piece of information, this is the best tool for the job.
Cross-Platform Browsing: Opera Sure, Firefox is available in Mac, Linux, and Windows versions, but Opera will also run on obscure systems like OS/2 and BeOS, and even comes in mobile versions for smart phones such as the Treo and BlackBerry. If you want consistent browsing across all your devices, try Opera.
[Joe Kissell is the senior editor of TidBits and the author of numerous e-books about Mac OS X.]