At a Glance
Expert's Rating
Pros
Ships with nearly-full version of Adobe Bridge
Share workspace automates e-mailing images, ordering prints, and archiving to CD/DVD
Suitable for any skill level
Create workspace supports multipage layouts in one document
Advanced editing tools borrowed from Photoshop CS3
Intel native
Overall snappier performance
Cons
New dark interface makes some dialog boxes difficult to read
Thumbnails of artwork in Create workspace are small and hard to see
No Web gallery-uploading capabilities
Our Verdict
Perhaps the hardest part of early 2008 wasn't waiting for the cold, icy fingers of winter to release their grip here on the East Coast where I live—it was waiting for Adobe to release Photoshop Elements 6. A worthy winner of Best of Show honors at this January's Macworld Conference & Expo, the Elements update was among the most anticipated product releases showcased at the annual Mac trade show.
Adobe promised to make photo editing easier than ever, and, boy, it delivered. Brimming with new features like a Guided Edit mode, an amazing PhotoMerge Group Shot feature, and a slew of tools snatched from Photoshop CS3 tucked inside brand-new workspaces, Elements 6 makes photo editing for amateur photographers, hobbyists, and scrapbookers more accessible—and more fun—than ever before.
Bridge to organization
Right off the bat, you'll notice a sparkling new Welcome screen prompting you to start a photo-editing project from scratch, browse with Adobe Bridge (nearly the full version from Photoshop CS3), import pictures from your digital camera or scanner, or open a recently viewed image. Once the program loads—a much faster process than before if you're on an Intel Mac—you're greeted with a charcoal gray interface that's easier on the eyes than the superbright interface of old. Though the new interface certainly makes photos "pop" on screen, I did find some dialog boxes difficult to read.
Included in Elements 6 is the Adobe Bridge photo-management program, which lets users view, sort, and organize their ever-expanding photo collections in ways not possible with iPhoto ( ). By viewing a photo's metadata, for example, you can learn which aperture, shutter-speed, and ISO settings worked and which did not. Such information is crucial for both learning and experimentation. Within Bridge, you can use the Loupe tool to inspect a photo pixel by pixel without ever opening the image file. You can select multiple photos and compare them, side-by-side, in the preview area; you can apply keywords, descriptions, and ratings to your photos and then use Bridge's filtering capabilities to find photos more efficiently; plus, you can rearrange the wealth of viewable information and customize the Bridge workspace, then save it for future use.
Of course, you don't have to use Bridge to use Elements 6. People who are perfectly content with importing and organizing their shots in iPhoto can continue to do so; just set Elements as the default photo-editing program in iPhoto's General Preferences tab.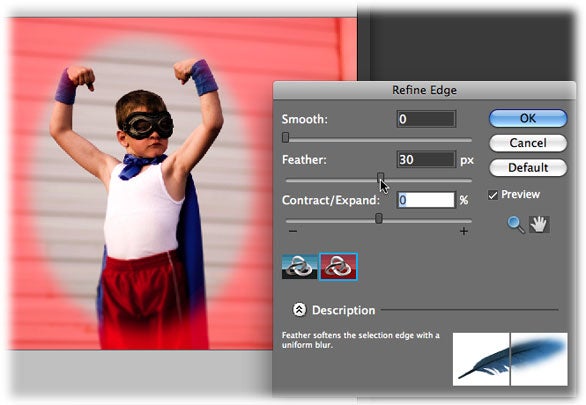 An editing environment for everyone
To make photo editing truly accessible for novices and gurus alike, Adobe divided the Elements 6 editing workspace into three modes. Experienced pixel-pushers will gravitate toward the Full Edit, "do anything" mode, while Quick Edit mode (previously dubbed Quick Fix) gives beginners a subset of the most frequently used tools. Those completely new to digital image editing will appreciate the helping hand of Guided Edit mode, which poses a series of short questions to lead you to the correct tool, in the correct order, complete with instructions on how to use it. In both Quick and Guided Edit modes, users are treated to a handy before-and-after preview—a feature Photoshop CS3 doesn't even have. Elements 6 lets users jump easily from one editing mode to the other, allowing them room to grow as their skills increase.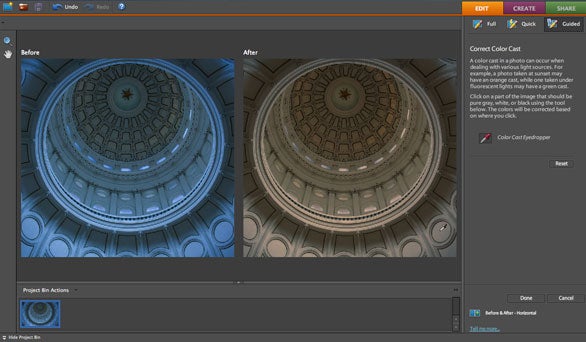 New goodies snatched from Photoshop CS3 include the Quick Selection Tool—great for "painting" selections onto an object—and the Refine Edge dialog, which lets users preview selection feathering, as well as smooth, contract, and expand selections. (When a selection tool is active, you'll see it in both the Options bar and the Select menu.) The new Correct Camera Distortion filter not only corrects barrel distortion (a result of zooming with lower-quality lenses), but can also add a dark edge vignette (a nice finishing touch for portraits).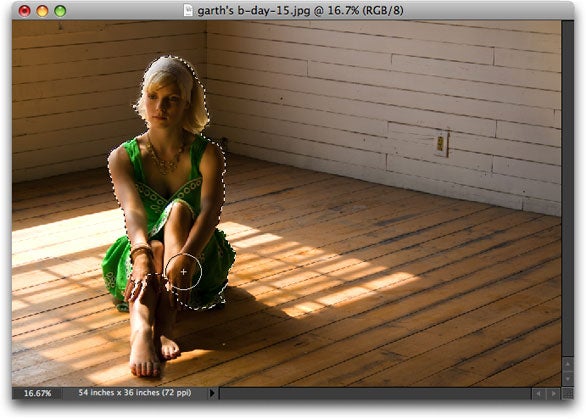 Also new is the Adjust Color Curves command, a limited version of pro photographers' color-correction tool of choice. Tweaking the individual Adjust Highlights, Midtone Brightness, Midtone Contrast, and Adjust Shadows sliders cause the color curve to change on the fly, so you get a feel for how the tool works.
A Convert to Black and White command now lives within the Enhance menu, and comes with six presets plus a big before-and-after preview for creating richer color-to-grayscale conversions. The Enhance menu is also home to the new Unsharp Mask tool, which has long been the final step in pro-level photo editing.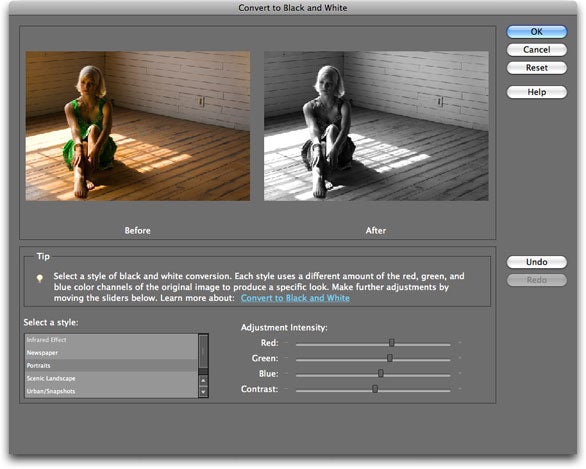 Photographers will appreciate increased Raw support with version 4.3.1 of the Raw converter. This dynamically updatable plug-in features a filmstrip view, which lets you apply adjustments and presets to multiple shots in one fell swoop. (The filmstrip is viewable only when you're looking at multiple shots at once.) The new Recovery slider (for highlights) and Blacks slider (for darkening blacks) are useful for adding definition and depth and making photos pop. You can also save conversion settings for later use in Bridge, where you can apply them to multiple photos.
The ever-expanding Effects palette rounds out the editing features and contains a plethora of color tints, drop shadows, type, and other photo treatments. Oddly, however, these effects require a double-click, though large buttons typically require just one.
Merging madness
For years, Elements users have been happily stitching photos into wide-angle beauties using PhotoMerge Panorama. In version 6, Adobe has added two new merge tools to the mix: PhotoMerge Group Shot and PhotoMerge Faces.
One of the most challenging aspects of photographing groups of people is capturing a moment in which everyone is smiling at the same time with their eyes open. Elements' new PhotoMerge Group Shot feature eliminates this problem by auto-aligning and merging up to 10 photos into a single, perfect shot. Simply choose one photo (called the master) as a starting point, and then, using the highlighter tool, mark areas of the other photos you wish to merge. Grab a smile from one photo and a set of eyes from another, and Elements will take as much of that person or object as necessary to blend it seamlessly into the master shot. If you're curious to see just how much of the image Elements had to use to make it work, click the Show Regions check box.
While the PhotoMerge Group Shot is truly amazing, it's not a compositing tool. It works only when the photos are very similar, meaning the photographer and subjects haven't moved. Still, with a little planning, you'll find that it's the perfect tool for creating a "multiple instance" collage, in which one person appears in multiple places within a single image.
PhotoMerge Faces creates a single face from the features of two different ones. So if you've ever coveted someone else's nose, lips, or hair, you can use this tool to create a whole new, creepier you.
Laying it out
The new Create workspace is all about building projects. Once you've finished editing and merging, trot over to the Projects workspace to build multipage photo books and scrapbook layouts—all within a single Elements document—as well as collages, Web galleries, PDF slide shows, greeting cards, and CD/DVD labels and jackets.
Myriad themes, backgrounds, textures, graphic elements, photo frames, and type effects are included in the Artwork palette to help inspire creativity. However, I found the themes and backgrounds to be fairly cheesy, though the frames and graphical elements are surprisingly nifty. You can also add your own art to the collection by placing it in the corresponding folders on your hard drive. The only downside is that there's so much art that the preview thumbnails are small and hard to see.
The interesting thing about the Artwork palette is that when you drag an item onto a page, Elements knows what it is and where it's supposed to go. Drag a background onto the page, and Elements places it accordingly. Drag a frame onto the page, and you'll be prompted to add a photo either from the Photo Bin or by navigating to it on your hard drive. You can resize and enlarge frames without sacrificing image quality. Double-clicking a photo within a frame reveals resizing and repositioning controls (just like in iPhoto), and clicking the frame itself lets you resize and move it around on the page (unlike in iPhoto, where layouts are fixed).
Sharing your work
Last but not least, you can use the new Share workspace to get your masterpieces off of your computer and into the hands of others. If you choose E-mail Attachments, Elements will resize images if they are deemed too large for transport, launch your e-mail client, create a new message, and attach the photos—all in a matter of seconds. You need only enter a recipient.
You can also create a Web photo gallery, an option you'll also find in the Create workspace. Perhaps in the future Adobe will consider adding FTP capabilities; it would be rather handy to publish a gallery to a Web server or other photo service straight from Elements.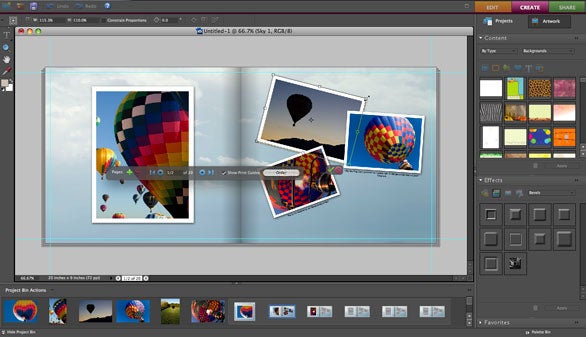 To share images with family and friends the old-fashioned way, use the Order Prints button to connect with the Kodak EasyShare Gallery, which kindly escorts you through the process of choosing sizes and coughing up your credit card information.
Other options in this workspace include burning CDs and DVDs (great for archiving), as well as exporting slide shows as travel-friendly PDF documents.
Macworld's buying advice
Those wanting to take the next step in photo editing need look no further than Adobe Photoshop Elements 6. Hobbyists and scrapbookers will find everything they need (and more) to get their masterpieces out of the computer with the new Create and Share workspaces. The new Guided Edit mode makes photo editing accessible to complete novices, while the Quick Edit and Full Edit modes give users plenty of room to grow as their skills increase. With increased Raw support and the inclusion of Adobe Bridge, advanced amateur digital photographers and hobbyists will likely have all the photo-processing power they'll ever need.
If you'd like to learn image editing and start creating fun projects with your photos, you're going to enjoy Elements 6; it was designed for nonprofessionals, and it shows. Users of the previous version will also find that the significant number of new features makes upgrading worthwhile. In either case, Elements 6 enables you to create imagery you never thought you could.
[Lesa Snider King, founder of GraphicReporter.com, is the chief evangelist of iStockphoto.com, author of Graphic Secrets for Business Professionals (Lynda.com, 2007), and co-host of YourMacLifeShow.com.]