Sanyo on Wednesday introduced a new ultraportable projector, the PLC-XW60. Sanyo claims is the industry's smallest and lightest XGA (1024 x 768 pixel) digital projector. Coming next month, the PC-XW60 will cost $795.
The PLC-XW60 weighs 3.6 lbs. and measures 10.4 x 2.17 x 7.40 inches. Its brightness is rated at 2000 lumens, and it displays images in a 4 x 3 aspect ratio. It has a built-in speaker and D-sub 15 input, along with composite video (RCA) connector.
The PLC-XW60 can throw a 100-inch image from 9 to 11 feet away, and features a built-in sensor that automatically searches for an input signal. It also sports automatic keystone correction, so users don't have to manually tweak keystone to get a square image projected.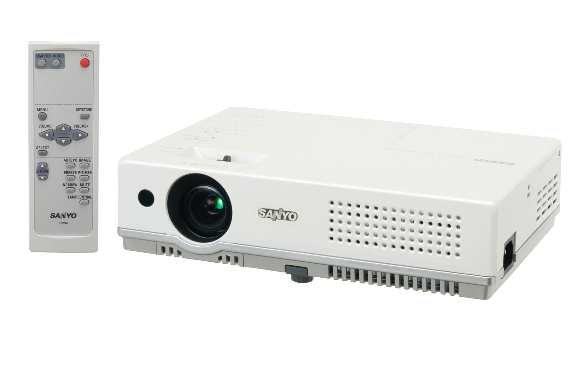 The projector also has a "Color" or "BlackBoard" mode that enables you to project images against non-white surfaces. The projector turns off by unplugging the power cord, and there's no "cool down" period, either.
Sanyo's Web site had not been updated with information about the PC-WX60 as Macworld posted this article.