Reader Dan Moynihan (no, not that Dan Moynihan) is interested in maintaining only the greatest hits of his Recent Items. He writes:
At the bottom of the Recent Items menu there is an option to Clear Menu. As I understand it, this command will clear all information from the Recent Items menu and start with a clean slate.

However, I would like to be able to selectively remove individual items that will not be used again (software installers, for example) and have found no way to accomplish this. Am I out of luck or is there a way to do this?
There is a way to do this and that way is by editing the com.apple.recentitems.plist file. There are a variety of ways to do this but allow me to direct you to the one that's not only easy, but free as well.
Download a copy of Night Productions' free Pref Setter. As its name implies, it's a utility for mucking around with OS X's preference files. Use it like so to clear out specific Recent Items entries.
Launch Pref Setter and in its Search field enter recentitems. The one entry that will appear is what you want—com.apple.recentitems.plist. Double-click it to open it in the editor. In the editor, among other things, you'll see entries for Applications, Documents, Hosts, and Servers. If you know the name of the item you'd like to delete, enter it in the Search field. For example, if you want to remove the Example.doc file, just enter Example in the search field. Only Documents will remain in the list.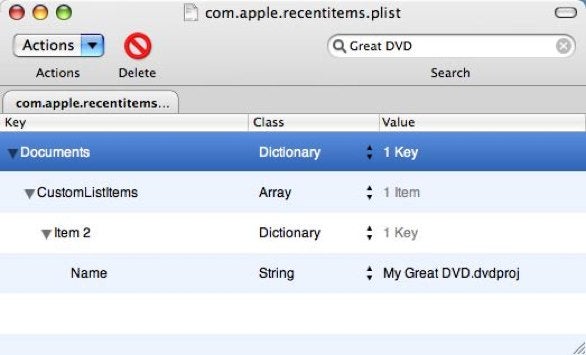 Click the triangle next to Documents and you'll see a CustomListItems entry. Click the triangle next to it and an Item entry appears. You can click the triangle next to it to confirm that the name of this item is Example.doc. Thus assured, simply select the Item entry (Item 1, for example), click Pref Setter's Delete button, and press Command-S to save.
When you log out and back in, the recent items you deleted will be gone.