I haven't done much traveling in recent months, but I'm no stranger to the open road. Sometimes, when I lie awake at night, I hear the asphalt calling to me: "Dan," it whispers, "come and find adventure." Come to think of it, it sounds a little bit like that voice in Field of Dreams. Only, you know, less corn.
But traveling and being a gadget freak can be trying at times. Think of the numbers of cables, adapters, and chargers you end up dragging around with you. If only there were a better way. I like to think that some day, all of my devices will be powered by tiny nuclear fusion reactors. As an added bonus, they'll glow in the dark, so I won't be able to lose them. Some day.
On this week's Gadgetbox, we bring you three devices that help make powering up on the road simple and fun. Well, simple anyway. We shed some light on the subject with a combo flashlight/charger, help you harness the power of the sun, and clue you in on one device that's a highway star.
Light of my life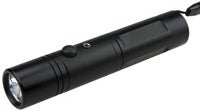 We've looked at a number of cell phone charging devices in the past, but the One Battery Emergency Phone Charger Flashlight has one key feature that makes it even more attractive to those on the go: its dual-purpose nature. Sure, it can recharge your cell phone when you're in a jam, but when you're not taking advantage of that functionality, you can use it as an LED flashlight.
Think about it: the rest of those charging devices just clutter up your bag/purse/utility belt with an extra doodad that's useless if it's not juicing up your phone. At least with this one, you can still explore those dark, creepy caverns, fix a flat tire, or play flashlight tag. And should your cell phone run out of power, well, you're already set.
The $22 One Battery Emergency Phone Charger Flashlight (we'll call it the OBEPCF for short) comes with five adapters for powering up the most common brands of cell phones, and it runs off a single AA battery, which provides enough energy to charge a cell phone for 100-180 minutes (though your mileage may vary, depending on make and model). All it needs to achieve perfection is toaster attachment.
[via Red Ferret]
Here comes the sun(-based gadget recharger)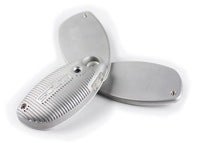 If you're like me, then you've spent a long time overcoming your potentially irrational fear of that giant ball of luminescent gas hanging in the heavens. The recurring notion that it might, at any moment, simply go out is either an indication that I need to seek professional help or that I simply have too much time on my hands (not, I note, mutually exclusive propositions).
But, if we can indeed rely on the sun to continue providing heat and light, as it's done for oh-so-many years now, then perhaps we can somehow harness that energy for our own benefit. The Solio Magnesium Edition hopes to capitalize on just such a possibility, allowing you to convert an hour of sunlight into about an hour of iPod playback or 25 minutes of additional talk time for your cell phone. It comes with adapters for many common devices, including your iPod, GPS, camera, cell phone, and game devices.
At $200, the Solio Magnesium Edition is a bit pricey, but since it's pretty much infinitely reusable, you could still end up getting a big bang for your buck before the sun decides to give up the ghost. Personally, I just want to know why magnesium seems to get all the love, while its cousin manganese sits alone in a corner of the playground, a stick its only friend.
[via DVICE]
The power of the open road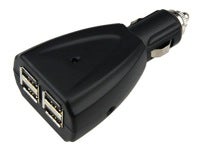 Electronic gadgets can be all too handy in the car: you've got your GPS for finding routes, your iPod for keeping you entertained, and even your portable shaver for keeping you…presentable. But with only one or two power outlets in most cars, it can be a pain to try and keep all your gadgets charged and ready to go.
That's what makes the 4-port USB Car Charger so brilliant. Just jack it into your car's DC outlet (née cigarette lighter), and you've got room for up to four USB-powered devices. Heck, if you've got two power outlets in your car, spring for a second, and you're up to 8 USB-powered devices. Hang on: I'm not even sure if even I've got that many devices.
The 4-port USB Car Charger goes for just $12: quite a steal when you consider that it also comes with mobile-phone charging adapters for many popular brands. You may never leave your car again (though, of course, we hope you do, lest you end up like car boy).
[via OhGizmo!]
Well, there you go then. After this, you should have no excuse for having an uncharged cell phone ever again. I'm talking to you, little miss "Oh, I never got your call because my cell phone was out of batteries, but anyway I'm washing my hair on Saturday night, sorry."