Adobe offers photo-editing tools for professionals and hobbyists alike; now it's adding the mass audience of online users to the mix. Adobe Photoshop Express, a new Web service launched Thursday, gives consumers a Web-based platform they can use to upload, edit, store, and share their photos. With Express, Adobe aims to put accessible, easy-to-use, but nonetheless sophisticated image editing and special effects tools into the hands of the most casual and novice photographers.
"This is a consumer-oriented product," said Geoff Baum, director of Express Products at Adobe. "It's designed to be very easy to use, very self discoverable, so if I'm a new user and I've never had experience doing image editing…it should be very quick…to figure out how to use the tool. You can make edits that will improve the quality of your image in 30 seconds, 60 seconds, 90 seconds."
Express has been released as a public beta, and during this period, the company will actively solicit user feedback on the service. A formal launch will take place sometime during 2008, but the company has not released a target date. "We'll be evolving the product very quickly and we'll be releasing updated versions and new functionality very quickly and on a consistent basis. Over the next few months there will be a lot of enhancements and changes based on user feedback," Baum said.
New family member
Photoshop Express' unveiling closely follows the release of the new version of Photoshop Elements 6 for the Mac. While Elements 6 is targeted to hobbyists who want client software installed on their computers, and who like to spend time enhancing and tweaking photos, Photoshop Express is designed specifically for the social networking crowd using a point-and-shoot camera or a camera phone, that wants to share photos on-the-go via popular online services like Facebook, Photobucket, or Picasa. Express already lets users connect with those services, and will, in a matter of weeks, add Flickr to that lineup, Baum said.
Photoshop Express fills in the missing piece of Adobe's Photoshop customer base. Already, the company serves high-level pros with its premium Photoshop and Lightroom products, as well as hobbyists who use the lower-priced Elements. Express brings a Photoshop-inspired offering to consumers who are already sharing photos online at social networking Web sites. "In this type of sharing situation, you're not looking for super high quality edits and super refinement…you're just trying to make your picture look better and to share it…It's not about getting it exactly right so you can print the big 8-by-10. That would be more of an Elements audience," Baum added.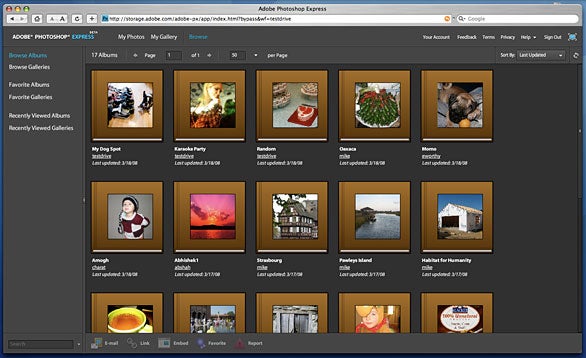 Any browser, any platform
Photoshop Express is cross platform and works with fairly recent Mac versions of Safari, Firefox, or Opera. You can use any OS and a browser that supports Adobe's Flash 9 technology. So, you can use any Power PC Mac from a 500MHz G3 up, or on the Intel side, at least a 1.33GHz Intel Core Duo. Complete system requirements for Flash 9 are available on Adobe's Web site. Users will need a broadband connection to the Internet, so DSL or a cable modem is also required.
Hosting this service on the Adobe server using its Flex and Flash technology for that Web 2.0 functionality, Adobe joins the likes of other online including Picnik or Phixr that offer photo editing and sharing. However, Adobe says it's designed Photoshop Express as a more complete end-to-end experience than rival services. "The other sites you see out there provide a piece of what you would need as a consumer level user—they provide the editing capability or the hosting capability or a sharing capability, but very few do a good job of providing everything," Baum said.
Premium version and printing
The new Photoshop Express is a free service and will remain a free service even after shedding its beta status. However, Adobe says it has a paid option in the works for people who want more functionality and storage space than the 2GB provided by the free version. In the next six to 12 months, Baum says, Adobe plans to add premium services that will include features such as additional storage space, more creative capabilities for photographic presentation, and more photo editing and enhancement features.
And, at launch, there are no printing services available, but those too, will be added in the next few months. Adobe plans to offer photo printing for Express users via third-party providers; those will be available as links from the Express Web site. Baum declined to name any specific vendors at the moment.
Express tools
Photoshop Express features an assortment of photo editing tools, all derived from Photoshop's concepts, but engineered from the ground up in ActionScript 3 for ease of use and accessibility. "The subset of features in Express provide a similar end goal as similar features in Elements or Photoshop. They may not have the power or the flexibility, but users can apply them quickly," Baum explained.
Express divides those tools into groups called Basics, Tuning, and Effects.
Basic tools let you crop and rotate, auto correct, fix exposure, remove red eye, touch up, and fix the saturation of an image. Tuning tools let you adjust white balance, improve highlight and fill light, sharpen, and fix focus by sharpening or soft focusing. The Effects tools let you spot color, change colors, convert a color photo to black and white, tint, turn a photo into a sketch, and distort an image. You can view and choose variations of your edits to determine which ones you like best.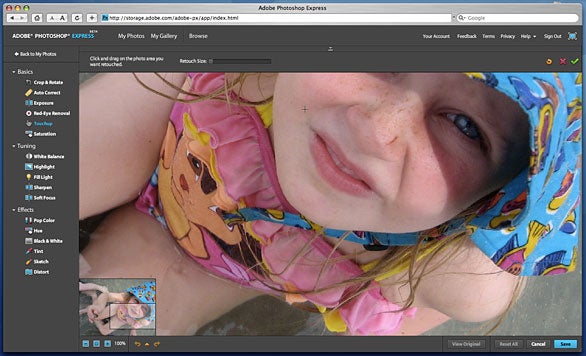 Adobe designed Express to be non-destructive and non-linear, so that users don't have to worry about making image-editing mistakes. If you don't like an applied edit or effect, you can remove it.
Photoshop Express also includes features that let you choose how to view and share photos. You can group your photos into albums or slideshows. A gallery feature lets you gather together your Web-based albums and slideshows. You can also view photos by date or rating. And you can change layouts, add captions, and email images or albums to family or friends.
Privacy settings let you choose who can see your albums, while friends and family can also allow you to access their photos and albums.
Limits
This beta version of Photoshop Express comes with some limitations. You can't upload or edit raw format photos, which might be a downside for some users because of the recent popularity of raw images, even among the amateur crowd. But that fits with the free server space that users get—just 2GB. Images are limited to JPEG format and a size of 10MB each.
At launch, Express offers no feature for directly loading photos or viewing them from the iPhone. In order to use Express, your browser must support Flash 9. The iPhone browser does not, so there's no interoperability between Express and the iPhone.