Karelia Software has announced the release of Sandvox 1.2.7, a maintenance update to its visual Web site creation software for Mac OS X. A free update for registered users, Sandvox is available in Regular and Pro editions for $49 and $79, respectively.
Sandvox helps users create Web sites using templates. It includes more than 40 site designs. It features live text editing, drag and drop support, "microcontent" using "pagelets," blogging support, podcasting support, photo sharing and more. The Pro version adds raw HTML support and other advanced features.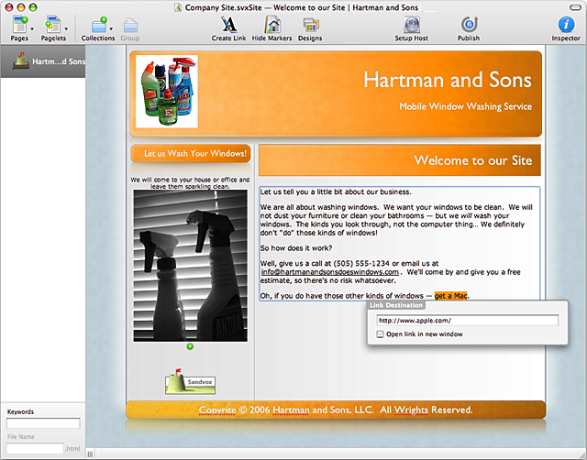 The 1.2.7 update improves graphical text title replacement and makes several design enhancements. It also adds support for A2 Hosting to the Host Setup Assistant. Bugfixes and enhancements have been made to improve support for Windows Media Video (WMV) files in pages and pagelets when the site is viewed using Microsoft Internet Explorer 7, and improvements have also been made to the iMedia Browser.
Sandvox 1.2.7 requires Mac OS X v10.4.11 or later. It's a Universal binary.