At a Glance
Expert's Rating
Pros
Strategy component creates deep gameplay
Simple gameplay mechanics
Cons
No demo available
No PowerPC support
Our Verdict
Upon first impression, mixing elements of role-playing games with "match three" puzzle games seems like an unlikely combination (I'm reminded of "The Simpsons" gag: Nuts and gum—together at last!). But Puzzle Quest manages to do a good job combining these two game genres.
Puzzle Quest's RPG components follow a familiar pattern. You start by creating a character from one of several basic classes, such as Druids, Knights or Wizards. You interact with characters who send you on quests that result in rewards, treasure, and experience point that are allocate to your various attributes. The quests gradually increase in risk, but the rewards are greater.
What makes Puzzle Quest unique is that all of the combat involves a "match three" puzzle game, similar to Bejeweled or one of its seemingly infinite number of clones. In Puzzle Quest, there's a grid-based game board filled with pieces marked with different colors. You can move pieces one at a time to create a horizontal or vertical line of three or more pieces. Succeed and you'll collect those pieces; their color corresponds to mana (or magic points) that you can redeem for different magic spells or actions against your enemy. You can also take direct action against your enemy if you're lucky enough to match three or more skulls on the playing field. There are bonus multipliers, special tokens that give you instant cash or experience, and more. When you can reduce your enemy's hit points to zero, you win the battle.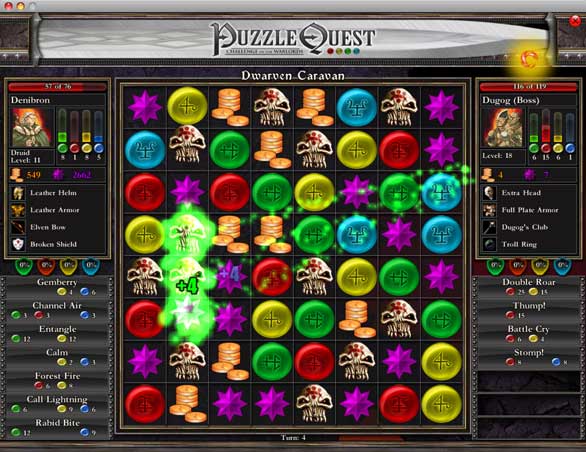 There's a fierce amount of strategy involved in this exercise. On the surface, collecting mana points sounds easy, but it's vital to understand what your enemy's defenses are and how to overcome them. Some spells and attacks will work better than others, and you don't want to leave yourself vulnerable to an attack on the board by making an unwise move. What's more, if you or your opponent are left with no moves possible on the board, the board resets, and any mana you've collected during the preceding moves will drain out.
You can extensively customize your character with new weapons, armor and items, all of which provide you with offensive or defensive bonuses. Sometimes you'll attract the interest of other non-player characters who can assist you with their specialized skills. For example, you can be assisted by a non-player character who has a special beginning blow for undead enemies, like zombies or skeletons. Another can charm characters into letting you get in a sneak attack.In between battles you can get new quests, sell items you've collected, buy new items, and build up your own city's capabilities so you can train and equip yourself better.
Puzzle Quest is one of the first games published by TransGaming. TransGaming has been in news for its Cider technology, which allows PC games to work on the Mac. But until recently, Cider games have been published by other companies, such as Electronic Arts, GameTap and Freeverse. This time around, TransGaming is using its own, fledgling online distribution service called GameTree Online. It's a welcome addition to the Mac game distribution ecology—outside of shelf space in Apple Stores, it's difficult to find Mac games stocked anywhere.
The game ran fine on my year-plus old MacBook Pro with Mac OS 10.5.2; I've spent a few hours with it without any problem. It does take a while to first start up, however. Also, bear in mind that Puzzle Quest runs on only on Intel-based Macs. It should run on MacBooks and Mac minis, unlike some other Ciderized titles. Unfortunately, there's no playable demo for Puzzle Quest, so you have to decide up front if Puzzle Quest is worth the $20.
The bottom line
Puzzle Quest is a unique mélange of RPG and match-three puzzle games that offers enduring and challenging gameplay. It's just a shame that a demo isn't available and that PowerPC Macs can't run the game.