At a Glance
Expert's Rating
Pros
Built-in card reader
Fast print speeds
Dual paper trays
Built-in duplexer
CD printing
Great print quality
Cons
No OCR software
Uninspiring software bundle
Our Verdict
Epson's Stylus Photo RX680 is a six-color multifunction inkjet printer that is ideally suited for people who want basic printing and scanning features and great photo printing capabilities. Reasonably priced at $199, the RX680 is fast and easy to use, and includes some nice touches that are often found only in more expensive models.
The RX680 sets up in a snap. The six ink cartridges fit easily into place, and the USB cable (not included) snakes around snugly inside the printer. A duplexing unit slides into the back of the printer, adding a few extra inches of depth, but you can remove it if you don't need it.
The included CD has the print driver, Epson Scan scanning software, Epson Print CD, and ArcSoft's PhotoImpression 5. The latter two programs seem more like checklist items than real productivity enhancers: they'll do in a pinch, but they're not terribly strong. PhotoImpression in particular feels like it was quickly ported from Microsoft Windows, with little care for the outcome. And, while we understand that the RX680's primary focus is photo printing and copying, it would be nice to have a simple OCR package for translating scanned documents into text.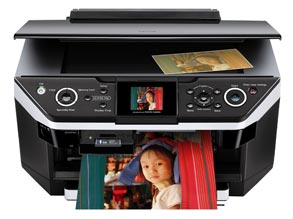 The printer has two paper trays, which make it easy to load one with photo paper and the other with plain paper. When you're printing from your Mac or using the RX680's standalone copying features, you can quickly and easily select the tray from which you want to print.
An input tray is also included for printing on inkjet-compatible CDs and DVDs; it produces great images. The included Print CD software for printing on discs is a bit clunky and hard to use; if you plan on printing a lot of disc labels, we'd recommend investing in a product like SmileOnMyMac's $36 DiscLabel or BeLight Software's $35 Disc Cover, which are much better integrated into the Mac OS.
There is also a memory card reader on the front of the printer. Cards mount on your Mac's desktop, for importing into iPhoto or other programs, but you can also print copies of your photos directly from the card or from a camera (via a PictBridge USB port on the printer) without turning your Mac on. You can also scan photos and documents—in either JPEG or TIFF formats—directly to any memory card or USB flash drive connected to the printer.
As you might expect from Epson, the RX680 excels as a photo printer, producing superb, vibrant prints on both glossy and matte papers. The print quality for standard text and graphic documents is also quite good: text is crisp and readable at small type sizes, and graphics reproduce well, with excellent color fidelity. It's not laser-quality, but it will do for most home or small office jobs, and is as easy to read as output from similar printers from HP and Canon.
Overall print speed is fairly zippy; a 10-page Word document took a little over 2 minutes to print at the default quality setting (which produces very readable text). A 4-by-6-inch photo took less than 30 seconds to print at standard quality and slightly under a minute at the highest quality setting.
At 1,200 dpi, the RX680's optical scanning resolution is a bit lower than those of comparable multifunction devices from Canon and HP, but we didn't notice any appreciable difference in quality when comparing scans or copies. Epson's scanning software is basic and easy to use, especially for the novice, but it includes a professional mode that lets you adjust colors, levels, and other image parameters.
Color reproduction in most scans was very good, and the RX680 did a good job of preserving detail when scanning or copying photographs.
Using the RX680 as a standalone copier, you have plenty of controls for copying documents and photos. It's very easy to make quick color or black-and-white copies, but you can also perform some more complex editing and copying tasks using the printer's 2.5-inch LCD screen.
In addition to cropping functions, the printer also has some powerful options for restoring old photographs, including a PhotoEnhance mode that seemed to magically restore color to many photos we literally took from an old shoebox full of pictures. It won't work all the time—some old photos have no appreciable detail or are so faded that there's nothing to restore—but it works enough to make it useful.
Timed Trials: Print
| | |
| --- | --- |
| 10-page Word test | 2:07 |
| 1-page Word test | 0:23 |
| 22MB Photoshop image | 1:52 |
| 4-page PDF | 1:13 |
Scale = Minutes: Seconds
Timed Trials: Scan
| | |
| --- | --- |
| 8-by-10-inch photo, 600 dpi scan | 1:08 |
| 4-by-6-inch photo, 1,200 dpi scan | 2:19 |
Scale = Minutes: Seconds
Jury Tests: Print
| | |
| --- | --- |
| Graphics: Fine Lines and Gradients | Very Good |
| 22MB Photoshop image quality | Superior |
| Text Quality | Very Good |
Scale = Superior, Very Good, Good, Fair, Poor
Jury Tests: Scan
| | |
| --- | --- |
| Color | Very Good |
| Clarity | Very Good |
| Copy | Very Good |
Scale = Superior, Very Good, Good, Fair, Poor
Specifications
| | |
| --- | --- |
| Print Resolution | 5,760 x 1,440 optimized dpi |
| Scan Resolution: Optical | 1,200 dpi |
| Max. scanning bit depth | 24-bit |
| Connection | USB 2.0; optional Bluetooth 2.0 |
| Paper Sizes | Index card (3.5×5), 4×6, 4×8, 5×7, 8×10, letter, legal, No. 10 envelopes |
| Cost to Replace Ink | $120 ($20 each for black, cyan, magenta, yellow, light cyan, light magenta) |
| Weight (in pounds) | 27.6 |
| Dimensions (height x depth x width in inches) | 17.6 x 25.5 x 13 |
| Paper Capacity | 270 sheets |
| Special Features | Duplex printing; 2.5-inch TFT display |
Macworld's buying advice
With great print quality for both photos and text, and features like a duplexer, dual paper trays, a memory card reader, and standalone photo restoration, the Stylus Photo RX680 truly is a very good multifunction printer. While its bundled software could be better, there's little reason not to recommend it, especially if you're a photo-centric user who wants the flexibility to print other document types quickly and easily.
[Rick LePage is Macworld's editor at large.]