I've been using a 2.3GHz dual-processor Power Mac G5 as my primary computer at home for the past three years (I also have a first-generation MacBook and a Core Duo Mac mini acting as a server, so I'm not a PowerPC-worshiper by any stretch of the imagination). And that Power Mac is a bit long in the tooth—in addition to strangely refusing to launch Final Cut Pro or Express, often taking forever to start up, randomly rebuilding parts of my Spotlight database, and a host of other annoying challenges to my productivity (and sanity).
For the first time since I picked up a Classic II at the campus store at UC Berkeley, I'm not planning to replace my current desktop Mac with another tower system. Just as Leopard finally convinced me to switch my e-mail client from Eudora to Mail (took me long enough, I know), so the aluminum iMac—with its large wide-screen display and speedy dual-core Intel processor—has caused me to consider an all-in-one Mac again. A Mac Pro is simply overkill for most of us now.
Although the 24-inch iMac is a very nice system, it also came out last August—seven months ago. And if anyone asked me if now was the time to buy one, I'd tell him or her to hold off for the next update, since I consider one to be overdue. I try to practice what I preach, so I'm waiting with thumbs a-twiddlin'.
But even though I'm generally a patient individual, I'm a little miffed that Apple has revised the MacBook and MacBook Pro lines with Intel's 45-nanometer Penryn processor before the desktop models.
And yet, Apple's attention to portables isn't that surprising when you think about it.
In the most recent fiscal quarter, Apple sold 1,342,000 laptops, accounting for 58 percent of its Mac sales. The quarter before that, laptops made up 62 percent of all Macs sold during the period. In fact, Apple's portables have outsold its desktops for seven straight quarters. And Apple's only brand new model recently is the MacBook Air, another laptop.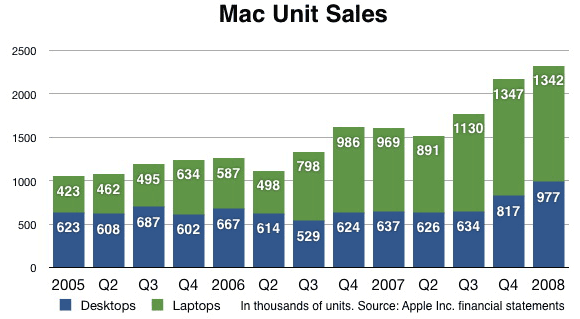 Apple is selling more laptops than desktops these days, and that's a testament to the fact that laptops have become powerful enough to serve as users' main Macs. But those 977,000 Macs sold last quarter add up to more than chump change in Apple's bank account. So please, don't forget the desktop.
In the meantime, I'll be waiting for the Tuesday in the (hopefully) near future that brings an updated iMac into my life.