Reilly Technologies on Friday announced the release of Moneydance 2008, an upgraded version of their personal finance management software for Mac OS X. Moneydance costs $39.99, and a demo version is available.
Moneydance 2008 can help you with online banking and bill payment, investment management, budget tracking, check printing, graphing and reports. It sports a familiar checkbook register interface. It also supports OFX, QIF, SSL/TLS, Java and XML formats.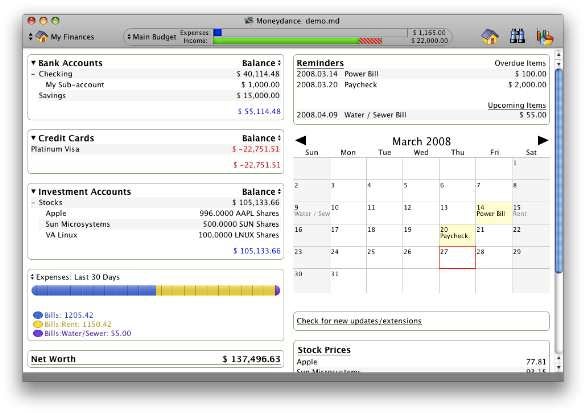 The updated release has been improved to better blend with Mac OS X v10.5 "Leopard." The 2008 edition also includes interface improvements like improved matching for downloaded transactions, a zoomable homepage graph that lets you quickly look at income and expenses, undo/redo support for modifying transactions, under/over budget highlighting in the toolbar graph, a popup calendar for choosing dates and a new Capital Gains report.
System requirements call for Mac OS X v10.3 or later, 4.8MB hard disk space and 128MB RAM or more.