Spotlight is an indispensable tool for finding anything on your Mac. All you need to do is learn its tricks. In the first part of our Spotlight series we'll give you an overview of the Spotlight menu, including how to customize how results are presented, how to save time with keyboard shortcuts, and how to reboot spotlight when it misbehaves.
Navigating the Spotlight Menu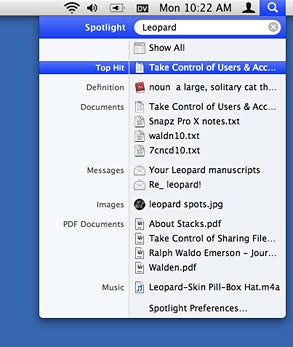 In case you're new to Spotlight, we'll begin with the basics. To start a Spotlight search, click on the magnifying-glass icon on the right side of the menu bar (or press command-spacebar) to call up the Spotlight menu; then type one or more words—you don't have to worry about capitalization. Spotlight immediately starts looking for your search term in your files' names, in their content, and in hidden information called metadata, and it presents the matches it finds. As you type more of the word or phrase, Spotlight refines its results.
Spotlight sorts results into categories such as Documents, Folders, Images, and Messages. Depending on what you're searching for, you may also see application-specific categories such as Contacts (for entries in Apple's Address Book or Microsoft Entourage), Events & To-Dos (for iCal data), and Webpages (for Safari bookmarks and history).
Within each category, results are organized by when they were last viewed or saved, so the things you've worked on recently will be at the top of the lists. The Spotlight menu also highlights a result called the Top Hit—the one Spotlight considers most relevant, based on Apple's secret formula that takes into account file type, recent usage, and other criteria. If the item you're searching for turns out to be the top hit, you can open it by simply pressing the return key. To launch a different file, use the up- or down-arrow keys to navigate to it, or click on it with your mouse.
Spotlight Shortcuts
| To do this … | Press this … |
| --- | --- |
| Display the Spotlight menu | command-spacebar |
| Go to the first item in the next category | command-down arrow |
| Go to the first item in the previous category | command-up arrow |
| View the location of a file | Hover your mouse over the file name |
| Reveal a file's location in the Finder | Highlight it and press command-return or command-click on it |
Customizing Spotlight
If you'd like to prioritize certain types of files, or if you want to exclude some sections of your Mac entirely, you can do so by choosing Spotlight Preferences from the bottom of the Spotlight menu.
Set Categories The Spotlight menu displays categories according to their order in the Search Results section of Spotlight's preference pane. You can drag categories around to alter their order—for example, if you often search for PDF documents, you might want to move that category to the top of the results list. You can also choose to not display certain categories at all, by deselecting them.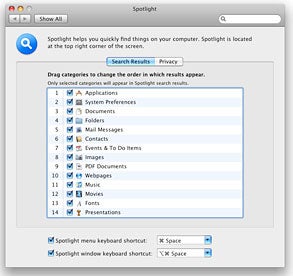 Exclude Locations By default, Spotlight indexes your entire Mac and every drive you connect to your Mac: external hard drives, writable CDs and DVDs, and even your iPod (if it's set to appear as an external hard drive). But you may want to keep some of your sensitive files from turning up in searches (especially if you share a user account with someone). Or perhaps it's just a matter of expediency: you may not want Spotlight to waste time searching backups or archives that live on a second partition or hard drive.
To exclude a folder or volume, go to Spotlight's preference pane, click on the Privacy tab, and drag the folder or volume to this list (or click on the plus sign [+] and select the item).
If you want to exclude an external drive, first connect the drive, and then add it to the list. When you do this, Spotlight deletes any current index for the drive and adds the drive to a list of areas it won't index or search.
If you later need to search that external hard drive, connect it, remove it from the Privacy list, and then wait while Spotlight reindexes it.
Troubleshooting Spotlight
Sometimes Spotlight refuses to find what you're looking for, even though you know the file exists. This problem occurs when Spotlight's indexes get out of sync. To set things right, try rebuilding the indexes—this forces Spotlight to scour your drive again and serve up the right search results.
Open the Spotlight preference pane. Click on the Privacy tab, and then drag your hard drive to the list of locations you don't want Spotlight to search. Wait a few seconds; then select the drive and click on the minus-sign (–) button. By adding the drive to this list, you force Spotlight to erase the index; when you remove it from the list, Spotlight notes that the drive is again available for indexing and starts chugging away at that task.
Keep in mind that if you have a ton of files, rebuilding the index may take quite a bit of time. If you try to use the Spotlight menu while it's indexing, you'll get a message saying that it's busy indexing your drive. Once it's finished, your searches should be more efficient.
[Kirk McElhearn writes about Macs and much more. Visit his blog, Kirkville, for information about Macs, iPods, books, music, and more.]