Music hardware and software company, Digitech, has released its newest digital guitar stompbox, the RP500. Built for live performances, the RP500 is made with a cast metal chassis for the road warrior.
The RP500 can be connected to your Mac via USB, allowing you to record your guitar into your favorite recording software like GarageBand, Logic, Pro Tools, Cubase and others. You can also shape your tone using the included X-Edit software that allows you to edit the tone parameters on your computer and save them to the stompbox.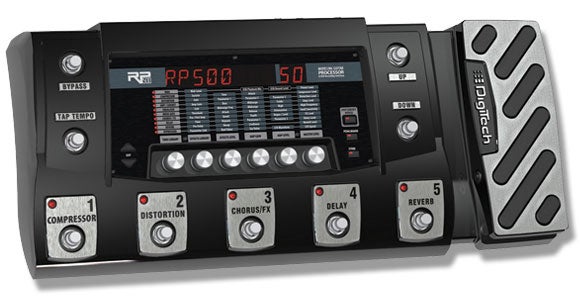 The unit includes over 50 modeled amplifiers including amps based on the Peavey 5150 II, Roland JC-120, 2001 Mesa Boogie Triple Rectifier, 1969 Hiwatt Custom 100 DR103, 1963 Vox AC30 Top Boost, 2001 Marshall JCM2000 and the 1983 Marshall JCM800. Cabinet models for the RP500 range from the 1×12 1957 Fender Tweed Deluxe to the 4×12 Marshall 1969 Straight with Celestion G12-T70.
There are plenty of effects included with the RP500 too. A collection of Wahs, compressors, noise gates, Chorus, Flanger, Paser, Tremolo, Delays and Reverbs are available to help shape your tone.
The RP500 is available for $429.95.