Even from its new application icon, it's clear that Roxio's Toast 9 Titanium is more than just a rehash of last year's application. While it's still recognizably Toast, there are a lot more features under the hood, especially for users interested in converting and burning video content.
Like last year, Toast 9 Titanium will cost you $100 (net $80 after a $20 mail-in rebate). You can get it for $60 if you're upgrading from a previous release—and no, there's no rebate if you're upgrading. You just need to be a registered Toast user.
Blu-ray Disc video, streaming comes to Toast
With the additon of an optional $20 plug-in, Toast 9 Titanium can now burn video to Blu-ray Disc and HD DVD. Toast 8 Titanium could burn data to Blu-ray Disc drives if you had a third-party drive installed on your Mac, but now you can actually record High Definition (HD) video to HD optical media as well. (PlayStation 3 owners should look out for a 9.0.2 update which solves some early problems for them.)
If you haven't invested in a Blu-ray Disc drive, don't fret—you can even use a "regular" DVD-R to burn Blu-ray content in the same format, though you obviously won't be able to store nearly as much video. Still, it's useful if you've used an AVCHD camcorder, for example, to grab some footage that you'd like to watch on your home entertainment system later. Or perhaps you've recorded an HD TV show you'd like to archive. Roxio's also included 15 new widescreen HD menu themes so you can create custom DVDs that look great.
Roxio has also addeed TV streaming and some new editing features in Toast 9 Titanium. Included with this release is a program called Streamer that lets you stream video in Toast 9 Titanium to a Mac, PC, iPhone, or iPod touch over your network and over the Internet.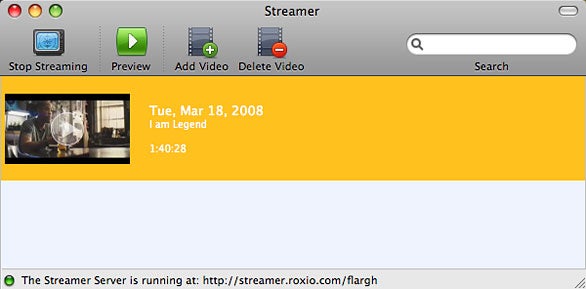 Streaming comes in particularly handy if you're using Toast as part of a TiVo-based workflow. Roxio added TiVo support in the last version of Toast, and Streamer helps extend that. So instead of having to transfer massive video files to your iPhone or laptop, you can just go out the door, connect to Streamer when you're on Wi-Fi, and watch at your leisure. Streamer negotiates with your router if it supports UPnP or NAT-PMP (the latter is supported by Apple's AirPort Extreme and AirPort Express hardware) and bridges a connect to servers on Roxio's end to stream your video for you. That stream is password-protected, and Toast handles the video conversion locally.
A built-in editor lets you crop and trim video content as well, so you can excise commercials, for example. In addition to TiVo, this also works well with Elgato's EyeTV DVR software (the editor actually comes straight out of EyeTV).
Speaking of Elgato, its Turbo.264 video coprocessor is now supported by Toast 9 Titanium. The USB device takes the load off your CPUs when it comes to converting video to the H.264 format.
You can also create DVD compilations, combining multiple DVDs onto a single disc, and batch-convert multiple VIDEO_TS folders. Toast 9 Titanium now features the ability to pause and resume video encoding as well, if you need to free up your CPU temporarily for other tasks.
Interface enhancements
Roxio has refined Toast's user interface to reflect its new functionality. While Toast's familiar three-pane interface remains, the project layout column adds a new Convert option used to convert video from one format to another—incorporating the functionality of Roxio's Popcorn 3 software.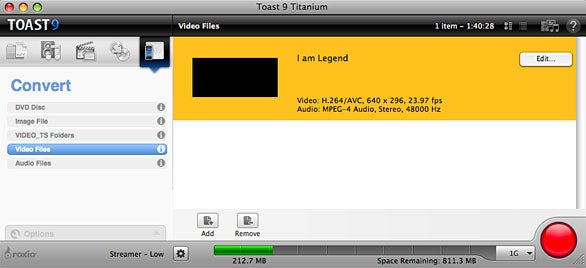 That new Convert project tab lets you convert video files for a variety of players—everything from mobile devices like your BlackBerry or a Palm Treo to a Microsoft Xbox 360 game console or the Apple TV. Moving your cursor over each option in the project layout presents you with tool tips that explain exactly what each option does.
Previous versions of Toast featured a gauge to show you how much space your project would take up on the target medium which wrapped around the big red Burn button. With Blu-ray Disc now an option, that's not really an efficient way to show how much space is being used, so that wraparound gauge has been replaced with a linear gauge that stretches across the bottom of the Toast window instead.
The Media Browser can now sift through images in Aperture, Apple's pro-level photography software, and it also works with iMovie 08 projects and files. Leopard's Quick Look capability is supported as well, so you can preview images, movies, or audio files you'd like to include in your Toast projects.
Better audio support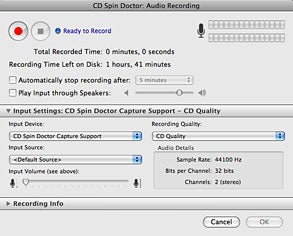 Although video is the centerpiece of Toast 9 Titanium's new functionality, that's not all the new software has to offer. You can now capture streaming audio from any source, including the Internet, so you can use Toast 9 Titanium to archive Webcasts you'd like to save, for example.
What's more, the CD Spin Doctor audio software that accompanies Toast now includes audio fingerprinting that can identify untagged music files and automatically adds track, artist name and other file info. So if you've been putting off digitizing your record collection because you don't want to have to input a lot of data, this should take the edge off.
Toast works with OS X 10.4 or later, and supports G4 or better-equipped Macs, including Intel Macs.
Closing thoughts
We'll do a more complete review of Toast 9 Titanium, but for now, what's here is a compelling list of new features, provided that your main interest in Toast is in archiving or converting video files.
To that end, Roxio has beefed up the software impressively, and has made Toast much less of a simple video burning tool and much more of a digital media hub for users looking to get a lot more out of the content they already have, whether it's raw HD video content or movies and television programming moved over from a TiVo or recorded using EyeTV.