Back in the fall of 2000, I was making the transition from Mac OS 9 to OS X, and finding the new operating system both complex and a bit unintuitive. In particular, I kept getting tripped up by features that weren't documented on Apple's Web site or covered in OS X's Help files. Being somewhat geeky by nature, I decided to create a Web site where I could keep track of all the little tips, tricks, and hidden features I was discovering in OS X. That way, I could easily access the tips from any machine I happened to be using. And because I knew I wasn't the only one out there exploring the inner workings of Apple's new operating system, I built the site so others could post their own OS X tips and insights.
Over the last eight years, that little site— MacOSXHints.com, in case you haven't guessed by now—has grown into a collection of more than 10,000 OS X tips, covering every major release from the initial public beta through 10.5. (Along the way, the site also changed the direction of my career; Macworld purchased it and hired me in 2006.) And with thousands of contributors from across the globe, it offers a constantly-growing collection of OS X knowledge—all freely searchable.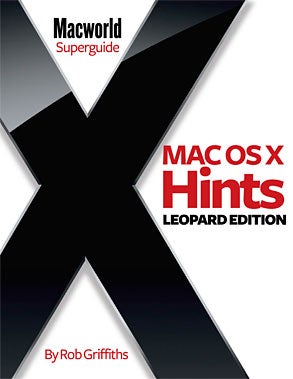 But the site's not perfect. Many of the tips assume a high degree of familiarity with OS X and fairly deep technical knowledge—especially tips involving Terminal. And searching through more than 10,000 hints to find the one you really want can be complicated, to say the least. Which is why I'm pleased to announce the latest edition to Macworld's Superguide series, OS X Hints, Leopard Edition.
To create this book, we scoured not just MacOSXHints.com, but also Macworld.com, to find the most useful tips and tricks for OS X 10.5 users. We've also rewritten them all in a clear, easy-to-read fashion, complete with screenshots, to make them as easy to use as possible.
This hand-picked collection includes more than 200 tips, covering almost every corner of Leopard—including customizing the look of Finder windows, searching hidden system files with Spotlight, and making the most of OS X newcomers like Quick Look and Spaces. We dig deep into Leopard's system settings to fine-tune preferences, save time with undocumented shortcuts, and unlock powerful file-sharing and printing features. We've also collected step-by-step advice for squeezing more power from OS X's built-in programs, including Mail, Safari, iCal, iChat, iTunes, Preview, and more. Of course, no guide for power users would be complete without a trip to Terminal. If you're new to OS X's command-line interface, we'll show you how to get started and how to protect yourself from dangerous actions. Command-line veteran will find tips for taking advantage of new Leopard commands and strategies for working in Terminal more efficiently.
Obviously, this collection wouldn't be possible without the amazing contributions from the OS X community—and that's why every tip in the book remains freely available on MacOSXHints.com and/or Macworld.com. But if you'd rather not take the effort to dig through 10,000+ hints, and want the best versions of the hints, then this collection is for you.
The book is available in several formats, so you can choose the one that works best for you. If you're interested in a PDF (suitable for viewing in Preview or Adobe Reader), you can buy one and download it immediately for just $12.95. Or you can get it as a high-quality, full-color paperback book for $19.99. Don't want to download the PDF? You can also get it mailed to you on CD-ROM for $15.
And if you want to see more before you pony up your hard-earned cash, we've created a 1.5 MB downloadable sample from the book for you to check out, just to give you a taste.
If you're looking to squeeze more power out of Leopard or want advice for working more efficiently, this book is a great resource. To share your own discoveries and tips with the OS X community, go to macosxhints.com.