At a Glance
Expert's Rating
Pros
Video export
Support for multiple time signatures
64-bit processing
Drum Racks is an easy way to create compelling virtual drum machines
Slice feature is an inspirational groove creation tool
Cons
Interface can be a little busy due to its one-window nature
Our Verdict
Ableton Live is a digital-audio workstation (DAW) program that lets you trigger prerecorded audio with a Mac's keyboard, mouse, or a MIDI controller. Unlike traditional DAWs, MIDI control makes Live a playable instrument as well as an audio editor and MIDI sequencer. The new Live 7 delivers refinements to features found in previous versions, as well as introduces new capabilities that will be welcome to musicians, DJs, and producers.
Live is absolutely the tool to use for creating and modifying compelling grooves on the fly. Live can also behave like a traditional DAW, providing an Arrangement view where you linearly record digital audio and MIDI tracks as well as add prerecorded clips, virtual instruments, and effects by dragging them from Live's File Browser pane. As with Apple's GarageBand ( ), you can alter the speed of your composition, and the clips will stretch (or warp, in Live parlance) so that they match the tempo of the piece without changing pitch (and without introducing ugly audio artifacts that can cause the sound to warble or stutter). Unlike GarageBand, Live lets you manipulate clips in a variety of ways. Not only can you add and chain together effects (using Live's built-in effects, Audio Units and VST effects for audio files, and MIDI effects), but you can also edit MIDI controller data (change the velocity data on a series of notes, for example), and you can edit individual samples to change such elements as their pitch, volume, and panning.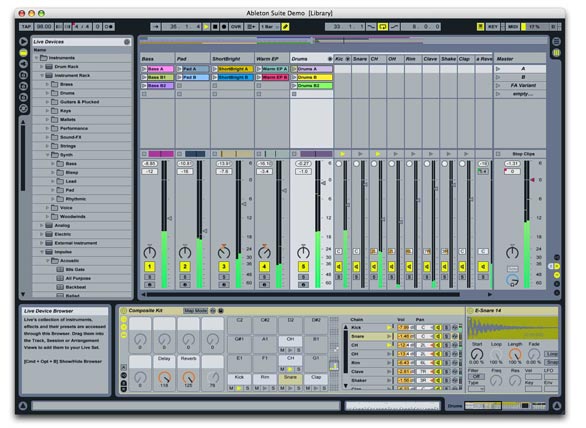 Live 6 brought support for editing the audio in a QuickTime movie, multiprocessor support, and instrument and effect racks. Live 7, while not a massive departure from what came before, includes its fair share of powerful and musical new features as well.
Rack it up
The first is Drum Racks. For those who've worked with hardware drum machines, imagine having the ability to drop any sample on a drum machine's trigger so that, for example, when you tap the Kick Drum button it plays that sample. Now imagine that with a double-tap of that button an editing pane magically appears so you can muck any of the assigned sound's parameters.
That's what this feature is about. Drag a Drum Rack from Live's File Browser into Live's Session or Arrangement pane and a drum pad appears in the Device pane at the bottom of the Live window. This drum pad displays 16 buttons assigned to MIDI note numbers (for example, C1, C#2, or D2). You can assign sounds to as many as 128 buttons. Drop a sample from Live's Browser onto a button to assign it to that button. You can play it by clicking the button with your mouse, typing the correct key on your Mac's keyboard, or by pressing the key or whacking the pad on your MIDI controller that corresponds to that button. Drop an effect on that button and it's assigned to the sound. You can delete the sound and the effect remains, which is useful if you've tweaked the reverb on a snare to your satisfaction, for example, but would like to try a couple of alternate snare sounds in its place without losing the effect.
Once you've assigned a sample to a button, you can then open that sample in a Simpler module (Live's included sampler instrument) and edit its envelope, filter, and LFO (low frequency oscillator) settings. If you've worked with drum machines in the past—real or virtual—you understand how useful this feature is.
Slice is nice
Live 7 supports REX files—files created with Propellerhead Software's ReCycle that slices audio files into their component rhythmic parts. Live 7 can open these files and, better still, break them down into individual instrument parts and then assign each part to a Drum Rack button.
For example, drag a REX file of a two-measure drum groove into the Session or Arrangement window. Control-click on it and choose Slice to New MIDI Track from the contextual menu. Live will analyze the file, find its discrete elements—the slap of a snare or a word from a vocal phrase, or instance—and assign each element to its own Drum Rack button.
At the same time each element appears as a note in the program's MIDI note editor. Once in that MIDI note editor you can move these elements around and edit them just as you can any other MIDI note. So, where you once had the kick drum on beat one, you can move or copy it to beat two. Or you can change the volume of the snare on beat two while leaving other snare hits at the original volume. You're essentially taking the samples someone created to form their loops, disassembling them, and putting them back together in any way you like. Plus, just as you can with other samples assigned to Drum Rack buttons, you can edit each element's sound—its attack and filtering, for example—in the program's sampler.
But wait, there's more. You can take any sample and impose this Slice to New MIDI Track command on it. Live allows you to determine where to slice the file—every eight or sixteenth beat, for instance—and it does what you ask. If you don't care how certain sounds were sliced, you can easily trim or extend the beginning and end of the sample to your liking. And just as you can with imported REX files, you can rearrange the slices in the MIDI note editor.

Time signatures, video export, and more
Live 7 adds several other useful features. One is the ability to (finally) insert multiple time signatures within a piece. To insert a new time signature just click a location, invoke the Insert Time Signature Change command from Live's Insert menu, and type in the time signature you'd like—3/4 or 6/8, for example. When you import Standard MIDI Files into the program Live offers to import their time signature information as well and place its Time Signature markers in the appropriate places.
Although you could import video into Live 6, you could export only the audio track associated with it. Live 7 lets you export video as well as its audio—audio it originally contained, any audio you've added to it (for example, a music soundtrack), and any audio effects you've applied to the movie's soundtrack. When you export video you have the option to export it in any format supported by QuickTime; for example, you can export a .mov movie as an .avi or MPEG-4 file. You can also choose to export movies optimized for the iPod or Apple TV.
Other improvements include a better-sounding and more flexible Compressor effect, a new eight-band stereo EQ, a new Spectrum frequency analysis tool, and the ability to view multiple automation envelopes (controls for volume and panning, for example) in the Arrangement view. Additionally, the underlying audio engine has been updated to 64-bit processing, which means you get cleaner sound.
Ableton has also come up with three additional optional software instruments—Electric (an electric piano synthesizer), Tension (a physical-modeling string synth), and Analog (a dual-oscillator subtractive synthesizer). Each can be purchased separately for $159 as can the previously available Sampler and Operator (an FM synthesizer) instruments. Or you can have Live 7 along with all these instruments plus a drum machine samples collection by purchasing the Ableton Suite ($799).
What hasn't changed is Live's all-in-one-window interface. Although Live is designed so that you can hide panes and controls you don't need at the moment, there are times when you need to break out a cramped pane into a separate, resizable window. But Live is a performance instrument as much as it is a DAW; anyone working in a studio has the luxury of multiple monitors, but performing musicians and DJs will find that the one-window interface works well on a laptop.
Macworld's buying advice
Ableton Live is an extraordinary audio tool that, with the addition of Drum Racks and Slices, has become even more musical. If you're a Live 6 user, you'll want to upgrade. Musicians, producers, and DJs who have yet to try living Live should download the Ableton Live 7 demo. After spending a few days working your way around the interface and discovering the program's many wonders, you'll be hooked.
[Senior Editor Christopher Breen is the author of The iPod and iTunes Pocket Guide, third edition (Peachpit Press, 2008).]