Red Marble Games on Tuesday announced the release of Kudos Rock Legend for the Mac. It costs $22.95; a demo is available for download.
Kudos Rock Legend is a turn-based strategy game of sorts in which players try to make their rock band successful. Red Marble Games describes it as "part role-playing game, part life-sim game and part Tycoon game."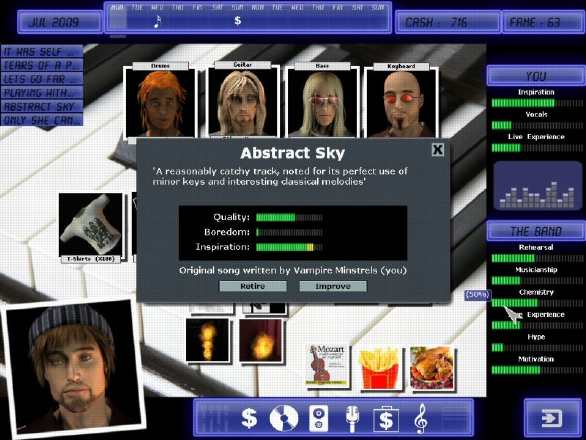 You're the lead singer of a rock band and you must keep an eye on personnel and business management, select musicians, a band name, write the songs, coordinate auditions, attend rehearsals, record albums and play gigs. If you work the band too hard they may lose their drive to succeed and want to break up. Have them play poorly attended gigs, and the band won't succeed. So you need to balance your people and management skills in order to become successful.
Kudos Rock Legend requires Mac OS X v10.3.9 or later and is a Universal binary.