At a Glance
Expert's Rating
Our Verdict
Way back in November 2005, I enthusiastically previewed a beta version of Turlough O'Connor's FinderPop, one of my favorite utilities from the days of Mac OS 9. FinderPop had finally made its way to Mac OS X, and I found it to be just as useful as I remembered. And then I waited for a final version to be released so I could review it. And I waited. And I waited.
By the time the first official, non-beta release of FinderPop was available, in early 2007, I had forgotten all about reviewing it. It wasn't until I upgraded my Mac Pro to Leopard—a Leopard-compatible version wasn't yet available—that I realized how much I use FinderPop every day. That event also reminded me that FinderPop should have been on my Mac Gems to-do list.
Thankfully, Turly recently released a version of FinderPop for Leopard; we didn't have to wait years for it. FinderPop 2.1.2 ( ; donations requested) is the latest version, and it's earned a spot on every one of my Macs. Here's a run-down of my favorite features:
The ability to browse a folder or volume via contextual menus. Right-click (or Control-click) on a folder or volume and the resulting contextual menu contains a hierarchical list of the folder or volume's contents; choose an item to open it. You can also browse the contents of an already-open Finder window by right-clicking in any open area of the window. You can choose to have contents appear in a submenu or directly in the main contextual menu, and you can also include, in all contextual menus, submenus for the Desktop and the FinderPop Items folder (see the next item), giving you instant access to files in those locations.
A menu of your favorite files and folders that appears whenever you click in a blank area of the menu bar. The contents of this menu reflect the contents of a special FinderPop Items folder, so you decide exactly what appears—it works much like the Apple Menu Items folder in the "classic" Mac OS. (FinderPop even provides a mechanism for ordering and dividing the menu.) I use this menu dozens of times each day; I have all my frequently-accessed folders and files here for quick access. You can also browse the contents of any mounted volume, or the Desktop, by shift-clicking any empty area of the menu bar.
The ability to perform actions on items in FinderPop menus. When browsing any FinderPop menu—contextual or menu-bar—pressing the appropriate modifier keys lets you view detailed information about the item under your mouse cursor, or even move the item directly to the Trash. Pressing Tab or P while browsing the menu will display a preview of the current item (provided the file type is supported by FinderPop; not all are). This preview window provides its own options for getting more information about an item, copying the item's path to the Clipboard, and more.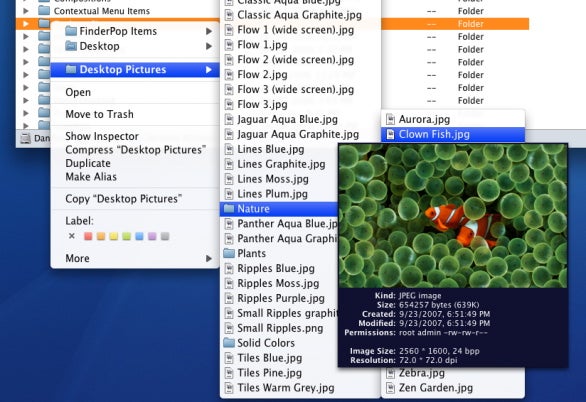 You can also "grab" an item from a menu by pressing G; you can then drag-and-drop the item as if you'd grabbed it in the Finder. And if you right-click on an item in the Finder and then access FinderPop's Desktop or FinderPop Items sub-menu, choosing a folder brings up a dialog with options for what to do with the file you originally clicked on: move it to, copy it to, or create an alias in the chosen folder.
Integrated Quick Look support. Press the Q key while the mouse cursor is over an item in a FinderPop menu; a Quick Look preview of that item will appear on the screen.
Hierarchical "open-with" functionality. If you put your Applications folder in the FinderPop Items folder, you can right-click on a document in the Finder and then navigate directly to the application you want to use to open that document. This is often quicker and more flexible than using the Finder's own Open With command.
FinderPop also provides a number of other minor features. For example, you can enable "Control-free" contextual menus in the Finder; just click-and-hold on an item to view the contextual menu for that item. You can also view invisible items in FinderPop's menus and navigate the contents of OS X packages. And a quick Command-click on the menu bar pops up a menu of all running programs (Control-Command-click includes background processes); you can switch to or quit any process.
Another useful feature is the capability for FinderPop to work in applications' contextual menus, as well. So, for example, you could browse your hard drive, the Desktop, or any other folder you choose from within your word processor. However, note that with this feature enabled, FinderPop patches every running program. I haven't experienced any problems with this feature personally, but some people aren't fans of software patching other software. (Note that even with this feature disabled, FinderPop patches the Finder.) If you do enable this feature, FinderPop lets you designate particular programs that you don't want it to patch.
Finally, FinderPop offers a good number of options for the appearance and behavior of its menus.
According to the developer, FinderPop has a few issues with FileVault-protected accounts; if you use FileVault, you'll need to install FinderPop in /Library/Preference Panes rather than the default location of ~/Library/Preference Panes (in your home folder).
FinderPop is up there on my personal list of must-have utilities for Mac OS X. If you want quicker access to your files and folders, it's a mouse-driven alternative to keyboard launchers such as LaunchBar, Quicksilver, and Butler. Your favorite files are a click away, and you can browse—and work with—the contents of any folder without having to open a Finder window. I personally use LaunchBar and FinderPop in tandem; one for when my hands are zoned in on the keyboard, the other for when I'm mousing about.
FinderPop 2.1.2 is compatible with Mac OS X 10.4 and later.