I've been a diehard advocate of 17-inch laptops ever since Apple produced its first model, a PowerBook G4 variant. I'm a big guy, and it's the only laptop I use that doesn't feel like a toy in my hands. Unfortunately, 17-inch models also tend to be pretty power-hungry, so I'm always looking for additional juice. Enter FastMac's TruePower 17-inch MacBook Pro battery. It offers looks and runtime similar to Apple's own battery, but it's priced $30 less.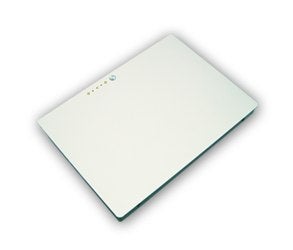 Cosmetically, the only visible difference between the FastMac battery and Apple's is that the underside of the FastMac model is plastic, rather than metal, and is marked with FastMac's info—the battery appears identical to Apple's once it's installed. The aluminum exterior matches the MacBook Pro, and the battery has the same style LED gauge that Apple uses to show you how much juice is left. The button to activate that gauge looks the same (a small, circular, metal pad), but it feels a bit different—more of a hard click than the soft touch of Apple's model.
TruePower is what FastMac calls the circuitry within the battery. It uses sensors and an integrated circuit to prevent short circuiting or overload that can cause individual cells to swell. Although Apple has recalled 15-inch MacBook Pro batteries with that particular flaw, it can happen to 17-inch units too—check out my Flickr account for the photographic evidence.
That problem happened to me after using the Apple-branded battery for more than a year. I can't say that it will never happen with the FastMac model, but the TruePower info gives me some reassurance that I won't repeat that episode.
FastMac calls the 17-inch MacBook Pro battery "high-capacity, extended life," which may sound like the battery lasts longer than Apple's; it doesn't. Although some of FastMac's replacement batteries for Apple laptops do hold significantly more charge than Apple's stock batteries, this is not one of them. (My contact at FastMac tells me it's something they're working on for the future.)
The TruePower battery I tested held 6669 milliamp hours (mAh) of charge, according to System Profiler, compared to 6800 for a brand-new Apple battery. That's a fairly negligible difference in runtime: On my 2.33GHz 17-inch MacBook Pro with 3GB of RAM, each battery lasted for about three hours under mixed use—half a dozen applications open, using Wi-Fi, and with Energy Saver set to the default "Better Energy Savings."
If you're replacing a battery that you've had since the MacBook Pro was first released, chances are you'll see an increased runtime, simply because you're swapping new for old—batteries lose charge capacity as they get older. But comparing FastMac's TruePower model to a brand-new Apple-branded replacement you'd buy at an Apple Store, you won't see a huge difference either way.
Ultimately, what makes FastMac's 17-inch MacBook Pro battery worth consider is its price tag. At $100, it's $30 less than what Apple charges, and my experience is that the FastMac model works just as well. (Like Apple's batteries, it comes with a one-year warranty.)