Cynical Peak Software has released Cyndicate 1.2, a new version of their RSS/Atom aggregator for Mac OS X. A free update for registered users, Cyndicate 1.2 costs $29.95.
Cyndicate enables users to read content on the Internet published using Really Simple Syndication or Atom newsfeeds. The software uses an interface similar to Apple Mail that makes the article the center of attention, rather than the site or feed.
Features include the ability to manually sort and automatically filter articles into folders or smart folders, and automatic content rating based on previous likes and dislikes.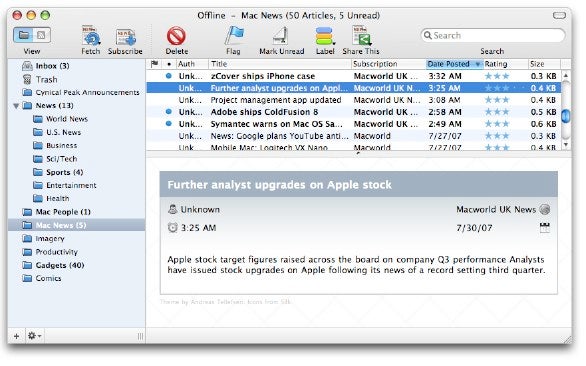 New features in 1.2 include improved performance "for some scenarios," Twitter support for sharing articles, the ability to set video enclosures to download separately from other enclosures, better parsing of feeds with Latin1 encoding and bug fixes.
System requirements call for Mac OS X v10.4.3 or later and 8MB hard drive space. A 21-day demo is available.