Freeverse Software and MrJoy have announced the release of an update to their game Hordes of Orcs, a tower defense strategy game for the Mac. The new 1.1.3 release is a free update for registered users; Hordes of Orcs costs $24.95.
Hordes of Orcs pits you against hordes of green-skinned, betusked orcs as you defend your territory against their invasion by building towers. Each tower can be specialized to use different kinds of weapons against the orcs, and each tower can be strengthened — all within your budget, of course. If 20 orcs get through, that's the end of your village and the end of the game.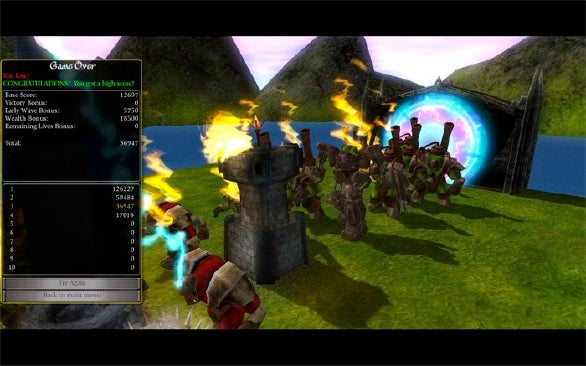 Improvements to version 1.1.3 include three new Maze Defense maps, an improved main menu interface, a fix to the Shiny map, slightly larger walls, smarter orcs when navigating at high speeds, graphical and bug fixes and more.
System requirements call for Mac OS X v10.3.9 or later, 1.83GHz PowerPC or Intel CPU or faster, Intel GMA 950 or better 3D graphics, 384MB RAM, 35MB hard disk space.