This week, I came across the most important and impressive device known to mankind. It's a device that will forever change—for the better—the way that we live our lives. It will feed the hungry, shelter the homeless, cure the sick, and even at long last explain how the hell a show like Yes, Dear got on the air.
APRIL FOO—what? April Fool's Day was yesterday? Why didn't anybody tell—wait, it's always April first? Well, that's not very convenient, is it? What am I supposed to do with this column now? Oh, sure, "find some gadgets to talk about." You say that like I can just pop open the front door and there will be gizmos queueing up. It's hardly that easy.
Anyway, er, give me just one second here annnnnnd, there. All set. So, here's the Gadgetbox lineup for today. In the leadoff position, a delightful plug-and-play apparatus for your SATA hard drive; in the two spot, a planter for those without a green thumb; and finally, coming up third, a gadget that'll give you a run for your money.
Sync that drive in one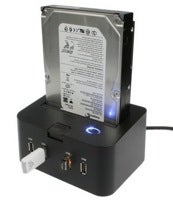 Balancing your data's portability with a device that's capacious enough to store everything can be a tricky proposition. Big external hard drives can hold a lot of information, but they're bulky. Flash drives are easy to carry around, but they don't necessarily have as much room as you'd like.
What if you could carry around a slightly smaller hard drive and just dock it to your computer when necessary? That's the absolutely brilliant idea behind this SATA HDD Dock. It accepts both standard 2.5" and 3.5" SATA hard drives, and connects to your computer over USB. Even better, it integrates a 4-port USB hub to handle all the other USB dongles and gadgets you're bound to be carrying around.
Okay, this sucker won't win any fashion awards (despite a shiny glowing blue LED, ooh), but it's pretty easy to use, costs just $82 (including shipping), and won't take up a ton of room on your desk. Oh, yeah, you'll have to bring your own drive, naturally.
[via Red Ferret]
Self-watering pot saves plant life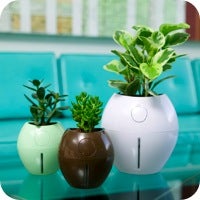 Despite all of humanity's improvements in technology, they still haven't found a way to prevent me from brutally murdering accidentally neglecting half a dozen houseplants. It's a good thing that the survival of the species no longer depends on my ability to successfully cultivate vegetation, because we would be screwed.
Perhaps Grobal can help. The company has created self-watering pots that keep your plants happy and healthy, all with minimal action on your part (just the way I like it). The pot contains a reservoir that provides water to the plant as needed, via the magic of capillary action, and requires less frequent refilling to boot. You can even glance at the water level indicator on the side to find out if you need to add a little more H20 via the "Nutriport"—now that sounds like the future to me. Someday, we will all no doubt have Nutriports.
You can pick up the full size pot for $20 or the "baby" version for $13. Both include a soil disk and three packets of plant food. All come with the possibility that maybe, just maybe, you can break your curse of dead plants.
[via DVICE]
Nike + iPod – iPod = Nike SportBand+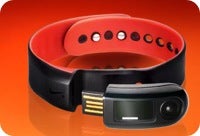 I've had a Nike + iPod Sports Kit for a while now, and while I enjoy it, I don't get nearly as much use out of it as I would like—a fact that I like to blame on the kit, and not at all on my own laziness. Still, I understand that some people who don't have an iPod might still enjoy the potential of working out and keeping track of their progress, and Nike has decided to give them that option with the new Nike SportBand+.
Like the Nike + iPod kit, the SportBand+ lets you keep track of your distance, time, pace, and calories burned by syncing with a small sensor in your shoe. But instead of communicating with your iPod, it talks to the Nike Link+ on the wrist band, which can display the information as you're running. Then, when you get home, you can detach the Nike Link+ device and plug it directly into your computer's USB port to transfer over your information. As with the Nike + iPod kit, your information is sent to Nike's website, where you can view your history, set goals, and join challenges with other runners.
The Nike + iPod SportBand+ will cost you $59 when it goes on sale on April 10th, and will include the wristband, Link+, and the little sensor that goes in your shoe. It will not, however, guarantee that you will go running on a regular basis, as I can well attest. But I guess it can't hurt.
[via Shiny Shiny]
So, anyway sorry about that whole April Fool's day mistake up top. My bad. But according to my trusty calendar, April Fool's day does fall on a Wednesday next year. Consider yourself warned.