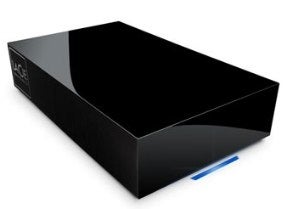 LaCie on Thursday announced the release of a triple-interface version of its Hard Disk, Design by Neil Poulton. The new 500GB drive is available for $149.99.
The drive is the same monolithic black design as the Neil Poulton-created model that LaCie began selling in December, only that model sported just one interface — USB 2.0. This new drive also has external Serial ATA (eSATA) and FireWire 400 interfaces.
The black exterior features a mirror polish finish and the underside glows blue with an ambient LED effect. On the drive is LaCie Setup Assistant, software that helps you format the drive according to your needs, along with LaCie's "1-Click" backup software for Mac OS X and Windows.
System requirements call for Mac OS X v10.3 or later.