Luxology on Thursday announced the release of modo 302, a new version of its 3D software for Mac OS X and Windows. The new release, free for registered users, costs $895. A dual license covers both Mac OS X and Windows.
Modo includes 3D modeling, painting, rendering and animation tools for artists who want to create 3D images without having to resort to other software. It supports polygonal and subdivision surface modeling, offers multithreaded support for multicore and multiprocessor systems, features network rendering and more.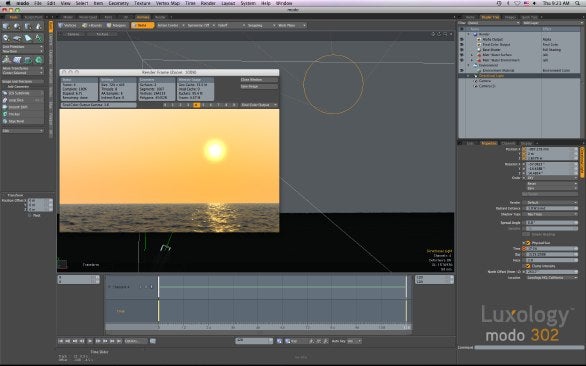 New to the 302 release is improved Photoshop file support — layered PSD files can now be used to automatically create texture layers. New Physical Sun and Physical Sky simulation provide more realistic outdoor colors and light intensities, based on location, date and time of day. The new Flex tool helps you select and pose meshes, and a new soft brush more smoothly interpolates strokes. A new Track View editor improves animation with a more intuitive user interface designed to help you create and tune complex animation sequences.
This new release is also the first to feature the modo File I/O Software Development Kit (SDK), which will enable developers to import or export data directly. The API can be used to create plug-ins in C and C++.
System requirements call for Mac OS X v10.4 or later and a G3 or better processor (Intel included).