At a Glance
Expert's Rating
Pros
Multiple ways to create new to-dos
Extensive customizable views
Cons
Minor bugs
Interface takes some getting used to
Our Verdict
Managing to-dos is a very personal thing. Some people deploy elaborate project-management systems to make sure they get everything done. Others just jot down their day's tasks on the nearest scrap of paper. Most of us are somewhere in between. For the in-betweeners, there's The Omni Group's OmniFocus 1.0.1.
Get it done
OmniFocus is based on David Allen's popular Getting Things Done (GTD) productivity system. The first principle in that system is that you should be able to add—or capture, in GTD-speak—new to-do items whenever and wherever they occur to you. OmniFocus fulfills that requirement by giving you all kinds of ways to create new tasks.
When you are working in OmniFocus, you can add a new task by pressing control-command-N, or by selecting an existing task and pressing Return to start a new one. If you aren't in OmniFocus, you can hit a hot key combination (control-option-spacebar, by default) to summon OmniFocus's Quick Entry box. You can also create new to-do items via e-mail: OmniFocus will install a Mail rule that turns specially marked messages into tasks. Finally, you can highlight text in another app (Finder, Mail, your browser, your RSS reader, and more) and, with another hot key combo, turn that text clipping into a to-do item.
However you add a new item, it gets dropped into the OmniFocus Inbox for processing (the next step in the GTD system). That means categorizing it by context (the tool you need or the place you need to accomplish it), assigning it to a larger project (or not), and setting other details such as its due date and repeat status.
OmniFocus is smart about the processing stage. For example, it's intelligent enough to know that, when you enter "2d" in a Due Date field, you mean it's due two days from now; you can also use plain English ("next Friday"). It will also let you attach notes or files to to-do items.
With that initial processing done, OmniFocus lets you move to the third stage of the GTD process: reviewing your task list to check off what's been done and determine what's next.
OmniFocus lets you view your task list two ways. In Planning mode, you can look at all the tasks that make up your larger projects, move things around, see what's missing, and fill in the gaps. (There's a separate "single-action list" for tasks that don't fit into a specific project.) In Context mode, you can see all your tasks by context, so it's easy to see at a single glance all the things you need to do while you're on the phone, browsing the Web, or out running errands.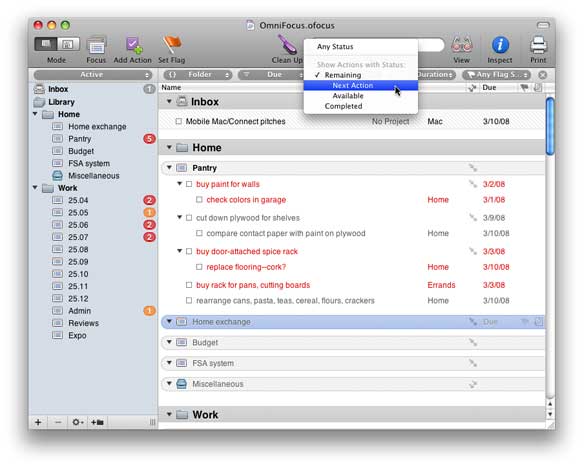 Within those two modes, you can filter your views in all sorts of ways. In Planning mode, you can select a project, then click the Focus button on the toolbar to see only that project's tasks. In Context mode, you can use drop-down view menus to specify how tasks are grouped, sorted, and filtered. You can then save these customized views (OmniFocus calls them perspectives) for future use.
OmniFocus automatically color-codes tasks according to their GTD status. If an action is the next thing due in a given project, it's colored purple by default; subsequent actions are grey. You can define OmniFocus projects as either sequential (meaning constituent actions need to be completed in order) or parallel (meaning the order doesn't matter).
Showing its outlining roots, OmniFocus lets you break tasks into smaller child actions, or group a bunch of subtasks into a larger one. You can use drag-and-drop editing to move a task from one project or context to another. You can also make it easier to review a project and see what you need to do next by giving it a review interval; OmniFocus will then tell you which projects need to be reviewed and when.
Interface
OmniFocus is keyboard friendly: there are shortcut key combos for most commands. The help files are very good—they sound like they were written by a human being, and one with a good sense of humor to boot. The program supports AppleScript, automatically backs up your database once a day, and can sync with iCal (so you can send your to-do list to other Macs via .Mac or share it with other apps that can access iCal data).
Unfortunately, that syncing is not exactly intuitive. Overall, the interface can be confounding. For example, in Context mode, you can sort columns using the drop-down sorting menu; in Planning mode, that menu doesn't work. If you want to set alarms for to-do items, you will have to sync them to iCal and set your alarms there.
As you've probably come to expect in version 1.0 products, there are little bugs here and there: When you assign a task to a project, for example, that project doesn't always appear right away. The company is aware of these issues and plans to address them in upcoming revisions.
More fundamentally, OmniFocus is not a simple program. It requires some learning and practice to really get adept at using it. It's certainly possible to get a quick, simple list of the things you need to do today—but that isn't the program's default view. If you want a quick, unobtrusive way to keep track of your tasks, OmniFocus is too much.
Macworld's buying advice
OmniFocus 1.0.1 is one of the nicest, most polished to-do managers out there. If you're the kind of person who spends as much time managing your to-do list as you do actually completing the tasks on it, you will be able to geek out to your heart's content. If you just want a tool that provides more than a simple text-based task manager, it will do that too. The more you buy into the whole GTD process, the more useful OmniFocus will be. But even if you haven't joined the Cult of David Allen, it's still a powerful way to help you get things done.
[Dan Miller is Macworld's executive editor.]